A Year In France – Episode 08
---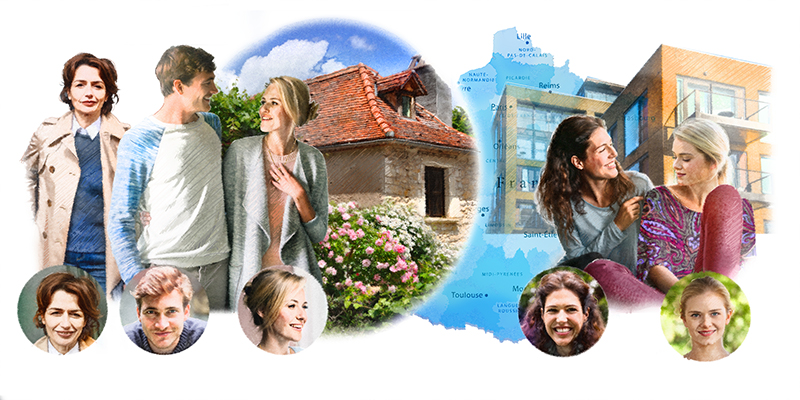 Illustration by Mandy Dixon.
"There you are. Last to arrive."
As she was enveloped in a tight hug, Julia fleetingly remembered Maddy's warning.
"Mothers-in-law can be difficult," she'd said. "And we all know how close French men are to their mothers. She'll probably turn out to be the mother-in-law from hell."
Julia smiled at the memory as she kissed Christiane's cheek. In the short time she'd known her, Julia had become very fond of Philippe's widowed mother.
A woman of copious energy and somebody you felt instinctively drawn to, she'd wholeheartedly welcomed Philippe's choice of wife into her family. Julia knew she couldn't have asked for a better mother-in-law.
"Sorry," Philippe said. "Rue du Berger was closed."
"I forgot to warn you about that," Christiane said, turning to Julia and taking her by the hand. "Come on in and meet everybody."
Everybody included nearby neighbours, Adele and Bernard; Thierry Francis, who Christiane introduced simply as a friend, and, to Julia's surprise and delight, Nicola and her husband Gilles.
As she smiled at Nicola, she couldn't help noticing the scowl that flitted across Philippe's face when he saw Thierry. Her husband clearly didn't like his mother's friend.
As it was too early in the year to eat supper outside, Christiane had set the table in the conservatory that ran the length of the house overlooking the garden.
Small lamps placed in strategic places around the room, candles that flickered down the length of the table, interspersed with bowls of floating candles, created a gentle ambience.
The food was delicious. Conversation was in a mixture of French and English, some of which Julia was able to join in with.
It veered from the weather to the number of tourists the village could expect in the summer, then, over the cheese course, Gilles commented on what a vibrant city London was.
"Full of energy. And did you know London is the sixth-largest French city these days? So many of us have crossed the Channel for work."
"There's a buzz about the place," Julia said. "I'm looking forward to returning with Philippe for the London Book Fair in a few weeks." She turned to smile at him. "I've been meaning to ask which hotel you have booked us into."
Philippe bit his lip as he looked at her. It was a habit of his she already recognised as a sign of nervousness.
"Can we talk about this later?" Philippe said.
"Of course," Julia said quickly, suddenly aware of the silence around them as everyone tried in vain to ignore their muted voices.
"Julia. A drop more wine?" Thierry asked.
Julia picked up her glass and held it out.
"Thank you."
Thoughtfully, she took a sip. The mention of London had made her realise just how much she was looking forward to their visit in a couple of weeks. Not just to catch up with Maddy and all her news, but to take some flowers to her mum's grave, wander down Oxford Street for some retail therapy, and maybe do a show one evening.
She looked at her husband. Surely Philippe wasn't thinking of cancelling without discussing it with her?