A Year In France – Episode 19
---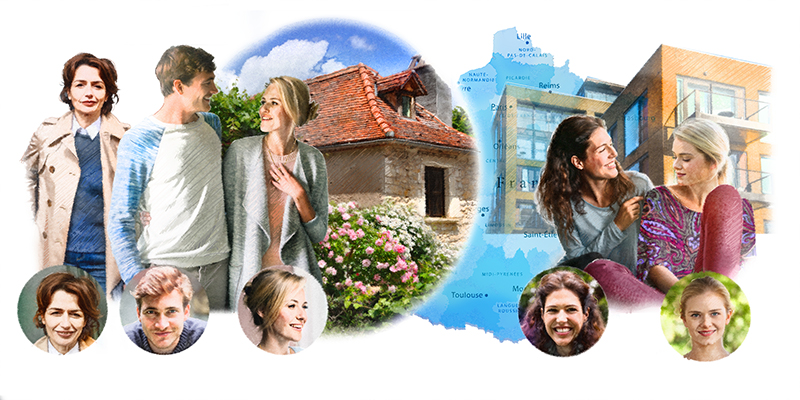 Illustration by Mandy Dixon.
At the restaurant they were shown to a table overlooking the garden with its palm trees and lake.
Once they'd ordered their meal and the celebratory champagne that Philippe insisted on had been opened and two glasses poured, Julia raised her glass in a toast.
"Here's to your book. I'm so looking forward to reading it." Smiling at each other, they clinked glasses.
"I'm looking forward to two weeks of freedom," Philippe said. "To spending it with you. We must make a list of the things we want to do together before I start again."
"A fortnight won't be long enough for everything," Julia teased. "But it's a start."
She looked at him.
"Nicola has suggested that an hour's conversation with you every day would really help to improve my French. Maybe over breakfast?"
"Good idea," Philippe said. "We'll start tomorrow morning. We need to think about finding a house, too."
"Is Grumpy Villager the only estate agent here?" Julia asked.
"There's another branch of the same firm in the next town," Philippe said. "But Herve isn't that bad once he gets to know you. I went to school with him so I know how to deal with him."
"Well, I'll let you deal with him, then," Julia said. "I feel like being really rude to him.
"Philippe?" She hesitated. "There is something I need to tell you. I'm thinking about finding some work to do while you're busy writing. I miss the buzz of having lots to do. I've still got contacts in PR so I thought I'd see if I could find some freelance work."
Philippe looked at her.
"You couldn't wait to get off the treadmill when we got married. You were stressed out. I wouldn't want you to get like that again."
Julia shook her head.
"Don't worry; neither would I. I'll pick and choose my clients. Three or four at the most. I just need something to do while you're busy writing."
Philippe reached out for her hand across the table.
"Leave it for the next week or so. Let's enjoy our time together. I'll show you around the local sights, introduce you to a few more people, and we can do a spot of house hunting. Who knows, you might get so involved and busy you won't have time to think about extra work."
"OK." Julia smiled at him.
She'd put her freelance ideas on hold while they spent some precious time together. Kickstarting her working life might have to wait another few weeks, but it was something she was determined to do, for her own sake.