A Year In France – Episode 29
---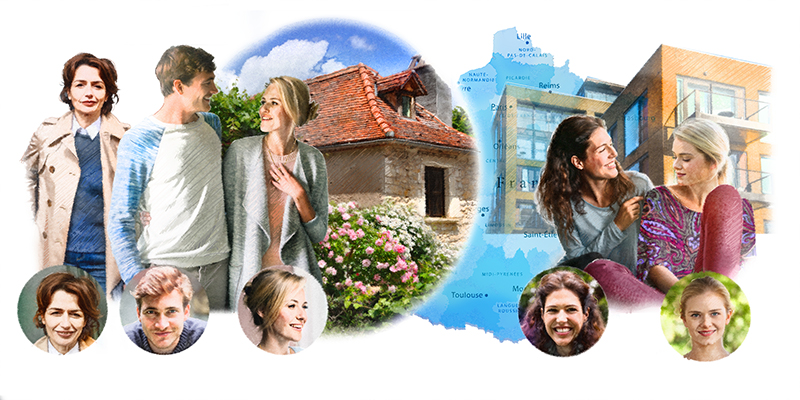 Illustration by Mandy Dixon.
The sun was shining as Julia walked down to Le Jardin. Nicola's house was next to A Taste Of The Countryside.
Nicola was working in the garden and smiled as she saw Julia and Tess.
"Perfect timing. I was just thinking about stopping," she said, pulling off her gardening gloves.
"Where are the twins? Having an afternoon nap?" Julia asked.
"Gilles has taken them down to the play centre for the afternoon. We'll sit under the loggia for tea. Be a bit cooler there."
"This is a lovely cottage, Nicola," Julia said, looking around. "Have you lived here long?"
"About seven years. I bought it when I first came out here, before Gilles and I were married."
"Philippe and I are waiting to hear about a house we've fallen in love with. Herve rang yesterday to say the owners were away and he was having trouble contacting them."
"Nothing quite like the stress of buying a house," Nicola said. "Apart from that, how are things going?"
"Philippe's started his new book and I'm picking up the threads of my old life in PR, helping a friend get her business off the ground. Oh, and my French is improving, too, thanks to your suggestion of Philippe talking to me in French for an hour every day. Madame Colbert is pleased with me."
"So you're busy, then?" Nicola sighed. "That's a shame for me."
"Why?"
"I was going to ask if you could help me with some promotion for Taste Of The Countryside."
"Of course I can. It'll be my pleasure. I'm not sure that my French is good enough yet, though. Remember, too, my contacts are all in the UK."
"I already have a file of contacts here," Nicola said. "I need to do more with the website and increase the marketing, but there aren't enough hours in the day. I need your expertise."
"Shall I come down to the shop later in the week and you can go through things with me?"
"Brilliant," Nicola replied. "Now, let's get the tea and cakes out on the table."
Walking home an hour or so later, Julia hummed happily to herself. What with being involved with the agency with Maddy, Nicola wanting her help and, fingers crossed, a house move soon, her French life was shaping up to be as busy as her old life in England.
She was finally beginning to find her way in this unexpected life in a foreign country.