A Year In France – Episode 37
---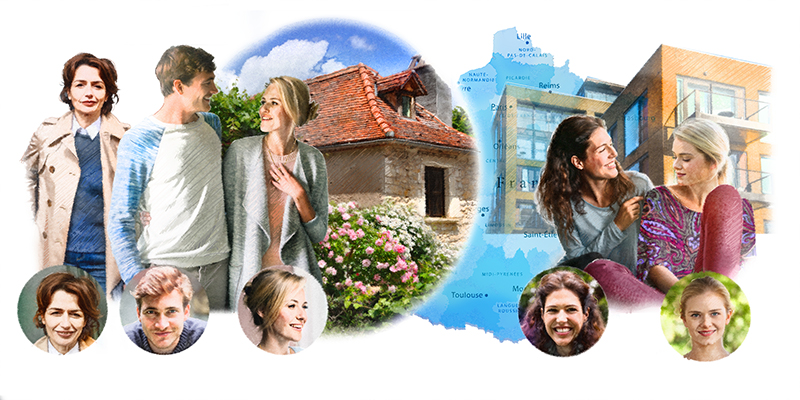 Illustration by Mandy Dixon.
Jumping off the bus then making her way down the Strand towards the café where she was meeting Lucinda, Maddy smiled. It was good to be back.
She hadn't anticipated how much she'd miss the hustle and bustle of central London when she was no longer working there.
The short time since leaving Kirsty's and starting to work from the flat had made her appreciate how lucky she was to have the chance to give up commuting every day on public transport.
The downside of working from home, though, was the solitude and lack of office stimulation. Not to mention the buzz that London itself generated.
She'd definitely have to make sure she met up here with clients as often as possible – if only for the personal high it gave her.
The café she'd chosen was close to her old office. It was one she'd always liked using, and the staff knew her there.
Kirsty took her clients to a modern arty one nearer the centre of Covent Garden, so there was little chance of them bumping into each other.
A family with several children, a couple of tourists and a single man with a newspaper were occupying the tables and chairs on the pavement as she walked past into the café itself.
Nigel, the manager, greeted her like an old friend.
"Your table for two – is that inside or out?"
"Inside," Maddy replied.
It was easier to hold a private conversation in the large room that ran the length of the building, where the tables were spaced well apart.
Nigel showed her to a table set back by the long wooden counter and with a good view of the door.
She took out her iPad. With ten minutes to spare before Lucinda arrived, she had time to read a couple of pages of something, if she could concentrate.
Maddy glanced up as an elegant woman entered. Lucinda?
No, Nigel was showing her to a table by the window.
What would Lucinda be like? Her initial letter with the manuscript had given few personal details: she wrote lifestyle features for several magazines and had published a couple of non-fiction books, but this was her first novel.
She'd said something about a big birthday coming up and wanting to have a novel published by the time that landmark happened.
A tall dark-haired man with olive skin entered, and to her surprise Nigel pointed him in her direction.
"Maddy Matthews?"
"Yes. Do I know you?"
"No." He shook his head. "May I sit down?"
Maddy looked at him.
"I'm sorry, but I'm waiting for someone."
"I know. Lucinda Edrich."
"Yes. Oh, please don't tell me she can't make it. I was really looking forward to meeting her." Maddy sighed.
"No. She's here."
"Where?" Maddy said, looking around.
"In front of you."
There was a short silence before he continued.
"I'm Lucinda."