A Year In France – Episode 38
---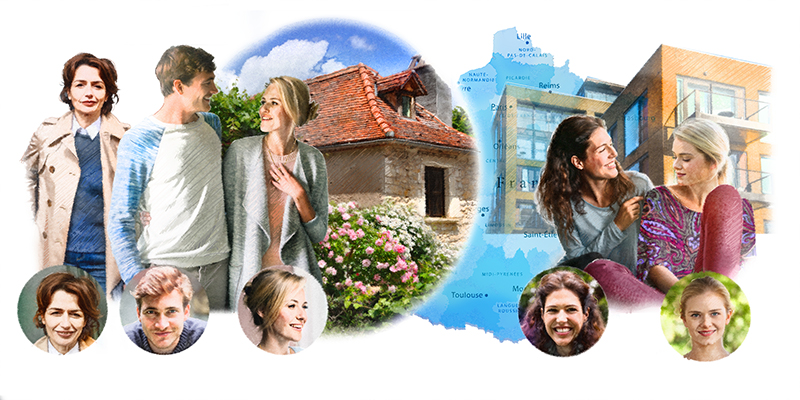 Illustration by Mandy Dixon.
Maddy burst out laughing.
"Really? You don't look like a Lucinda to me."
"Honestly," the man said, his eyes twinkling. "Otherwise known as Lucien Edrich. Call me Luc."
"OK, Luc. I'll ask Nigel to bring tea over and then you can explain yourself."
Maddy waited while Nigel placed sandwiches, cakes, teacups, teapot and milk on the table.
"I thought a female name would work better for a romantic novel," Luc said, offering her the plate of mixed sandwiches before taking a couple for himself. "What do you think?"
"It could be a shrewd move," Maddy admitted. "Although I think just your surname and an initial could work even better."
Thoughtfully she sipped her tea.
"We could create a mystery about who exactly is L. Edrich, get the book flying and then unveil you to the world. Women would be falling over themselves to buy this exciting book written for them by a sexy, handsome man.
"That's my professional opinion, of course," she added hastily, realising what she'd said. No way did she want Luc to get the wrong impression.
"So, in the beginning, no photos, no personal details, no publicised meetings with publishers. You'd have to keep a low profile and trust me to do the deals. You also have to write a second book."
"Almost finished," Luc said, reaching for one of the meringues. "So, is the Maddy Matthews Literary Agency going to sign me up?"
Maddy looked at him thoughtfully.
"You're happy with keeping your identity secret for a while?"
Luc nodded.
"You haven't been approached by Kirsty since I left the agency?"
"No."
Maddy smiled as she opened her bag and took out some papers.
"In that case I'm more than happy for you to become the first client of the agency. But you need to read the details of my standard contract, get it checked out and make sure you are happy with everything before you sign."
*  *  *  *
After Herve rang to say the seven-day cooling off period had passed without any problems, the purchase of Julia and Philippe's new home gathered speed.
Julia drove to the house one afternoon to take photos to send to Maddy.
Parked in the driveway, she sat and gazed at the house that in a few weeks would be home.
There was lots to do before then. Going from a one-up, one-down cottage to a house with four bedrooms and a large sitting-room, not to mention a kitchen big enough to eat in, meant finding some more furniture.
Nicola had told her about a recycling place in the next town that was filled with bargains. She'd drag Philippe there one afternoon and see if there was anything suitable for their new home.
The picture she sent to Maddy showed the house bathed in the afternoon sun, with the virginia creeper clinging to its front wall.
I am looking forward to seeing this creeper's autumn colours. I wish you could visit and see it, too, she wrote in the text she sent with the photo.
Thirty seconds later her phone rang.
"It's beautiful! I'm definitely coming for a visit soon!" Maddy exclaimed. "I've got fantastic news."
"It must be good if you're ringing me rather than texting," Julia commented. "What's happened?"
Julia listened intently as Maddy told her about her meeting with Lucinda Edrich. She could hear the excitement in Maddy's voice as the words poured out and did her best to calm her friend down.
"Hey, slow down!"
"Sorry. I know I'm gabbling. I'm in shock really. I can't believe Luc is going to sign with us."
"Luc?"
Julia listened as Maddy explained about Luc.
"Julia, I know that this is going to be a huge hit and will be the making of the agency! It's such a stroke of luck for us."
"Fingers crossed it works out, Maddy. I've got to get going. I promised I'd drop some stuff off for Nicola and I'm late. I'll Skype you tonight."