A Year In France – Episode 43
---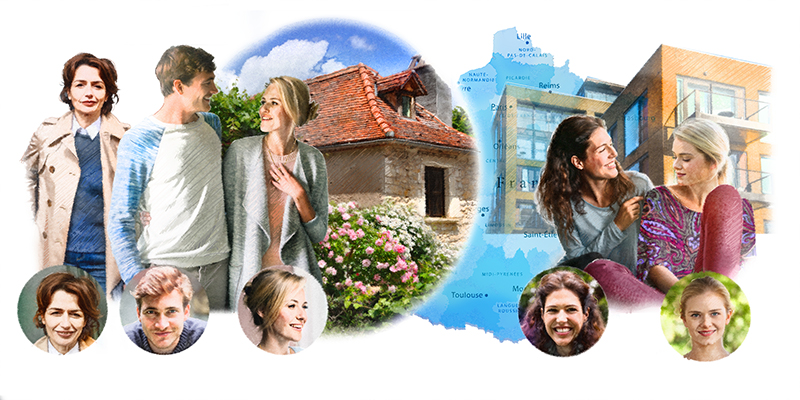 Illustration by Mandy Dixon.
Jason breezed past her into the flat, leaving Maddy staring after him in astonishment.
"Moira. Bruce. It's great to see you again. I'd have been here earlier but you know the London traffic."
He turned to Dannie.
"How's my favourite girl?"
"What a surprise. We thought we were seeing you tomorrow. We didn't know you were coming this evening," Bruce said.
You're not the only one, Maddy thought.
Judging from the look on Dannie's face as she avoided Jason's kiss on the cheek, she hadn't been expecting him, either.
"Any food left?" Jason asked, looking hopefully at Dannie. "I'm starving."
"Sorry. All gone," Dannie said. "If you'd said you intended coming . . ." Her voice trailed off and she glared at him.
"I could make you a cheese sandwich," Maddy said, her natural politeness coming to the fore even though she'd disliked Jason from the moment he'd walked into her flat. "And there are some strawberries left."
Making the sandwich, Maddy listened to Moira and Bruce talking happily to Jason about their planned day tomorrow.
Dannie just sat there staring at Jason and not joining in.
The evening quickly turned from being a happy, laughter-filled one into one with an undercurrent of tension.
An hour later, when Moira and Bruce stood up to leave and thanked Maddy, to her relief Jason also left, but not before telling Dannie he'd see her tomorrow.
As the flat door closed behind them, Dannie collapsed on to the sofa.
"I can't believe Jason turned up like that and made out he'd been invited," she said. "It's my fault for telling him about tonight."
"Don't blame yourself for his behaviour," Maddy said. "I was going to ask how being just friends with him was going, but I think he already feels you're a couple again." She frowned as she looked at Dannie. "Jason seems very controlling."
Dannie nodded miserably.
"He is. Us being a couple is all he talks about. Even though we're not. And now Mum and Dad are going to think everything's back to normal."
"Before they go home make sure you tell them how things really are between you and Jason." Maddy hesitated before continuing. "Getting back together as just friends is clearly not working."
Dannie rubbed her eyes.
"You're right. Neither of us seem to want the same things any more. I love my life down here and I know Jason wants to go back to Scotland."
Maddy sighed.
"It's not my place to say this, but I think you need to spell out to Jason that whatever the two of you had is over. It's time for you to move on."