A Year In France – Episode 54
---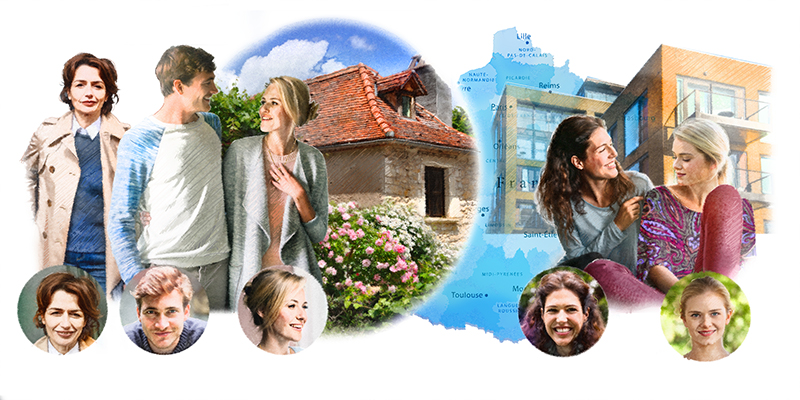 Illustration by Mandy Dixon.
Moving day dawned bright and clear. Christiane arrived early to collect Tess to keep the dog out of the way of vans and strange people.
"I'll see you both at the new house about one o'clock," she said as Tess jumped into her car. "Everything should have arrived by then. I'll bring lunch."
"Thanks," Julia said, picking up her car keys.
She and Philippe had decided the best plan was for Philippe to supervise the loading of their stuff and she would go over and wait at the new house, ready to tell the removal men where to put everything.
It also meant she would be there to receive the table and desk she'd bought at the auction when it was delivered. With luck she'd be able to give the desk a bit of a polish before Philippe arrived.
"You sure you're OK today?" Philippe asked. "Not still feeling sick?"
"Much better today," Julia assured him. "I think it must have been a forty-eight-hour bug." She reached up and kissed his cheek.
"See you soon. Hopefully your birthday present will be in situ to greet you."
Julia hummed happily to herself as she drove to the new house. She had so many ideas for turning it into a proper home. She couldn't wait to get started.
After parking the car by the front door, she unloaded the few boxes of kitchen stuff that she'd put in the boot, leaving them on the doorstep before driving the car down the side of the house to make space for the delivery lorries. Then she carried the boxes indoors.
The van with Philippe's desk and the kitchen table was due around half-past nine according to the confirmation e-mail she'd received, so could arrive any time now.
Scrabbling in the box she'd put all the cleaning things in, she found the packet of antiseptic wet wipes, the polish and a duster, which she took upstairs to Philippe's new study, ready to begin immediately once the desk was in place.
The master bedroom was opposite and she wandered in and stood in front of the window overlooking the drive and the front lawn, deep in thought.
Tomorrow morning she and Philippe would wake up in this room for the first time and their new daily life routines would begin. It would be good to be settled and secure in their own home.
Thoughtfully she fingered the pendant around her neck. If only her mum were still here. She'd loved her so much and the dull ache of missing her was rarely far away.
All this business with Travis Edgar had brought home to her just how big a space in her life her mother had left.
There had been so many times recently she'd longed to talk to her; to ask questions that only she knew the answer to. But it was all wishful thinking on her part.
If only Travis had never turned up. If only she'd never found the decree absolute.
A deep sigh escaped her lips. Life was how it was. She was lucky, really. So many good things had happened to her since she'd met Philippe. There was no way she was going to allow anything from the past to cast a shadow on their future.