A Year In France – Episode 56
---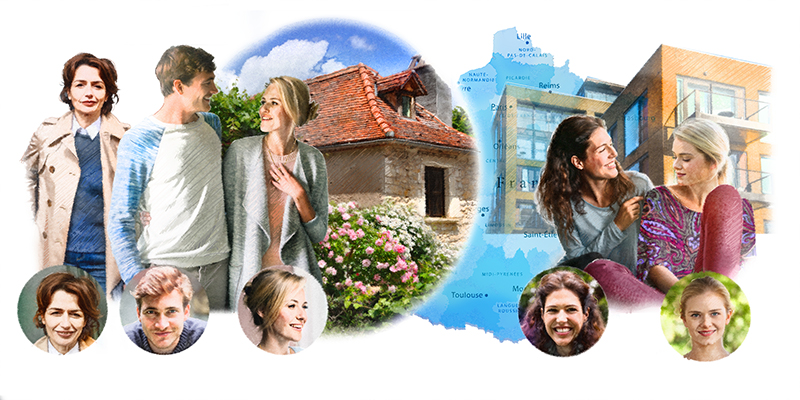 Illustration by Mandy Dixon.
Maddy, sitting on the bar stool eating supper in the kitchen, struggled to concentrate as Dannie told her about her day at the boutique.
It wasn't that she wasn't pleased for Dannie, it was just that she couldn't stop thinking about Luc, especially once the day's agency work was over and she relaxed.
It was ridiculous the amount of time she spent day-dreaming since she'd met Luc. Since Tahilha's party they'd only managed to meet up a couple of times, but they'd spoken every day and at the weekend they were going to the cinema together.
"Maddy? Are you there?" Dannie's voice broke through her thoughts.
"What? Sorry. I was miles away. Did I miss something?"
Dannie laughed and shook her head.
"No. I was just telling you about the Christmas stock that arrived today. Some of the dresses are beautiful."
Maddy's first thought at the mention of Christmas was Luc's plans. She hadn't yet mentioned the invitation from Julia for the two of them to go to France because she suspected he'd probably be going home to his parents. Would he ask her to go with him?
"How's the agency going? Signed any hot-shot authors recently?" Again Dannie's voice interrupted Maddy's thoughts.
"Only Luc," Maddy said absently. "Talking of Christmas, are you going home to see your family?"
Dannie shook her head.
"I'm working until late on Christmas Eve. I'll go home for Hogmanay instead. What are you up to for Christmas?"
"I'm going to . . ." Maddy stopped. "Be here," she finished.
If she went away to France or with Luc, she'd be leaving Dannie on her own and she couldn't do that. Not at Christmas. It might be only one day, but nobody wants to spend that day of the year alone.
Dannie looked at her.
"Because I'll be on my own if you don't stay here?" She sighed. "Maddy, after all you've done for me, please don't think you have to give up your plans and stay with me at Christmas. I'll probably be exhausted and spend the day in bed anyway. Were you going to celebrate with Luc?"
"We haven't discussed it, but I expect he'll go home," Maddy said, looking at Dannie thoughtfully. "Julia's asked me to go to France, but I think New Year would be better."
Come New Year, Luc would be more likely to be free of family commitments to go to France with her.
"Christmas for you and me here in the flat," Maddy added. "Then we'll both take off for a New Year party to celebrate all things new."
"Right, now that's sorted, I think I'm going to have an early night," Dannie said. "It's been a long day. See you in the morning."
"Night," Maddy replied, deciding she'd phone Julia to see how she felt about having guests for New Year.