Alfred's Emporium – Episode 17
---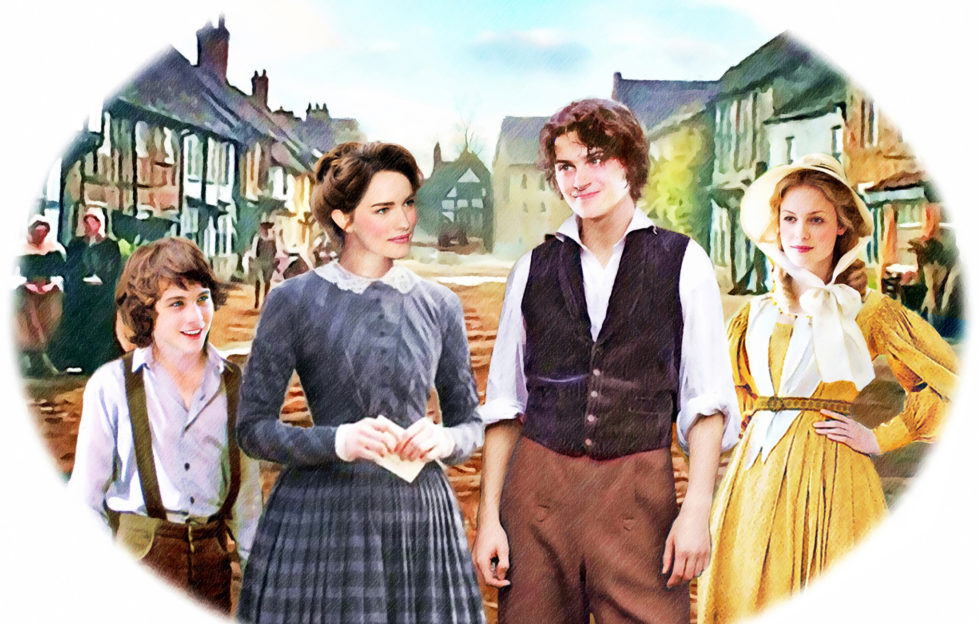 Illustration by Ruth Blair
Rose looked around her at the mix of old buildings. One in particular took her attention, though its paint was peeling and most of the windows were boarded up.
"That is the old assembly building," Delia said, speaking to her for the first time. "It was a fine place in my grandfather's day, with dancing and entertainments. Nothing happens in Datcherford now. You need not wait, Sturgess. We will walk back.
"This is the dressmaker's establishment," Delia went on, indicating a cottage.
Rose was more interested in the adjoining building.
So that is Alfred Hapstall's shop, she thought.
It had a freshly painted frontage and neat curtains at the upstairs windows, but seemed too small to contain all the goods flowing out on to the cobbled street.
"Good afternoon, Mrs Maloney." Delia was greeting a small woman who'd answered the door. "I wish to look at the sketches and the fabrics we spoke of. This is, er . . ."
"My name is Rose Bryson," Rose introduced herself. "I am here on behalf of Mrs Jameson of Cross Roads House."
Once inside, the dressmaker attended to Delia first, laying out swatches and sketches for her perusal, before turning to Rose.
"I will do my best," she said, opening the parcel Rose had brought, and tut-tutting over the threadbare patches on Mrs Jameson's gloves. "The embroidery will be difficult to match. It will take an hour at least."
Rose watched her work, admiring her skill but wishing that she might sew faster. Almost half an hour passed before the second glove was taken up.
She turned to Delia.
"Perhaps I should collect the papers from the attorney while Mrs Maloney works, so that I don't keep you waiting, Miss Bassett."
"Yes," Delia agreed without looking up. "His office is at the end of the street."
Rose hurried out and quickly located the attorney's office, but once inside she was forced to wait, anxiously watching the clock, while he scrutinised the papers.
When at last he finished, Rose gathered them up and rushed back to the dressmaker's. Delia had gone.
"She left a while ago," Mrs Maloney explained. "She said she had another call to make and you were to wait for her."
Rose took the gloves and went outside. More than an hour had passed since they left Datcherford Manor and there was no sign of Delia.
What a quandary, she thought. Mrs Jameson would be angry if she were late and Miss Bassett would be angry if she returned without her daughter.
On balance, she decided, she would wait – at least Miss Bassett would be able to explain her part in the delay.
She stood for a minute or two when an idea occurred to her. Why not step into Alfred Hapstall's shop?
It would be pleasant to see him, and much better to watch for Miss Bassett from within than stand in the street.
The bell tinkled as Rose opened the door. There inside was Delia.
She was standing with Alfred, and he was holding her hand.