Alfred's Emporium – Episode 53
---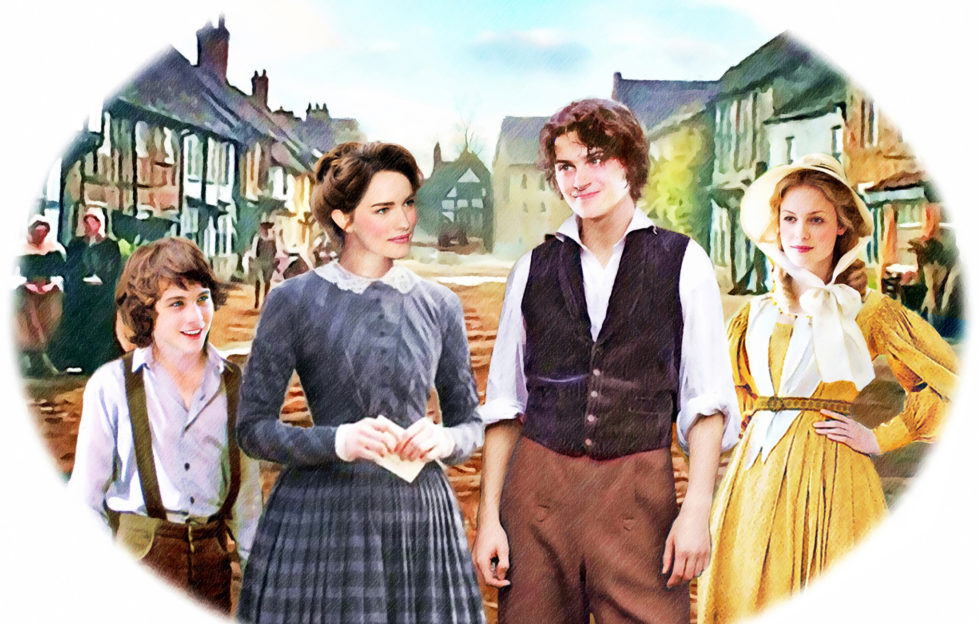 Illustration by Ruth Blair
"Good morning to you all," Rose said gaily. "Mrs Maloney woke me early, and I saw the light from my bedroom window."
"And you remembered," Alfred replied, looking at her dress.
It was the same one she'd been wearing the day they'd walked in the garden of Cross Roads House and he'd told her of his plans.
"Of course."
"My first lady in grey," he said, deeply touched.
"Alfred has been here since six o'clock," Mariah said. "No doubt fretting in case anything has been overlooked."
"Nothing has been overlooked," Alfred affirmed. "I haven't been fretting, I've been going over my words. Today I intend to greet each customer at the front door."
"What will you say?" Rose asked.
Alfred stood up and faced the three of them.
"I shall say, welcome to Hapstall's. We are very pleased to see you. Our grocery department is to the left, offering an even larger choice of items than at our last premises.
"We hope you will also visit our new household department, where Mrs Hapstall will be pleased to show you an excellent range of items for your home. Miss Maloney is in charge of our haberdashery counter, and in our ladies section you will find Miss Bryson on hand with an array of fine articles."
"That's a fair speech, Mr Alfred." Tom grinned.
"Every customer in my store will always be sure of a good welcome," Alfred replied, returning the smile.
"There's the clock chiming eight," Mariah said. "We'd better be about our business."
While Mariah and Rose put away the remains of their breakfast, Alfred and Tom switched on the lights. Just then Miss Maloney, the dressmaker, arrived, looking a little concerned.
"Now that the time has come, I feel a little nervous," she confessed.
"Don't be," Alfred said, taking her hand. "I know you'll do well. And who in Datcherford, besides your mother, knows more about fabrics and thread?"
"Aren't you anxious, Alfred?" Mariah asked.
"No, I'm not," Alfred replied. "I've always believed the store will be a success. Once people see what we have to offer they'll tell others and the word will spread. It might take some time, but I know it will happen.
"And," he added, smiling at them, "I have the best people at my side. Now, let's take our places."
With an air of purpose, they checked the counter tops, rearranged the chairs and opened the tills. The ladies pulled on their white cuffs while Tom and Alfred tied on fresh aprons.