City Of Discoveries — Episode 04
---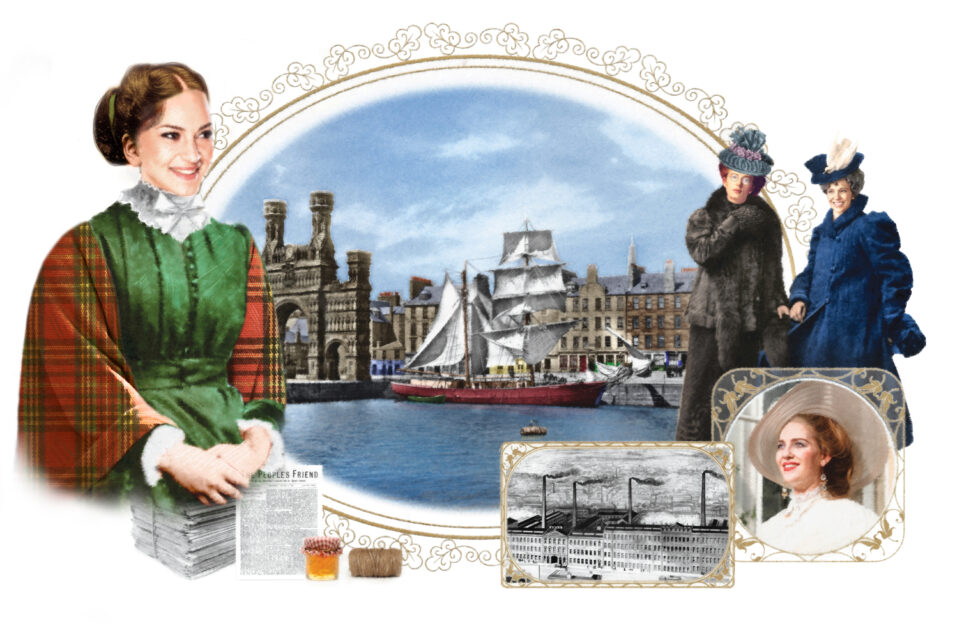 Illustration by Mandy Dixon.
Elspeth Sutherland sat on the verandah in a light gown and a wrapper.
It was not yet six o'clock in the morning, but the heat demanded she have a huge ostrich-feather fan which she used to waft some cooler air around her from time to time.
Life as a colonial wife in Sydney was different in so many ways from what she would have experienced as a wife in Dundee, had Harold not carried her off.
She relished it.
"I certainly could not have appeared on any balcony corset-less and wearing a wrapper," she told the koala and its baby watching her from the safety of a huge gum tree on Harold's new property.
The animal's unblinking stare was a little unnerving.
"My dear, are you suffering from heat-stroke, that you're talking to the koalas?" her husband asked as he brought a tray of pineapple juice through from the kitchen. "Once we start having any of my family to visit, you may not sit out here in only a wrapper, either."
"You are a cruel man, sir, but at least you don't insist I wear a corset when your family visit."
Elspeth stretched her head up to meet Harold's kiss.
"I can almost forgive you as you're bringing me this wonderful juice."
"It is still hot," Harold agreed. "Usually by the middle of January, the thermometer is creeping down."
Elspeth sighed with pleasure. She loved the view from their new house.
It opened out across the expanse of the Botanic Gardens where Harold spent his working days, and was sufficiently distant from the busy city streets to be a quiet haven of burgeoning plant-life and a selection of Australia's odd fauna.
"Have you sent off some notes to your parents, my love? Only I know how your papa will fret if he cannot have sleep and . . ."
"I have sent him your recommendations for which cabins to book for the journey on to Sydney. Oh, Harold, just think, we have not seen them since we left them after our marriage in Calcutta."
She stood up and, dropping the fan, leaned over the verandah railing to study the koalas.
Harold came up behind her and encircled her with his arms. Elspeth relaxed into his lean strength and breathed slowly.
"Are you crying, Mrs Sutherland? Yes, sometimes I think our marriage was too sudden, but what could I do when the next opportunity might have been in five years' time?"
Elspeth sniffed.
"These are tears of happiness because I'll get to see my parents again within a few months."
She squirmed round and gazed into his troubled eyes.
"Besides, if we hadn't married, all those single ladies would have had too much opportunity to secure your interest."
Elspeth knew her arrival in Sydney as Harold Sutherland's bride had not met with the approval of everyone in the community of European academics. Some women had taken the trouble to tell her so.
"You mean Miss Stewart and her friends," Harold said with a chuckle. "Darling Elspeth, I hope they aren't causing you more discomfort. There never was any real affection between me and Grizel Stewart."
He lifted the heavy locks of blonde hair from the back of her neck and a welcome breeze tickled it.
"I was much surprised to be told by her brother that I'd broken her heart; much surprised."
Elspeth gurgled with amusement despite thinking she should be kinder to Miss Stewart's injured feelings.
In the four months since she and Harold had arrived in the city, she'd come to see that her new husband was inclined to speak as he found rather than dress things up in polite phrases and little white lies.
"And I, too, will be glad to see your parents again and get to know them better. I am sure my mother is looking forward to their visit. I should be back from the Blue Mountains by the time they arrive."
"The Blue Mountains! When are we leaving?"
She was delighted. One of the ambitions of her life was to travel, and there was so much of Australia to see.
Elspeth let excitement deafen her ears to that "I".
"You haven't given me much warning, Harold; I've been accepting invitations willy-nilly. I knew nothing of this Blue Mountains trip."
"You don't need to worry, my love. I have no intention of taking my bride up into the wilds. Accept as many invitations as you please."
Elspeth hid her disappointment as best she could. Outright opposition was not going to move Harold one iota.
She would have to plan her strategy.