City Of Discoveries — Episode 18
---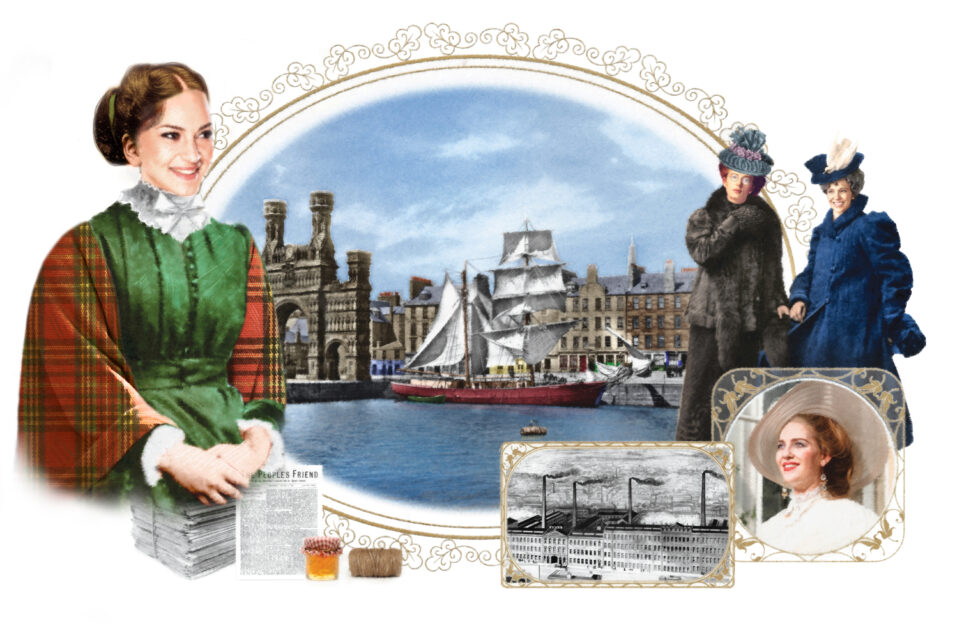 Illustration by Mandy Dixon.
Hetty saw John Crombie stiffen.
Oh, dear, she thought, he would do well not to criticise this prospect if he hoped to form a connection with Carrie.
"Doctors!" he said. "Will they attend to children only?"
"What would be the point of that?" Carrie asked, and Hetty's romantic hopes for her young cousin wobbled.
"I see no reason to train ladies in expensive anatomy and chemistry classes and then restrict them to children."
"But surely a lady could not expect to examine any gentleman . . ."
"Careful how you go, Crombie. I sense that our companions are most skilled in arguing these cases."
Thomas paused while he bought a paper from a street vendor.
"In truth, I do not see why a woman should submit to only male doctors but no man should be seen by a woman. It offends my idea of a rational conclusion."
"A rational conclusion," Carrie mused. "I believe, Mr Webster, you are a man ahead of the times."
"I am a man who is regularly accosted by Mr David Masson as I attempt to exercise my dogs. Eventually, I just gave in. Now, I agree with everything he puts forward."
"Professor Masson!" Carrie said, and Hetty watched her complexion flush red and then pale. "Professor Masson, who allows women to attend his literature classes in the university?"
"Aye, that's the one," Thomas agreed.
Hetty accepted the arm he offered for her support on the icy pavement and they moved ahead.
When there was a sufficient distance between them and the others, he bent down to whisper in her ear.
"I am so grateful to the guid Lord that there is only one."
Hetty laughed. How often had she thought that way when Carrie's enthusiasms overtook her?
*  *  *  *
Jennet climbed the stairs to the landing and found the door ajar.
She pushed in and saw William standing in the middle of their room.
He made a dramatic figure, lit as he was from the side by the fire, and she was overcome by a wave of longing for the way things had been.
How long ago it seemed that she would come home to her handsome big man, stretching after his day at the loom in the shed beside their cottage, and she would drop her basket of vegetables and run into those strong arms.
It would often be a while before any work was done on seeing to their tea.
Today, though, she knew that running into William's arms would just annoy him, so she came in quietly and set down her cloth bag with her clogs and her book from the library.
It was a moment or two before she realised he had a scrap of paper in his hand and was gazing at it in confusion.
"That's no' about the rent, is it?" she asked.
There had been rumours that the landlords were thinking of putting up the rents.
"Here," William said and thrust the paper at her.
Jennet took it and turned towards the firelight.
Maister Marshall, please come along to the Keiller's warehouse for to see me on Friday morning around eleven. A. Cruikshanks, Foreman.
Jennet read the words and then reread them aloud. With dismay, she saw William's face darken.
"Did ye know about this?"
"No, I did not," Jennet said. "It seems guid, doesn't it?"
"In what way is it guid?"
"Oh, but William, if they take you on, I can stay at home and be a wife again and . . ."
"And when the oranges have all been delivered and the marmalade made, what then?" William's plea was unbearable.