City Of Discoveries — Episode 38
---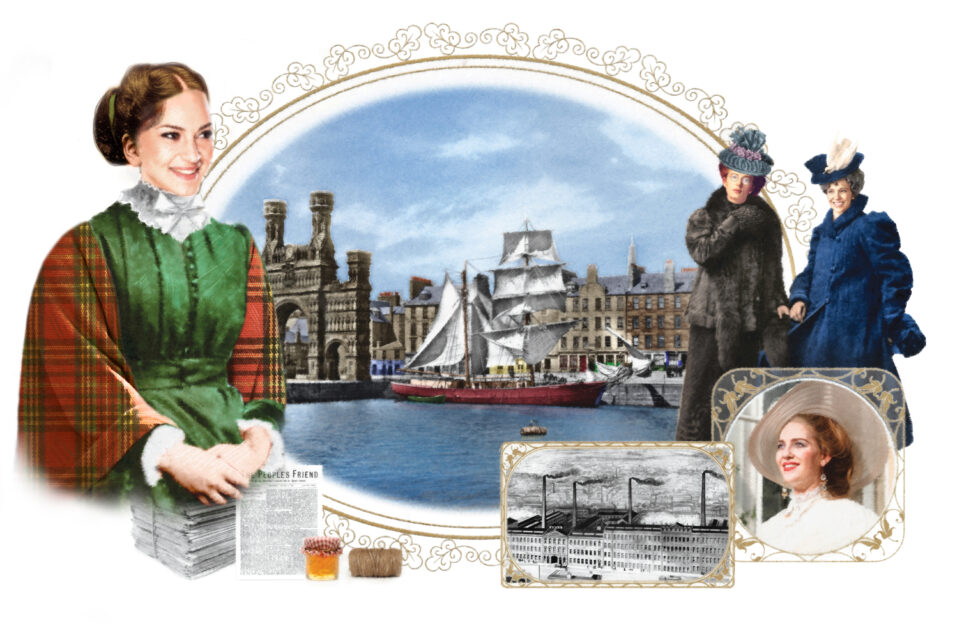 Illustration by Mandy Dixon.
Hetty was writing her weekly letter to Carrie in Canada. She wondered how to describe the moment when she and Jennet had raced up the close to reach William Marshall.
Jennet's husband had been battered by two of the lasses from Sooth's mill. He lay on his front, bleeding from his head.
Hetty had considered not telling Carrie, but gossip being what it was, it was better for the story to come from her own pen than from someone else.
I have spent time with Jennet Marshall and understand your faith in her and hope for her future.
She and I walked home from the suffrage office three days ago, and saw her husband in the mouth of their close.
Just then, we saw figures lunge from the shadows and swoop on him, beating him on the head and shoulders with sticks.
We ran to him and were helped by some sailors who had seen the attack.
The sailors caught one of the attackers, but in the confusion she escaped into the surrounding streets. Jennet believes she was a girl called Lena Johnstone from the mill.
Jennet is sure she saw the foreman, Drew Fleming, leaving the turmoil with another girl.
I sent for a doctor for William and have asked him to send me his bill.
William had to stay off from Keiller's for two days, but Jennet says he went back to work this morning.
Hetty ended her letter with bits of local news.
As she waited for the ink to dry, the bell clanged in the hall and Agnes came from the kitchen to answer the front door.
Even before she saw him, Hetty recognised the deep tones of her nephew, Bryce Wilson, and jumped up.
He wasn't expected till the day after tomorrow, but she and Agnes had prepared the big first-floor bedroom which he and his wife, Anna, would use.
"Auntie Hetty!" Bryce boomed as he plunged through the door. "You haven't changed one iota."
"Dear Bryce, I knew something was lacking in my life, and here you are."
"Do you mean flattery, Aunt? Not a bit of it. You look glowing.
"Is it only a business relationship you have with this mystery man from Edinburgh?"
Bryce stopped talking while Agnes took his coat.
"Not the scarf, my dear girl. Those of us returned from India need those, even indoors."
Hetty studied this person who had departed for India three years ago.
His beard was trimmed and she could see how tanned his face was.
Bryce spent his time outside, working with the managers of the jute plantations.
"We've lit the fire in the room you and Anna are to share, my dear.
"I know our east-coast weather will challenge you both." Hetty smiled. "You remind me so much of your papa."
"Really?" Bryce beamed. "Now, Aunt, I am early because, as you know, the tide and the wind can make sailing precarious.
"Anna has gone to her parents in Broughty Ferry with the children until you are ready to move to Edinburgh.
"We will drive there at the weekend, if that suits you, ma'am."
"Indeed, that would be delightful. I thought you wouldn't be long in acquiring a carriage."
The door opened and Agnes came in with tea.
Once they were settled before the fire, Bryce asked about Hetty's new job.
She told him as much as she knew about Thomas's involvement in the exciting proposals afoot to have some women matriculate in Edinburgh University.
Bryce listened intently till she finished, and nodded.
"I made one or two enquiries, Aunt."
"Bryce!"
Hetty was mortified. As a single lady of independent means, she had had little experience of being supervised by any male relative. She wasn't sure she enjoyed the sensation.
"I'm sorry, Aunt Hetty, but I am head of the family since my father's demise.
"I know that people, not just ladies, men as well, can be gulled by sham proposals."
Bryce studied his pocket watch while he spoke.