City Of Discoveries — Episode 46
---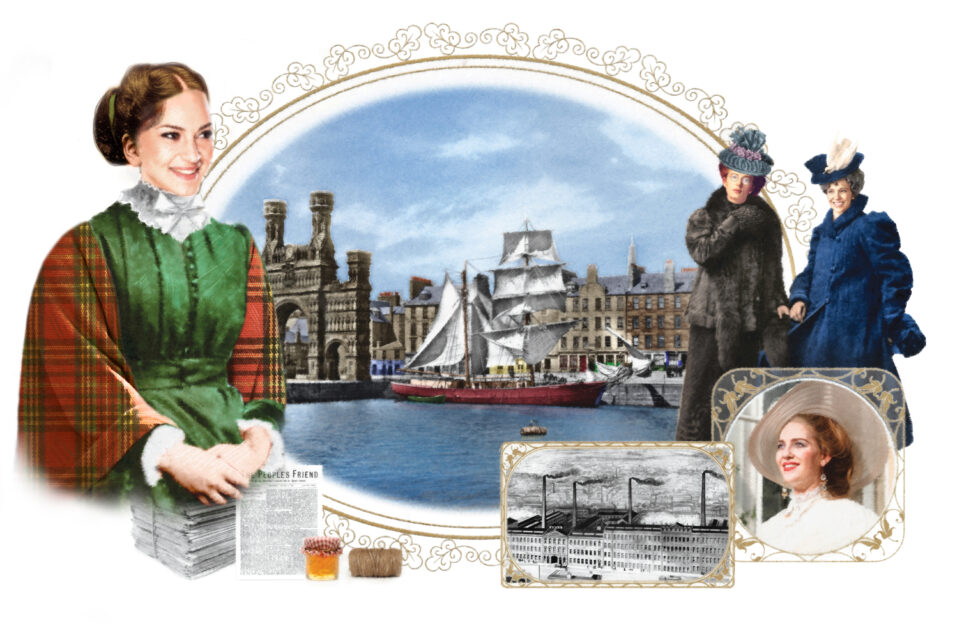 Illustration by Mandy Dixon.
Elspeth Sutherland marvelled at her mother-in-law, who had just asked about the age of some women travellers.
Did that mean she was considering travelling in the scrub and up into the mountains, with the prospect of inconvenience and deprivation, in order to allow Elspeth to go on Harold's expedition?
It had come after Bethany Davis revealed that she was expecting another baby and would not be able to accompany her friend, Elspeth, on the trip out of Sydney.
"Are you contemplating four weeks under canvas, Mother?" Harold asked.
"That's what it will be. There are no hotels and few structures of any kind on the route I'll be following."
"But you don't think I'm too old?" Wilma responded.
Harold shrugged crossly.
"What a good influence my mother-in-law is," Elspeth whispered to her friend. "Harold would be in danger of becoming pompous if Wilma did not prick the balloon from time to time."
"Oh, Elspeth, I'm sure he has your best interests at heart," Bethany whispered back, "and his mother's."
The next week passed in a blur of activity as the Sutherland ladies bought the kit items they needed for their travels.
Harold had engaged a junior clerk, Frank, who had been on several similar expeditions and was able to go with them to the cavernous warehouses.
Elspeth struggled to understand the accents of the storekeepers and Wilma usually pretended she was deaf.
"It was a diversion at first," Elspeth said to Harold one evening when they had retired to bed, "but I confess, I am wearying of it now."
"Mother used that trick when my brother, Al, wanted to join the Navy."
"And did it stop Al going to sea?"
"No!"
Harold laughed for the first time since they'd found the dead rabbit in the greenhouses.
"He's now a captain with his own command, but Mother still says no-one told her it was going to happen."
"Oh, dear." Elspeth sighed. "I hope she is not regretting agreeing to the expedition." She stared into the darkness. "Would she tell us, if she had?"
"Mother? I think you must have assessed her character by now, my love."
Elspeth felt the warmth as his fingers spread across the base of her throat and lifted the straying hairs away so he could kiss her collar bone.
He pulled his head back and she felt him smiling down at her.
"If Mother didn't want to travel with us, we would know. But, my darling, I will take you on this expedition whether she comes along or not."
Elspeth melted into his embrace. Time enough tomorrow to tell him how much she appreciated his change of heart.
*  *  *  *
"We have a lot of post this morning," Wilma said as one of the girls brought it through from the hall and set it down beside Elspeth. "Another letter from your papa for Harold."
Elspeth was more tired than usual and hadn't noticed the pale blue stationery.
Now, she realised it had a familiar postage stamp.
"An Australian stamp!"
Harold turned from the veranda where he had been gazing out over the grounds.
"Whoops!"
Elspeth heard the laughter he tried to quell.
"Harold, what has my father been writing to you about for weeks now?"
"Well, I confess I did prompt your papa to think about escaping the pressures of business and consider curtailing his travels in India."
Elspeth's heart leaped. Were her parents here? Had Harold persuaded them to come to Australia earlier than planned?