Danger In Havana – Episode 04
---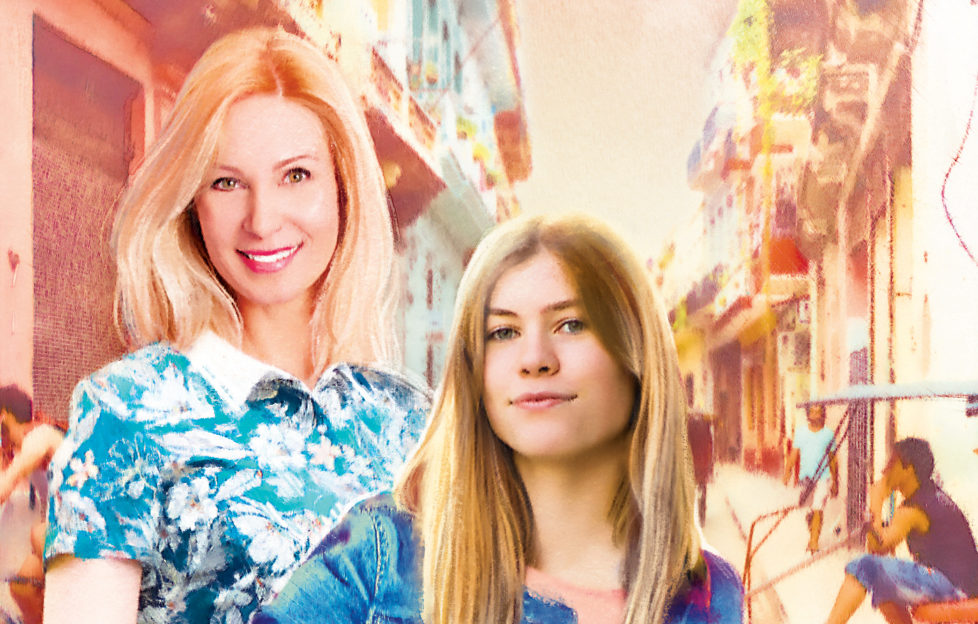 Illustration by Sarah Holliday.
WHAT do you want to do on our first evening?" Bryony asked as they unpacked their cases.
White cargo pants and pastel coloured shorts for the day, swirly knee length dresses in bright colours for lunchtime outings and long sleeveless dresses with shoulder wraps for the evening. They had been told that Cuba was a place with virtually nothing to buy. No swanky shops, no street markets bursting with multiple stalls, no rows of colourful T-shirts and ranges of jeans, no strappy holiday dresses in floaty materials designed to empty the purses of tourists.
This was still a communist country that eschewed the capitalist hobby of shopping for new things you didn't need. What was more, the blockade of goods coming in meant that there was hardly any of the ubiquitous "stuff" around that tempted holidaymakers and shoppers.
Everything the Cubans had, and that was very little, was used and used again.
As they had driven here in the taxi, Bryony had noticed radios, TVs, irons, electric lights and hoovers in little repair shops. It didn't seem to matter how old they were, they were obviously passed from generations and traded amongst friends and family.
They were repaired and remodelled until the last bit of life was extracted out of them and then, when they finally seemed dead, some brighter, sparkier engineer than the others would take them and bring them back into service again, using all the bits and parts to make something new.
Nothing was wasted and there was virtually nothing to buy. Bryony and Anna had been told that toothpaste and nice soap was difficult to get hold of.
They'd also been told that it was a common thing for guests in hotels, at the end of their stay, to give a helpful chambermaid a bag full of clothes or items they no longer had a great need for. This was a thank-you to help this silent army of hard-working women get on in life.
Bryony, when she had heard this, welcomed the chance to bring all the clothes which had meant so much to her during her life with Warren. This would be their last outing, their swansong.
Her suitcase when she left this curious island would be lighter – not just of clothes but of memories.
This was her chance to cleanse herself, to drop the chains of memory, to release herself of the burden of things which once were part of her life but which would never be again.
She knew it would be painful saying goodbye to clothes which had been like friends in good times, but she must do it.
Bryony hung up the dress she used to wear on the rare occasions when she and Warren had splashed out on tickets to the Royal Opera House. She had also worn it for anniversaries and special birthdays.
As she unfolded the dress and hung it on a hanger, she ran her hands over its thin cream and flesh-coloured silk, so soft, like the touch of a loved one's hand.
She remembered how Warren, unbidden and unasked, would take the ribbon strap which would work its way off her shoulder, and place it back in its rightful place, before giving her shoulder a squeeze.
Tears stung the back of her eyes and she fought to keep them from flowing.
As Anna scurried about, hanging up her own things, Bryony took a deep breath. "These were my special trousers for when Dad and I were learning Argentine tango. Do you remember how we showed you our first moves and tripped on the carpet and nearly came a cropper?" Bryony laughed and then remembered how lovely it had been when they'd had dozens of lessons and had finally achieved their aim of being good dancers.
The trousers were split from ankle to calf. Bryony remembered how she would curl her ankle up and round Warren's knee when they performed a sensuous ocho.
She tucked the trousers away in the wardrobe, the memories were almost too painful. Then she put her special geometric patterned blouse on a hanger.
"Remember Dad's face the Christmas he gave this to me? He was so worried I might not like it but he was wrong. I've worn it so much, I've had to sew the buttons back on three times!"
"Are you sure you want to leave all those behind when you go, Mum? Won't you miss them?"
"In a way, love. But in another way, I need to be free of them. I won't be casting them off, and I won't be forgetting your Dad for ever. I'll be giving them a new home. The maids here will cherish them, they'll be of far more use to them than if I'd given them to a charity shop.
"Most of the Cuban chambermaids are young," Bryony added. "They'll wear my things to parade down the Malecón; they'll wear them on their first dates with their future husbands. My clothes, with their connections to a past life and to a much loved marriage, will find a new life. They'll be better with these hardworking ladies in this beautiful sunny island that your father loved.
"My old memories will help those girls to make new memories, and help me to make a new life. I'm not forgetting your dad, just understanding that I need to move on."
The last piece Bryony put in the wardrobe was a light cashmere stole in a silver grey which went with everything.
As she felt the softness in her hands, it brought back the time she and Warren had escaped for a romantic weekend in Cornwall.
The stole had been warming her shoulders when they had spotted their first glow worm hiding in the grass verge on the road out of Polperro.
Warren had explained how the glow came about, that it was bioluminescence and she had marvelled about her husband's capacity to know something about everything.
You never needed an encyclopedia when you were with Warren.
Would she ever find a man like that again? She doubted it. He was one in a million.