Danger In Havana – Episode 06
---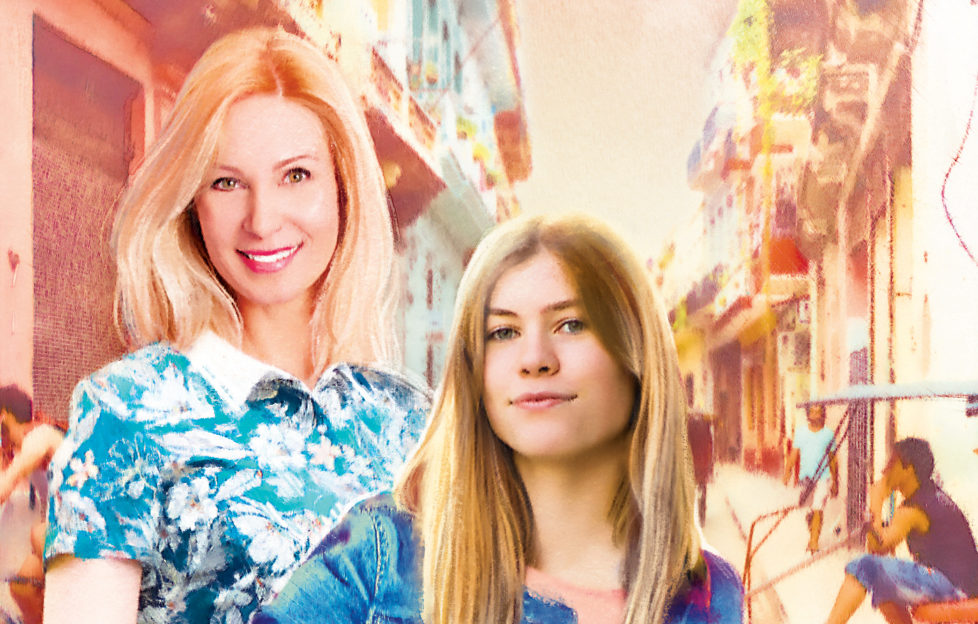 Illustration by Sarah Holliday.
AFTER an hour, Norelvis turned to them and smiled.
"If you like to go for drink, I drop you off at good bar next to hotel. The best and much cheaper than hotel."
They agreed, and he installed them at the best spot to watch the world go by, with a Cristal beer at a table under an awning.
"This is my card," he said, bowing. "Remember my name, Norelvis. I am every day at the hotel. Any time you need me, anywhere you want to go, I take you. Best prices."
The boy's last wave and smile was just for Anna.
"Well, he was sweet," Bryony said, tucking his card into her purse. She would definitely use him again.
"Wasn't he? And so good-looking. I've never seen eyes that blue."
It was the first spark of interest Anna had shown in boys for ages. She had been too buried in her studies.
What was more, Bryony tried not to stare as Anna absentmindedly popped peanuts into her mouth from the bowl of bar snacks on the table.
Amazingly, her daughter was eating without examining and questioning every mouthful.
Anorexia hadn't been mentioned by the doctor, but the food fads Anna had developed after Warren's death and her gradual but steady weight loss had worried Bryony to distraction.
She had noticed Anna suddenly developing an interest in cooking food but not in eating it. She had taken to carrying out huge baking sessions, making three or four cakes at a time and taking them in to her friends at school, or as presents for the teachers.
But she never had a slice herself.
For her daughter's lunch, Bryony would pack Anna a sandwich, a cereal bar and piece of fruit, but the lunch box would come back with only a few bites taken out of them.
When Bryony remarked on it, the lunch boxes started coming back empty but then Bryony suspected that Anna was just giving her food away.
At dinner in the evenings, watching Anna push food round her plate then cross her knife and fork with only a quarter having gone was so worrying.
But Bryony tried never to make a fuss. That only seemed to make Anna retreat more into herself.
Seeing Anna tuck into the peanuts without thinking was such a welcome change.
Maybe Cuba was going to unlock something good for both of them, Bryony thought as they wandered back to the hotel tired and ready for bed.
*  *  *  *
The next day was spent walking for miles. For the first time in a while, Anna had exclaimed that she was hungry midmorning and had even agreed to having a coconut-flavoured ice-cream.
They had fun discovering the museum of rum, a homage to the nation's favourite drink.
They pondered over rows and rows of cigars of all different sizes, some sold in very expensive humidors for real connoisseurs. They bought a couple to take back home as presents and were given special little wooden boxes to protect them.
They marvelled at the lack of shops and at the friendliness of people standing with rickety handcarts in the backstreets, selling pineapples, guavas and plantains which looked like huge green bananas.
Then Norelvis, on his rickety taxi bike, spotted them. Bryony was pleased as her feet were killing her from all the walking.
It didn't take much for him to persuade them to hire him to go to see the Hotel Nacional. In its special garden, on manicured lawns, they sat at metal tables, drank tequila and made out they were there in its heyday, when Frank Sinatra and Ernest Hemingway had enjoyed the good life, and gambling and womanising were the main pursuits of visitors to the hotel.
When they had been revived with cocktails they set off again into the centre of Havana.
Everywhere they went, as they wandered the streets, Cuban boys would tell Anna how beautiful she was.
Bryony could almost see her daughter's self-doubt beginning to fade a little, and Anna, forgetting her teenage gawkiness, almost beginning to believe their many compliments.
* * * *
After their first proper day, they agreed that coming to Havana had been a good decision. In a couple of days they felt they had thoroughly come to know and love the city.
Other guests in the hotel had become familiar, like the group of young Canadians on a wedding party who took Anna under their wing and invited her to join them for drinks.
"Your accent is soooo cool; we could listen to you all day," one of the girls told her.
While breakfasting or having coffee in the bar of the hotel, Bryony and Anna often saw the man with the pot belly and the small beard on his chin. He would smile enigmatically and do his strange little bow to them whenever their paths crossed.
"That man seems to be everywhere," Bryony commented one day when they walked through the lobby after breakfast.
"Have you noticed him hanging around, Anna?"
"A bit." Anna seemed unconcerned. "Some people don't venture far from their hotels, do they? It's the hotel experience they come for, not to see the city. Besides, I've seen him on the odd occasion with an elderly woman with a walking-stick, maybe his mother or an aunt. I guess he's looking after her and can't move far off. He's probably bored."
Anna was distracted and looking in her guidebook.
"Let's go for lunch tomorrow to that square where they have the bookstalls. I don't think there'll be much I want to buy – it's probably mostly dog-eared copies of Fidel Castro and Che Guevara's political pronouncements. But I'd like to browse. Some of the books are really old. They have artists selling paintings, too. And there's a great restaurant which does lobster kebabs."
So it was settled and at noon the next day, they hailed Norelvis who'd become a firm friend and set off.