No. 4, Whitehall Gardens – Episode 02
---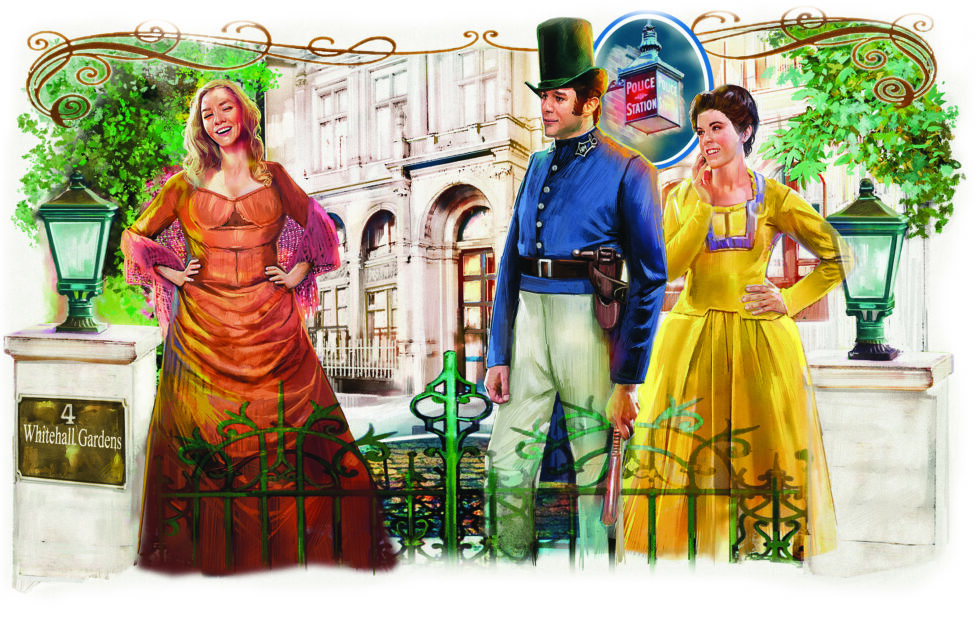 Illustration by Sailesh Thakrar.
Clementine and her mother lived three-quarter of an hour's walk from Whitehall, in the upper part of a house in Walworth.
Bridget was a widow, and often worried about her daughter. When the nursery maid at No. 4 had gone off unexpectedly to marry, Bridget had seized the opportunity.
This was at a moment when Clementine had almost got herself into trouble, and Bridget employed her powers of persuasion to get her daughter an interview at No. 4.
London was a tricky place for any girl with nothing to her name and no father to guide her, and Clementine had almost got entwined in a confidence trick, something she regretted.
Her mother was confident a position in the household of the Home Secretary would pluck Clementine from danger for good.
Mrs Peel had made a space in her busy diary to attend the interview.
Clementine was surprised that such a lady gave attention to the hiring of a lowly nursery maid.
Her mother had been adamant about who would decide Clementine's fate.
"It will be Miss Everett, mark my words," Bridget said firmly.
But the exalted Mrs Peel came and lounged on a chaise longue at some distance, yawning occasionally.
They stood in a spacious room on the second floor of the finest, most modern house Clementine had ever seen.
Books lined a whole wall, and two rocking-horses, both in perfect condition, sat proudly in the enormous bay window. The chairs and sofas all matched, and were covered in the sweetest pink and white striped fabric.
Bridget had already pointed out to Clementine, while they waited, the elaborate tea set that she warned was reserved for Miss Everett alone, and Clementine was staring at it as the talk began.
Her mother nudged her hard in the ribs and she jumped.
"The children have been sent downstairs for an hour," Miss Everett said, gesturing for them to sit in two chairs opposite her.
The chairs were rather small, and Clementine felt uncomfortable immediately.
She noticed that the governess bore a marked resemblance to a stuffed dodo she had once seen.
She had been on just one holiday in her life, a day trip to Brighton, and very memorable it was.
It had occurred while her father lived, and he had stopped in front of a glass case at a travelling exhibition, and pointed out the bird.
Miss Everett resembled the dodo with her hooked nose, tiny beady eyes and generally shrivelled aspect.
The lady of the house, in contrast, was beautiful. Her hair was arranged in the latest style, in glossy swathes around an oval face, and she had dark brown eyes that gave out a soft glow.
She wore a white day gown with a narrow edging of white fur at the breast, and its whiteness, contrasting with her lips and hair, made her all the lovelier.
Mrs Peel, on her chaise, regarded them with a look that was so lacking in focus that Clementine wondered if she were really paying attention. It was only just past eight in the morning, yet she seemed to lack any energy.
"Name four foods wholesome for a child of four years," Miss Everett said suddenly.
"Um," Clementine said. "Bread. Good bread, I mean, not the rough kind."
The dodo nodded.
"That is one, yes."
"Milk – warm."
"Why warm?"
"I don't know – I always got it warm, and I'm healthy, so I thought . . ."
Miss Everett frowned.
"Well, milk, then."
There was a pause. Bridget tensed in the chair beside her. Mrs Peel's eyes closed and Clementine saw the beautiful lady settle further into the upholstery. She longed to do the same.
If she got this job, she'd certainly take advantage of this luxurious upholstery. There must be opportunities for relaxation – perhaps as the children slept?
"Yes?" Miss Everett barked.
"Greens are wholesome," Clementine said in some desperation. Why was she finding it so hard to think of things? "Though I'd not touch 'em myself."
"Go on." The dodo expression was inscrutable.
"Oh, fish. Children like fish, if you don't let 'em see the eyes. Fillet your fish, that's what I suggest."
Clementine heard a faint rustling coming from Mrs Peel's direction, and Clementine turned to see the faintest hint of a smile pass across her face.
She guessed from her mother's short sigh that she was being too forward. It had always been a failing.
"I mean, fillet the fish if you say so, Miss Everett," she said firmly.
Mrs Peel rustled again, and the governess gave a loud cough.
There were more questions. Miss Everett's aim appeared to be to fox Clementine, and half an hour later mother and daughter left the nursery and the house dejected.