No. 4, Whitehall Gardens – Episode 06
---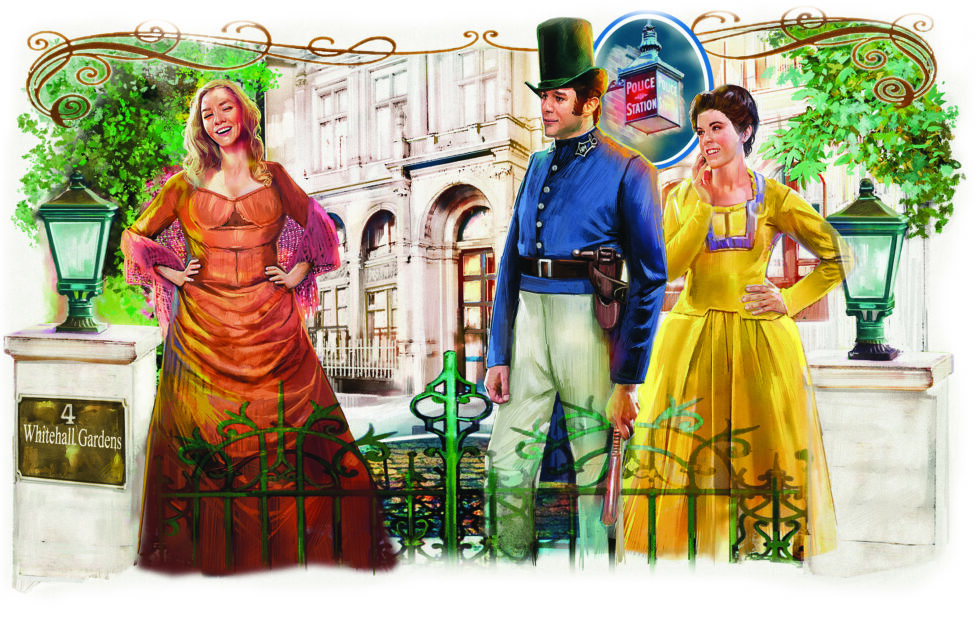 Illustration by Sailesh Thakrar.
From her position at the very bottom of the social ladder, Molly had failed to see that word of the cheaper laundry work might spread.
Mrs Thompson wanted to know where the business she had touted for had gone, and she began, along with her henchwomen, to notice the increased volume of washing hanging out.
She one day took Molly into her inner sanctum, and had it out. Molly had been noticed too often.
She was too loud, too pleased with her talents and too prone to mentioning her father who had scammed all of London before his untimely death.
It turned out that this sort of confidence trick was by no means new, though Molly had been proud of it.
"Undercutting," Mrs Thompson said when she dragged a scowling Molly into the centre of the circle of huge, steaming coppers, "is old hat. Now, who was helping this wicked girl?"
Molly had told her friends that she never grassed.
"It's the honour of the street," she said, vaguely bringing her father into it.
Clementine felt uneasy at her friend's boasts about Mr Westall. It puzzled her that a girl should be so proud of such a father, and it suggested that Molly lacked other sources of joy.
But Molly was true to her word, and refused to give up the names of her crew.
So it was only Molly hauled before a magistrate, though her friends were questioned at some length.
It was Molly's first offence – nobody knew whether the little thefts she was so proud of had been real – and she was merely fined.
Every girl suspected of being a friend of Molly's was summarily sacked without the week's pay.
Dorcas suffered most. She was engaged to a handsome subaltern, a young man rather above her in social status, and considered a catch.
They had been saving to marry, but the young man, Dorcas told Clementine, felt that her recent lack of wages meant they'd have to postpone the wedding.
"But your baby?" Clementine asked Dorcas the day the girl came to her in tears.
Dorcas was going to have her subaltern's child.
"Edward says we'll marry when we can," Dorcas said, drying her eyes. "He said it would all be all right."
Clementine thought that Dorcas's fate seemed especially cruel, and hoped that Edward would be as good as his word.
Clementine's mother had been horrified that her daughter was drawn in to Molly Westall's plan.
Bridget knew it didn't take much to scar a young woman's reputation.
She had set about a personal campaign to set Clementine on a safer path, and it was then she decided to get her child employed in one of the most respectable houses in England.