No. 4, Whitehall Gardens – Episode 07
---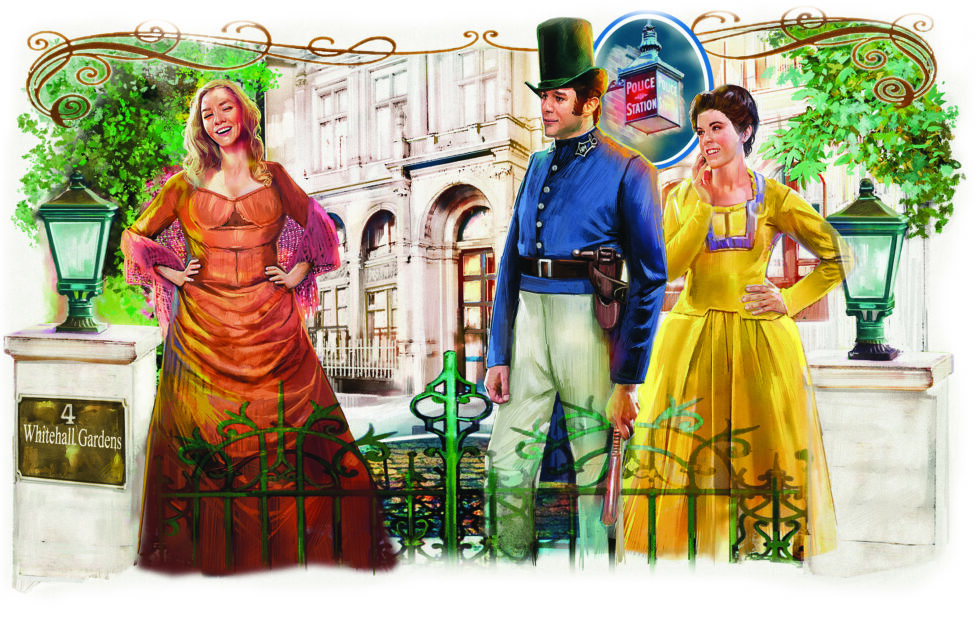 Illustration by Sailesh Thakrar.
It was a cold morning when Will stopped in front of No. 4, Whitehall Gardens, scrubbed and shined.
In the distance was Mr Davenport, and William raised a hand in greeting as two women came around the side of the house, deep in conversation.
One was about the age of his mother, and dressed in the modest Sunday best of a woman of lower class.
The other was younger, with dark hair peeping out from under a white cap. Her dress, under a plain coat, could not disguise a sweet figure.
But it was her face that made William lower his hand and stare.
"Sir." The older woman nodded as they passed, and then, a few steps further along the pavement, he saw the girl look back, and that was when their eyes met.
Later, recalling the moment, and after the meeting with Mr Peel and all its interest, he could not say for how long they looked upon one another.
He told himself that it could not have been more than half a second, but her face came back to him over and again.
Inside the house, Mr Peel struck awe into William. This was the man in charge of policing the nation.
"Gentlemen," the Home Secretary began, "what I am after is a broad picture of policing – its needs but also its present failings, and you'd oblige me if you'd tell me what you know.
"Mr Grant, I know you to be a man dedicated to the principles of crime prevention."
William's face burned scarlet.
"Yes, sir," he replied.
"This very summer," Peel continued, "we will instigate our new Metropolitan Police Force.
"As we put a final plan before Parliament, it strikes me that I must be sure of our purposes and certain of our methods, which is why I called you here today."
William began to calm down now that he knew why he was there.
Trying to stop the shaking of his hands, he reminded himself that he was interested in policing, and that he had experience, despite his youth.
They talked, and Mr Peel asked more of William until a carriage clock chimed and Peel stood up.
"Thank you. This has been illuminating." He looked at William. "A man like you, Grant, might go places in my new force.
"Men with good clean records of public service like yours, from law-abiding and God-fearing families, have a bright future."
William nodded.
As Mr Davenport ushered him out of the room, William thought carefully about what Mr Peel had said about his career.
"Men from law-abiding families," he had said.
He felt uneasy. Not all his family was as upstanding as he tried to be.