No. 4, Whitehall Gardens – Episode 10
---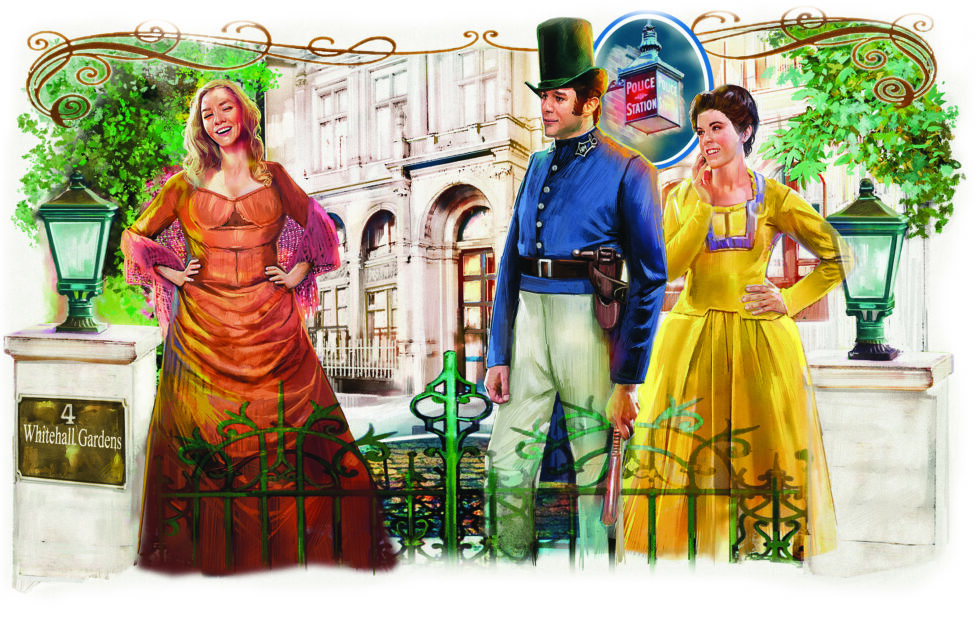 Illustration by Sailesh Thakrar.
In William's sudden depression of spirits, he did not think to mention his important reason for visiting Mr Robert Peel's house.
"Don't you like the house?" she said, gazing up at him.
The baby had calmed down, seemingly absorbed by their conversation.
"What do you mean?" William asked.
"Number four. You spoke the address with such an air of sadness. I think it the handsomest house in London. They built it new, you know, the Peel family."
"Did they?" William said with a sigh.
She laughed.
"You seemed cheerful when we came across each other just now," she said, "and now it's as though the world were heavy upon you. Perhaps it's that you're not fond of babies?"
She leaned over the baby carriage, and William thought that he could smell her – a scent of roses and clean linen.
"Let me confess something," she went on in a low voice. "I do not like them, despite my position!" Her eyes twinkled.
"But you like your own baby?" he said.
"I have none of my own," she said, blinking in surprise.
William saw her frown at him, then she glanced at the baby and laughed.
"You thought me a mother because of the baby carriage! How funny! No, this is little John Peel, youngest son of –"
"Of the Home Secretary!" William interrupted.
He felt his spirits rise, and life sweet again. She was not a mother, and probably not a wife, either.
"Yes, and this one is very like his esteemed father." She giggled. "Fancy thinking me a mother. Lord, I'd not be able to afford this carriage if I put aside all my wages for five years!"
She patted the vehicle and the child looked affronted.
"I am nursery maid at number four."
"I see." William was beaming all over his face, his muscles actually beginning to twinge from it. He couldn't help himself.
She was smiling at him, too, and seemed in no hurry at all to walk the baby on. He felt that his cup was running over.
They passed the time of day for at least five more minutes, and William decided, as he walked away, that he had delivered himself pretty well.
He had described the Bow Street Runners, and Mr Peel's plans for the new police force, but not for so long that the young lady – Miss Clementine Denny, her name turned out to be – found him tedious.
It had been a good day, and it was still well before ten o'clock. William thought of No. 4, Whitehall Gardens, and felt that the connection between himself and the loveliest girl he'd ever laid eyes on must be something fateful.
He was not a superstitious man, but when he thought about his future career, in love or crime prevention, he decided that he was almost certainly heading in a favourable direction.