No. 4, Whitehall Gardens – Episode 23
---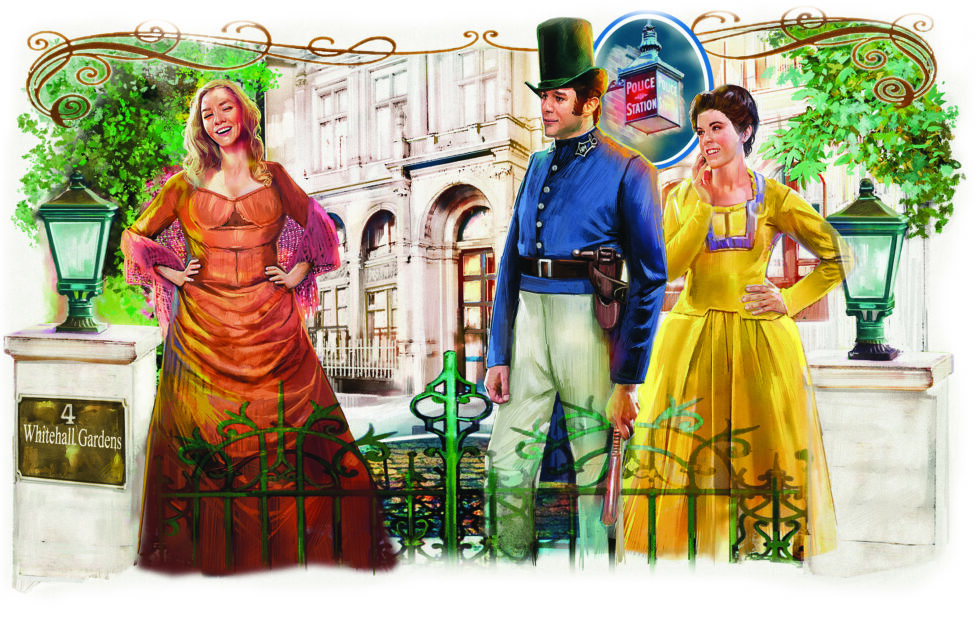 Illustration by Sailesh Thakrar.
It was Miss Everett's day off and she was visiting her sister at Horsham.
Clementine dressed the children, oversaw breakfast, and dealt with baby John's numerous requirements, at which point the children demanded a day out.
They knew that they were a hundred times more likely to get treats from her than from their governess.
"Where shall we go?" Clementine asked, tugging John's tiny jacket over his chubby arm.
"The barracks!" Julia cried.
"We will see how far we get," Clementine said.
The weather was very warm for early March, so Clementine proposed a picnic, figuring that mess on the park benches was less trouble than in the nursery.
She prepared the baby carriage, and a laden picnic basket that swung precariously from its handles.
She gave forceful instructions about behaviour, and hoped that a quarter of them would be obeyed, and they sallied forth.
"You know that it's forbidden for us even to try to enter the barracks, Miss Julia," she said as they walked along Pall Mall.
"But we can put our heads through the railings and talk to the soldiers," Julia said.
Clementine had a vision of five children's heads stuck in the ironwork. She wondered if the Bow Street Runners would run to help, and if William Grant might be among them.
"There will be no heads through railings," she said.
Julia looked disheartened, but she soon cheered up.
Directing her brothers' attention south to Horse Guards' Parade, she gave a detailed account of the Trooping of the Colour, and her own future role in the ceremony.
"When I am old enough, obviously," she said. "I also need to attain a high rank, specifically in the Dragoons, and that takes time, of course."
"Yes, Julia," Clementine replied.
The child could not be diverted by anyone from her plans for military service, and Clementine knew it was best to let her prattle on. It kept her small brothers entertained, and while she talked they walked in a straight line.
At the barracks Julia gave a rather shorter account of their history, and the boys grew tired of staring at its lofty walls.
Robert interrupted his sister.
"Now can we go to the zoo, Clemmie?"
Clementine knew that upper-class mothers did not approve of the zoo. It had been open less than 12 months, and was widely regarded as dangerous.
Clementine had heard the wife of an Under Secretary, who had eight children, warning Mrs Peel against visiting it.
"You know they have orangutans," the lady had said.
"Indeed?" Mrs Peel had replied.
"Wild, hairy, orange creatures that I am told fly at the sides of the cages. And they have all manner of unsavoury cat!"
"Well, I don't suppose my Miss Everett is well-disposed towards the zoo," Mrs Peel had said.
Leading the children away from the barracks, Clementine shook her head.
"Not today," she replied. "We don't have time. We've our picnic to eat."
"We do have time!" the boys yelled. "Please!"
Julia was striding on, rehearsing some drill.
"It's really out of the question," Clementine said, but already she knew that they would get the better of her. She had such trouble resisting them.
"It's a tremendous walk to the zoo," she said weakly.
"We don't mind!" Fred shouted.
So they went to the zoo, and on the way Clementine impressed upon them that it wasn't necessary to mention the trip to Miss Everett.
"I don't think your mama will be interested, either," Clementine said.
She had no idea how her mistress would react, but guessed that simple dismissal was perfectly possible. The children, for their part, were delighted at having a secret.
They all adored the zoo. The animals were kept indoors because, the keepers explained, they had come from the Tropics and might die in the open air.
Viewing them all indoors meant that there were unsavoury smells, but the children noticed nothing of that, and ran from enclosure to enclosure, marvelling at the curled horns of the oryx, the stripy quagga, and the elegant kudu with her spindly legs.
The orangutan was a favourite, with its joyous kissing motion towards the children and its squeaky noises.
Clementine led a tired but happy band of little Peels south through Regent's Park towards home. John fell asleep in the baby carriage.
William was exhausted, and finally said that he could go no further. They had only got as far as Ulster Terrace, which was still a very long walk from Whitehall Gardens.
The sound of a carriage approaching at speed made Clementine look up as she was trying to carry William and push the baby at the same time.
Horrified, she recognised Mrs Peel's best carriage, bowling along with Griff Jones in the driver's seat and the passenger window wide open.
Clementine was frozen to the spot when the carriage drew to a halt beside them. She tried to give the children a look of warning, urging them to keep the secret.