No. 4, Whitehall Gardens – Episode 26
---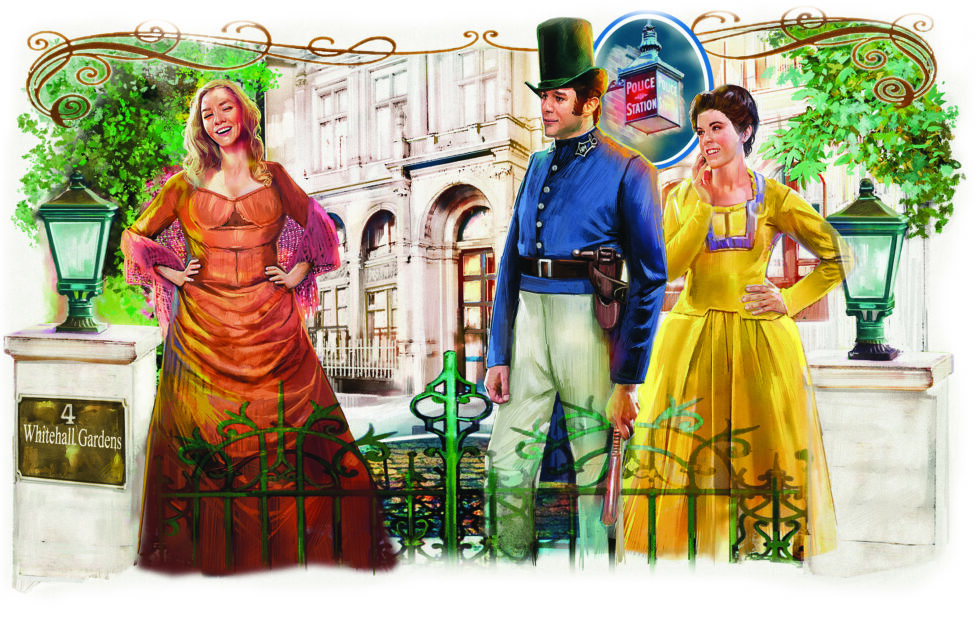 Illustration by Sailesh Thakrar.
William Grant had decided that he was definitely in love.
He was not a man to make hasty decisions – he left that to his impulsive sister. Instead, he had given the matter a great deal of thought as he paced the streets.
He was a man who gave due weight to evidence, and he felt that in this case the evidence could not be ignored.
Clementine Denny was all he ever thought about, except policing matters, and that looked to him like conclusive evidence of true love.
William's senior officer had hinted – more than hinted – that following his advice to the Home Secretary, he could expect a promotion.
William mentioned this to his friend and colleague in the Bow Street Runners, George Ainsworth.
"They'll give you another thirty pounds a year, I bet," George said. "Lucky beggar. And you won't be doing half as much walking about."
For a moment, William regretted the reduction that might be made to his beat, but then he remembered that, if Miss Denny agreed to marry him, he would no longer be walking his beat in the hope of seeing her. She would be at home waiting for him every night.
The idea seemed wonderful.
"Will," George said.
"Sorry," William said. "Thirty pounds, do you think?"
William did his arithmetic, and he believed that the pay rise would allow him to marry.
At the end of that morning's shift, which happened to be the day after the zoo adventure, he made his way to Whitehall Gardens.
He was shown by one of the housemaids to the garden, where Miss Denny was with the children.
He commented on the weather, and the probability of a new police force by the autumn. He had spoken to her many times, and dreamed of her more, but he found himself unable to come to the point and gripped by a fear of failure.
He tried a new tack, and described his likely promotion, which seemed a good idea.
"My mother will be pleased," he said. "She deserves the good fortune – a son with a good rank. She's a fine woman."
"I would be delighted to meet her," Clementine said.
His heart soared. After all, a young lady did not express a wish to meet one's parent if she has no interest in marriage!
"I look forward to that day," he said. "My mother has suffered. She was unlucky in her choice of first husband, marrying Westall when she was very young, and though she gained a daughter, she lived to regret . . ."
William saw a look of shock and consternation spread across the face of his beloved.
"Miss Denny," he said. "What have I said?"
"Westall?" she repeated, almost in a whisper.
"What is the matter?"
She hesitated.
"Oh, nothing, Mr Grant."
"You are distressed."
"I am quite well, but the children need to eat, and I must ask you to leave now."
She was backing away, oddly not towards the children but towards the shrubbery.
William hesitated for a moment, but had no choice.
"Good day, then," he said, touching his hat.
He walked, numb, around the side of the house. He'd come full of hope and confidence, but now felt the crushing weight of disappointment.
She had seemed so happy to see him, and he had thought that she liked him – more, that she was fond of him.
Why had she suddenly turned him away, and with such a look of horror? Perhaps his inexperience meant that he had read her all wrong.
Walking round the front corner of the house, his path was blocked by a tall man. He had hair like a chimney sweep's brush and a horse's nosebag in his hand.
"Is Miss Clementine in the garden?" the man asked.
William nodded. The man looked him up and down and an expression of mistrust spread across his face.
"You don't want to be disturbing her. She's busy."
He edged round William, frowning down at him, and carried on towards the garden.
William's heart dropped into his stomach. This person, very likely an employee in Mr Peel's stables, must be his rival. How could he have been so stupid?
Why would a girl as lovely as Clementine Denny not have a suitor already, a fine muscular figure of a man like this one?
William trudged away along Whitehall Gardens, utterly miserable.