No. 4, Whitehall Gardens – Episode 31
---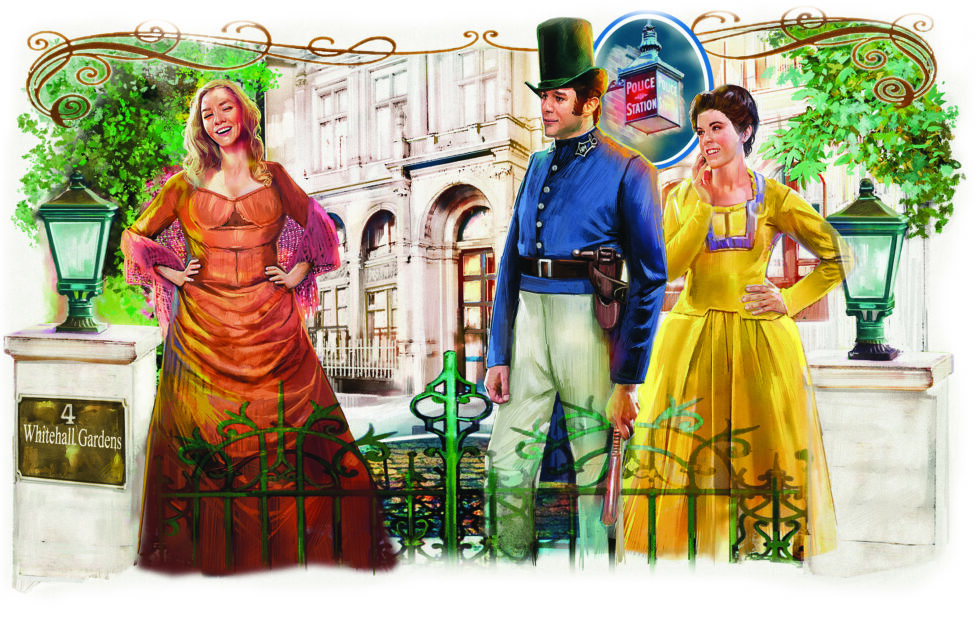 Illustration by Sailesh Thakrar.
The key to Molly's locked box lay in the dresser drawer, pushed to the back behind cloths and pegs and a broken embroidery frame of Mariah's.
Molly thought herself very cunning, but she wasn't as clever as she believed herself to be, and both her brother and her mother had long known how to open her secret box.
They went up the stairs together, treading softly though Molly was not in the house. They kneeled by the bed and opened the box.
Inside were two letters to Silas, misspelled and ink-smudged but full of passionate endearments.
The second was, in fact, a fairer copy of the first, but more flowery and with more crossings-out.
"Oh, my child!" Mariah cried. "She is a woman and a little girl all at once!"
"At least she is true in her affections," William said.
Mariah gave a bitter laugh.
"Have you met the man? I doubt he could read a letter. It appears that she did not send it."
There was another sheet of paper below, on which were drawn four likenesses of a gown, or possibly more than one gown. It had huge puffed sleeves and a plunging neckline.
Beside the sketches was a list of colours and fabrics.
But William had found something else, something which told him how Molly planned to pay for the imagined gowns.
Silently, he handed another paper to his mother, and together they read.
There wasn't very much to see, but what there was – a note from Silas Browne – told them all they needed to know.
"Horses for the Peels," William whispered. He felt his stomach turn over. "He's even proposed a bill of advertisement, with Mr Peel's name emblazoned across the top. They will get enough orders to . . .
"Oh, Mother, they think they can just run off with the money and that nobody will come after them!"
Neither of them spoke for a minute. Before them on the bed lay the key to Molly's box. Tied to its bow-end was a faded scrap of blue ribbon, its ends frayed.
"That's her father's present to her," Mariah said.
William had heard the tale. John Westall had given little enough to his wife or his daughter while he lived with them. Before they took him away to prison, though, he had given Molly a ribbon.
"For your pretty hair," he'd said.
"He'd stolen it," Mariah had told William. "He'd never have paid for such a thing. Of course little Molly loved it."
William knew that both of them were thinking of Molly – her wrong-headed enthusiasm, her vulnerability, the way she thought herself so bold and brilliant when in truth she was an ignorant child.
She was eager to build castles in the air and to have others tell her they were strong and real and lasting.
The ribbon represented all of it, decorating the key to her secret box, given to her by her hero, representing nothing.
They didn't hear Molly enter the house, which was unusual because she usually tripped in, talking about something or other, and flung her outer clothes about the place.
Later, William wondered if, that day, she was thoughtful for a change. Perhaps she was going over in her mind what she and Silas would achieve.
Whatever kept her movements quiet, she was in the open bedroom doorway and looking at them before they knew she was home.
"What d'you suppose you're doing?" she asked.
William and his mother looked at one another.