No. 4, Whitehall Gardens – Episode 43
---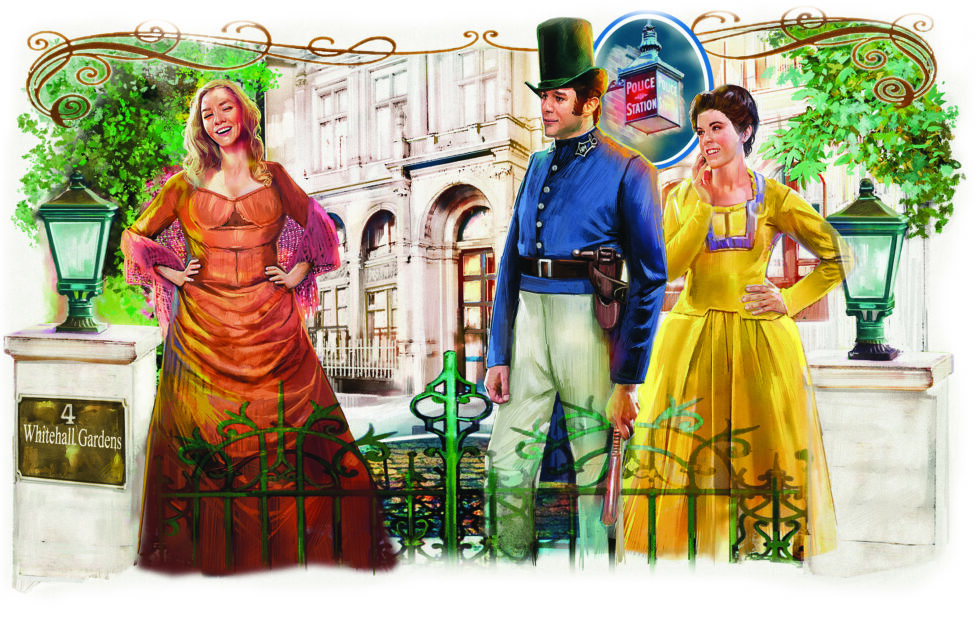 Illustration by Sailesh Thakrar.
Clementine and William were married at Easter in a small Westminster church.
Robert, Frederick and William stood pageboy, and after the wedding Julia decided that her brothers should form a guard of honour.
She ordered them about with their toy swords until they became sulky and declared a wish to lay down their weapons.
Mariah and Molly came to the church. Molly was quiet, but she embraced her brother.
A modest wedding breakfast was planned, below stairs at No. 4, Whitehall Gardens.
Julia begged to see the Trooping Of The Colour on their way back to the house.
"As my final adventure with the children," Clementine asked Mrs Peel, "might Griff drive us there? Little Julia would so love it."
Griff was permitted to borrow both the carriages, and he drove the happy couple, and all the children, to Horse Guards' Parade.
Bridget was in attendance and Clementine insisted that Dorcas and the baby came, too. They lined up to watch, Griff with the baby laid on his shoulder and Julia stiff with the excitement at the chance to watch a military display.
"Don't they look fine?" Dorcas said, "The black of the horses against the flashes of gold, the – oh!"
Clementine turned to see Dorcas's head droop to one side, and her body begin to sink in a faint.
Griff reached out his arm and caught her. For an instant Clementine took in the tableau – baby draped over Griff's shoulder, Dorcas draped over his arm – then everyone started moving.
A minute later Dorcas woke up and found herself propped against Griff.
"Oh, Clem, I saw him!" Dorcas said weakly.
"Who?" Clementine asked, but she knew.
Somewhere among the soldiers Dorcas had spied the man who had deserted her.
Dorcas was looking up into Griff's face, and he was looking down.
They gazed at each other for a moment, then the children began to cry out to be lifted again to view the horses.
Molly was beside Clementine and William.
"There's too much sentimental nonsense today," she said.
"We'll laugh at you for saying that when you find your own good man," William said.
"Oh, none of that for me," Molly replied. "I am busy with a plan, see –"
"No!" husband and wife cried out in unison, and Molly burst out laughing.
"Not that sort of plan. I intend to learn to read better. I called on the Runners and they told me that when the new police force begins there will be jobs at the offices."
"Everybody has a plan." Clementine smiled.
"My plan is complete," William said, kissing her. "I have just what I want."
The End.