Northern Lights – Episode 50
---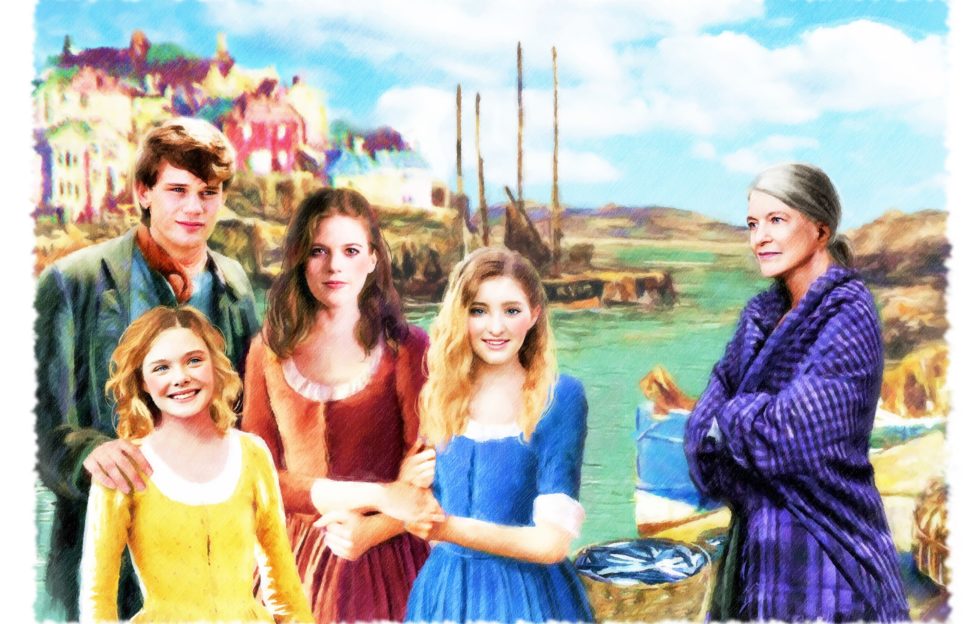 Image: Ruth Blair
By the time the last stone of the 90th course of the lighthouse was laid and the completed building cleared of the cranes, winches and implements employed in its construction, Alec Cargill had a clear idea of his future.
He'd completed his apprenticeship with Jeremiah Cuthbert and entered the blacksmith's employment as a journeyman.
Alec discovered he had a talent for wrought-iron work. Already he and Jeremiah had designed and manufactured entrance gates of architectural acclaim for one of the local estates. Orders came flooding in for others.
The Arbroath workyard was no longer so busy, but some stone was still brought from Dundee's Mylnefield quarry to build a signal tower communicating with the lighthouse and providing accommodation ashore for lightkeepers' families.
The Aberdeen stonecutters left Lilias's bothy for home, their work done. Before they left, Noah asked Fionah Creagh to marry him and work on his father's land.
His taste in women was for a lively, buxom armful rather than the modest Highland lass, but she was wiry and hard working, necessary attributes for hard graft on a bleak Mearns smallholding.
Noah was furious when she turned down the offer.
"I thank you for it, but I will stay with Mistress Lilias," she said politely.
With great relief Fionah watched the sulky young man stump angrily out of the bothy. Her wistful fancy was set elsewhere – with handsome Alec Cargill, who ignored her presence.
The Nunnery closed. Miss Gray's cousin had opened a dressmaking establishment in Edinburgh's New Town and persuaded Miss Gray to join her. Miss Gray offered Cathy Mary the chance to accompany her and the family had decided she should seize the opportunity.
Cathy Mary's letters home told of her growing success, designing gowns for well-off Edinburgh ladies.
Though they missed her sorely, her sisters and grandmother were reassured their decision had been the best one for talented Cathy Mary.
*  *  *  *
Lilias had acquired a taste for landlady status, despite the hard work involved. After the stonecutters had left amidst celebrations of feasting and dancing in the workyard, she viewed the empty bothy with Fionah, and plans evolved for its future.
"It could be a hostel for casual workers passing through town in need o' a night's lodging and a bite tae eat," Lilias mused.
"Much needed for travellers," the Highland lass approved. "An inn is not cheap and thieves rob poor men the worse for drink."
"There'll be nae demon drink in here," Lilias declared. "I was considering takin' in the teams o' lasses wha travel frae port tae port gutting herring and tilling the barrels in season.
"I'd gie them a keen rate, o' course, but make a steady bob or two. They'd welcome a clean bed and some place tae wash awa' the stink o' fish."
Fionah nodded.
"They will bathe in the wash-house boiler once the fire iss out!"
Lilias chuckled at the prospect. She found the Highland lass a great joy.
It had grieved her that Alec resented Fionah's presence in the house, but circumstances changed.
Alec had moved back home when the workyard emptied and by chance he and Fionah were partnered together in the reels and dancing during celebrations in the yard.
The young man's attitude had changed and now he was smiling upon the lass.
Lilias nurtured hopes that the two might become a couple. In her opinion it would be a match made in heaven, at the same time solving a pending staffing problem.
Maggie was to marry Samuel this autumn and move into the flat above the shop. She had plans to expand the grocery business and could not wait to get started.