The Dividing Tide – Episode 39
---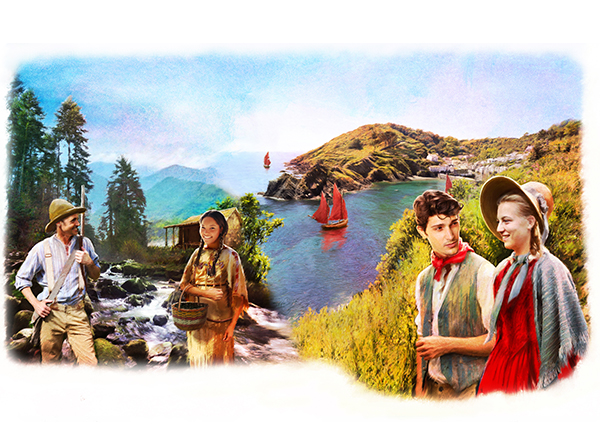 Illustration by David Young.
The next morning, Morwenna sat in bed waiting for Jenna to arrive.
She had summoned her to attend her in her bedroom in order to discuss her recent request to return home. She had spoken to Jago about it and he had agreed that the matter needed nipping in the bud.
She looked across at her husband where he sat in a chair beside the window, looking out absently at the garden, tapping his fingers on the arms as they waited.
She knew he was eager to leave for his day's work.
The door opened.
"You wished to see me, Aunt?" Jenna asked. She suppressed a yawn and Morwenna stared at her, frowning in irritation.
"What's the matter with you?" she snapped. "Haven't you had enough sleep? Perhaps you have not recovered from your headache?"
"No, indeed, it's much better, Aunt, thank you. I'm just a little tired."
"You shouldn't be at your age. I thought country girls were more robust."
Jago got up and came towards the bed.
"Good morning, Jenna," he said kindly.
"Good morning, Uncle."
"Don't stand shuffling your feet like a servant."
Morwenna knew she was being unkind, but she was still angry over Jenna's behaviour at the ball. Setting her cap at Pasco Buller, indeed. Who did the chit think she was?
"Come closer where I can see you!" She pushed herself up against the pillows as Jenna stepped forwards obediently.
"Don't look so worried." Jago smiled, sitting on the foot of the four-poster bed. "We just wish to speak to you about your request to visit home. Your aunt and I have been discussing it."
"And we are in perfect agreement." It was important they show a united front. "Your request to go home is quite out of the question. It may put the Nankerris Estate in jeopardy, and we simply cannot have that."
Jenna stood, eyes downcast.
"Don't you have anything to say?" she asked, exasperated. "Tell us why you would wish to go in the first place. Are you not comfortable here? Have we not made you welcome?"
The fire in the grate gave a crackle as the morning's logs caught.
Jenna gave a small sigh.
"I do understand how important it is that I stay here," she said.
She met Jago's gaze.
"Well, that's something, anyway." Morwenna said.
"Indeed it is," he responded, "but perhaps we might make life a little more exciting for Jenna?"
He turned to her.
"How would you like to come with Lamorna to look around the mine? You have visited me once before, I know, but this time we shall show you more."
Jenna's pretty face lit up.
"The mine, Uncle? Why, I'd like that very much, thank you."
He nodded, smiling.
"Are you happy with the idea, Morwenna?"
"It's as good a plan as any," she agreed reluctantly.
He nodded his approval of her reply as he got up and stepped forwards to press a kiss upon her cheek.
"There you are. I told you you were worrying about nothing. Now, I must be off. Mines don't run themselves, you know," he joked.
She waited until the door had closed behind him before turning her gaze once more upon Jenna.
"Now that we are alone," she said icily, "I have to tell you that I'm not at all amused with your request to return home. It was selfish, and very wrong of you to worry me when I am so indisposed."
"I am sorry, Aunt."
"Hmm. Well, you can show how sorry you are by going on an errand. I need you to fetch the latest 'Pickwick Papers' journal from the post office. I have had it sent from London. The walk might wake you up a little," she added.
"Of course, Aunt."
"When you get back," she added, shifting her position to make herself more comfortable, "you can come and read it to me."