The Dividing Tide – Episode 48
---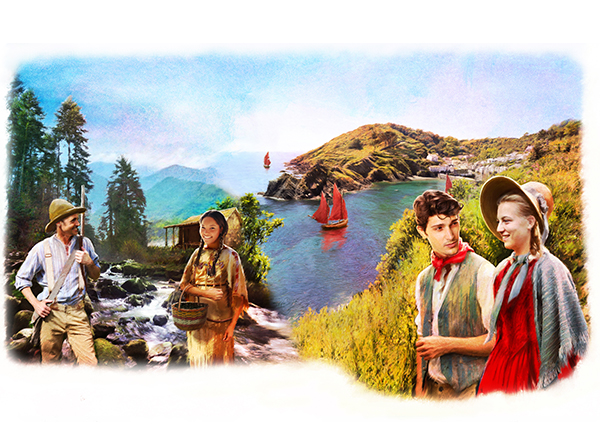 Illustration by David Young.
For the next three hours, Thomas and Ahyoka paced the busy streets of Savannah, knocking on doors and stopping people to ask them if they knew of a room to be had.
But with each disappointment, Thomas's heart grew more heavy and his brow more creased.
"No," they heard time and time again. "Sorry."
It seemed that there was nothing to be had anywhere.
Just as hope was turning to despair, he saw a young couple coming out of an inn carrying a trunk between them.
"Come on,' he said, "we might just be in luck."
He hurried Ahyoka towards the inn, quickly mounted the short flight of steps, and pushed open the door.
The harbour sounds dimmed as he entered, and he found himself inside a gloomy tap room. A row of large barrels stood against the far wall and several tables and settles filled the room.
The air smelt of stale tobacco smoke and spilled ale, odours that he had become used to over the years, but he heard Ahyoka's sharp intake of breath.
The landlord, a large portly man with tight iron-grey curls, turned round from the table he had been clearing.
"It's a room you're after, I take it?" he called across to them in a deep voice, glancing at the leather clutch bag Thomas carried.
Thomas nodded, holding his breath and hardly daring to hope.
"You're in luck, my friend." The landlord's big, round face broke into a grin. "One has just become vacant."
Two minutes later they were following him up a narrow, rickety staircase to a tiny room beneath the eaves that still contained the musty impression of the previous occupants.
A brass bedstead was pushed against the wall, its patchwork quilt still crumpled. The shutters were closed, and the washstand had not yet been emptied of dirty suds.
"You're lucky to get anything at all," the landlord said, as they stood gazing at it. "Beds are as rare as ships in Savannah at the moment."
He gave a hearty, booming laugh as he squeezed past them.
"I'll get my wife to tidy up and put fresh bed linen on just as soon as she can."
Thomas nodded and soon they had agreed a price. It was expensive, as he had known it would be, but he was just pleased they had found a roof over their heads.
Ahyoka could sleep soundly away from inquisitive soldiers while they waited for a ship.
She was looking tired, he thought, glancing at her, and he knew from the way her limp had grown worse that her foot hurt her.
As soon as the landlord had left the room, he stepped across to the window and pushed open the shutters. The muffled sounds of the harbour burst into the room in a crescendo. He looked down at the bustling scene below, feeling his anxieties lessen.
They could see the whole harbour from their little eyrie. It would help to while away the hours while they waited. Perhaps their luck had turned?
But each day, after visiting the shipping offices in search of a berth to England, he returned to the inn with disappointing news. Almost four weeks passed in this way, and he began to worry about their dwindling resources.
Then, early one morning, he heard a knock at their door.
"I've just had news of berths to be had on the Clementine," the landlord told him. "She's a paddle-steamer heading for New York. It'll mean a longer journey for you, but it'll get you on your way. You'll have to make haste, mind. News travels fast in a place like this."
"Thank you, my friend." Thomas reached out to clasp his hand. "We'll have a much better chance of a passage from a big port like that." Quickly, he dressed and made his way to the ticket office.
He was in luck. With great excitement, he bought the last two passages remaining.
"At least we'll be on our way," he told Ahyoka as they packed their meagre belongings, "and with a bit of luck we'll get lost in the crowds and won't be asked any questions."
As he slipped the clasp of his bag into place, he looked across the bed at her.
"I don't think having to wait around here is doing you any good," he said with a frown. "You haven't been looking very well recently."
It was true. Somehow she seemed depleted. It was all this waiting and worrying, he thought. It hadn't been good for her. It would be better when they were moving again.