The Glens Of Stone – Episode 73
---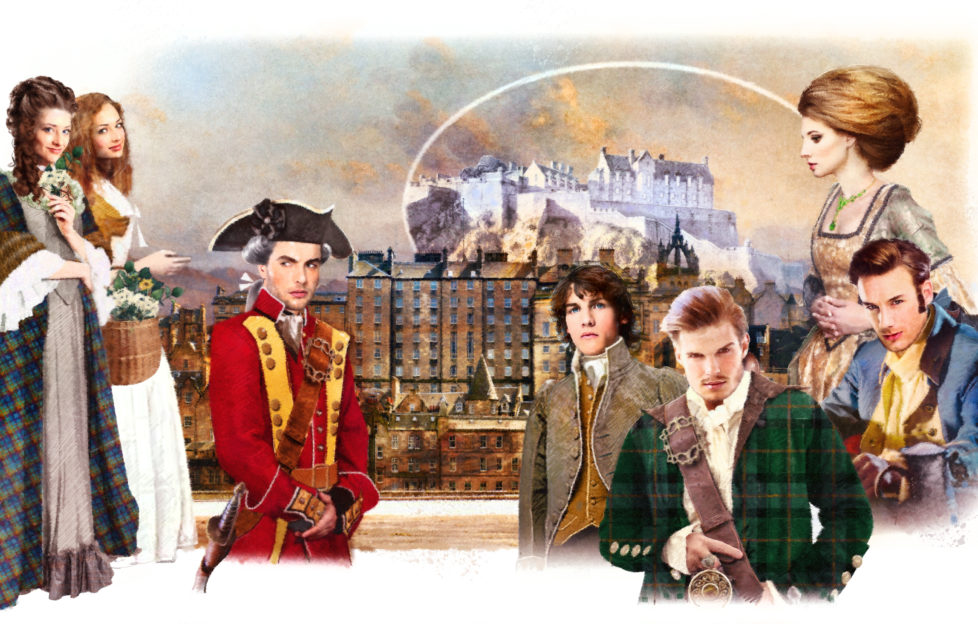 Illustration by Mandy Dixon
Ewan cleared his throat, casting his eyes over the notes before him.
"My tasks as an agent were two-fold. Firstly, the arrival here of Jacobite forces was, as you may imagine, the result of many years of planning. We did not want to fail as we had before. It was necessary to prepare well in advance, to muster our sympathisers both here and in England.
"We established groups throughout the length and breadth of the country who met together as guild members, theatre-goers, travelling people and, of course, worshippers in both churches and Mission Houses . . . in fact, wherever folk congregate regularly. Their task was to recruit others and raise money to support the cause."
"Then my father was definitely one of your agents!" Malcolm called out, glowering at John Porteous who stared impassively ahead.
"As I thought!" Robert cried, a triumphant look on his face.
"He was – is – one of the best operatives we have," Ewan confirmed. "The handful of people who met at the Grassmarket and Canongate were but a small percentage of the numbers he actually recruited."
Duncan McAllan could restrain himself no longer.
"John!" he cried. "How could you use God's houses for such activities?"
"The folk using the Missions were devout enough, Duncan," Porteous defended himself. "Surely you had no cause to doubt their behaviour during the services?"
"No," Duncan admitted, "but you never struck me as a political man." He shrugged helplessly. "A Jacobite!"
"It appears you did not know everything about your friend, Mr McAllan," Ewan interceded. "For instance, were you aware that Mr Porteous lost two older brothers and an uncle at Sheriffmuir during the rebellion thirty years ago? Mr Porteous has worked hard for the cause, keeping me informed of his progress via despatches through an intermediary."
"And who might that have been?" Ellie asked, intrigued.
Ewan gazed down, seeking a nod signifying permission.
"Who other than Miss McLaurin?"
Lady Catherine sat bolt upright.
"McLaurin!" She turned to face her companion. "You've been in league with these people?" Her eyes widened as the full import of the revelation struck her. "My soirées; the dinner parties. They were –?"
"Harmless and enjoyable occasions, ma'am," Ewan said, "but useful for the gathering of intelligence thanks to the regular presence of General Guest and young Captain Marshall here."
"Never!" Robert would have erupted from his seat but Sandy McCrae grabbed him.
"Sit down," he ordered.
Sullenly Robert obeyed, though he dropped his head into his hands in despair.