The Glens Of Stone – Episode 76
---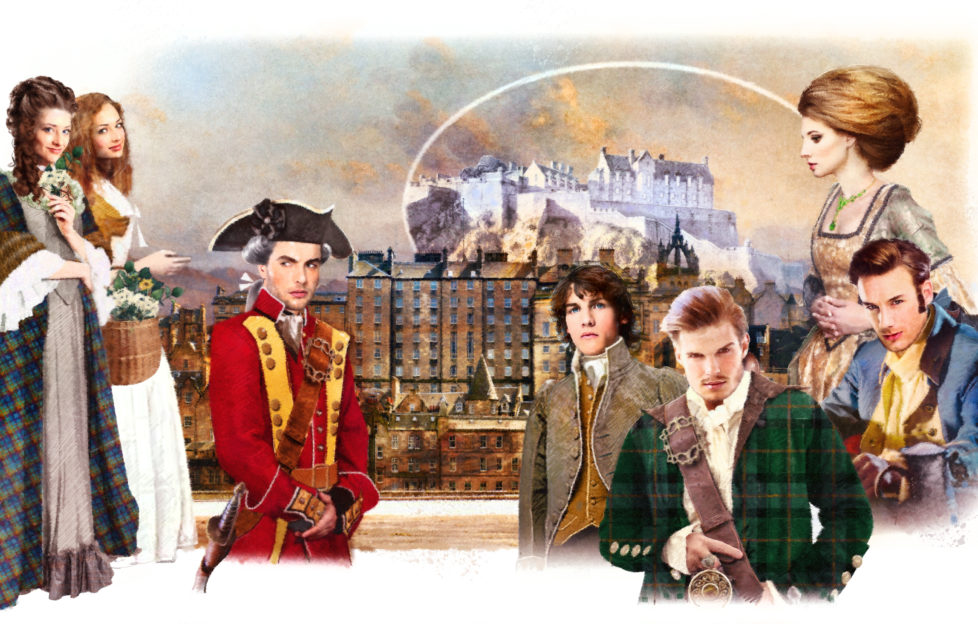 Illustration by Mandy Dixon
"Our marriage had to take place in secret because, alas, our courtship was fraught with difficulty. You see, my family and forebears were all staunch Jacobites but the Crichtons were not. The girls' father, Sir Patrick, swore no Jacobite would ever marry into his family."
"But you did, Alastair," Lady Catherine said softly.
"Aye, and at first we were happy enough. I had sufficient means to buy a house and land in Perthshire, and there we stayed, Catriona and I – and Ann, of course. Within a year we knew the joy of the birth of our first child, but our joy was short-lived. You recall what happened, Catherine?"
Lady Catherine hesitated, then found her voice.
"Father never forgave Catriona for marrying you and swore he'd have revenge. He sent his factor, Thomas McLean, to scour the country for you."
"McLean," Colonel Crawford grated. "A knave if ever there was one. His actions have plagued me for years."
Lady Catherine turned and scanned the rapt faces of the assembly.
"Waiting until Alastair was away from home," she explained, "McLean and his henchmen broke into the house and abducted the child, taking it back to Father. I only learned of this when my father was on his deathbed." She had turned back to stare at Crawford.'
"I believe you, my dear," Crawford said. "Anyway, Catriona and I were devastated. I gathered a search party and we hunted the raiders for months. I never dreamed it was old Sir Patrick who was behind the abduction."
He shook his head. The betrayal still shocked him.
"And the child?" Duncan McAllan inquired.
"McLean took it back to Sir Patrick, where his first instincts were to slay it, I'm sure."
"No, Alastair!" Lady Catherine jumped to her feet. "Say what you will, Father was no murderer."
"Perhaps not, but what he did next was a foul and ignoble thing."
"Aye. He had it taken away and raised by friends of his under another name." McLaurin peered up at him. "Isn't that so, sir?"
Robert gave a discreet cough.
"Forgive me, sir, but I hardly find any of this pertinent. If you intend continuing this sad but somewhat long-winded narrative, perhaps you would allow me to depart? I have pressing duties to attend to at the castle."
The astonished silence that fell on the group was broken by McLaurin.
"Hold your tongue, you young fool," she rasped.
"It's all right, Ann."
Crawford made his way down from the pulpit, reaching into an inside pocket and taking out a document. He held it out to Robert, who gave him a quizzical look.
"What's this?"
"It's for you," Crawford said. "It's an affidavit drawn up by the then minister of Moulin kirk near Pitlochry. It confirms that Catriona and I had you baptised there. Yes, you. Your real name is Robert Crawford."
The colonel cupped Robert's chin in one hand.
"You're my son."