The Glens Of Stone – Episode 80
---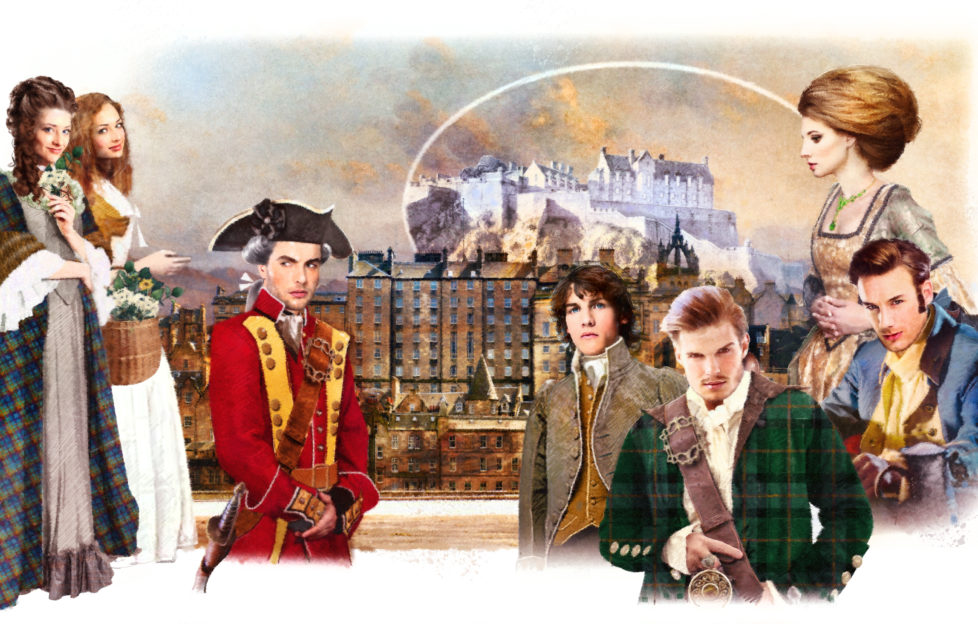 Illustration by Mandy Dixon
"I always knew you weren't my parents," Alison said to John and Agnes.
Ten minutes had passed since she'd learned the truth.
"I overheard you talking about me years ago. I hated you for that, for not telling me." She glanced at Malcolm and Kirsty. "I felt so insecure. So envious of those who knew their real parents. That's why I was horrible to Kirsty and other playmates when we were young. I'm sorry!" She sobbed.
Sandy McCrae went over and placed his arm around her waist. He glared at the colonel.
"If you'll forgive me, sir, was this necessary?"
"And what of me?" Robert Marshall added. "I find I have a sister!"
"And I a niece and nephew." Lady Catherine wrung her hands. "Had I but known, Alastair, I would have treated them as kin."
Crawford said nothing, merely watched and waited until the reaction died down. His daughter, Alison, had not greeted warmly the revelation that he was her father, but it did not surprise him. After all, he'd hidden from her for over two decades.
"I meant to hurt no-one," he said at last. "But it's time the truth came out."
He took a deep breath.
"There is more, I'm afraid."
Miss McLaurin shuffled forward and turned to address the others.
"When I told you about the events in Skye, there was much mention of the bairn Catriona gave birth to. You all took it for granted there was but one babe." She chuckled. "But there were three bairns born. Three bonnie wee lassies!"
She sat down quickly as clamour broke out.
Ewan Ogilvie had not spoken for a lengthy period but now he could not restrain himself.
"At first I wondered what was so important about these girls, why I was ordered to protect them. Now I am pretty certain I know who they are." He caught Alastair Crawford's eye and saw the almost imperceptible nod.
"Which girls?" Robert thumped the pew in frustration.
"Och, use your head, man," Ewan retorted. "What did I do when first I called upon you, in disguise?"
Robert's mind raced. Ewan had come to Edinburgh Castle under the guise of the Reverend Someone or other, and . . .
"You struck me!" he recalled. "For no reason at all. I'd never met you and hadn't harmed you in any way."
"True," Ewan agreed. "It was not for harming me I struck you."
Robert screwed up his face with the effort of remembering.
"It was just after I had . . ."
"Wait!" Ewan commanded. "No name yet, until you recall the other occasion, at Lady Catherine's soirée. I was there in the guise of a merchant."
"Of course! That was the night Alison came with Miss McAllan to entertain the guests."
"Correct. And what were your sentiments when you saw the young ladies and heard them?"
Robert blushed, aware that Alison and Kirsty were listening intently.
"I don't recall," he said lamely.
"Rubbish, man. You were captivated!"
"You warned me off." Robert nodded. "You told me not to get involved with either of them." He stopped, looking first at Ewan then Crawford. "Are you telling me . . .?"
The colonel scanned the sea of faces before him, his gaze resting momentarily on two.
"Yes, Robert. Ellie and Kirsty are also my daughters – your sisters.'
Malcolm swivelled to face Kirsty, whose face was ashen. She grasped Duncan McAllan's arm.
"You told me Elizabeth was my mother!" she cried. "How could you mislead me so?"
"Kirsty, I truly thought Elizabeth had borne you, as she told me." The old man had tears in his eyes. "On her deathbed she strove to tell me something, but she breathed her last afore she could speak."
He took one of the girl's hands in his.
"Now, with hindsight, I'm sure she wished to reveal the true circumstances of your birth; that you were not born to her and Jamie Fraser at all. But I had no idea, I swear."
Kirsty looked at Alison and Ellie. The former had a knowing look on her face.
Ellie, on the other hand, looked troubled. Slowly, her hand resting on the pewboxes for support, she made her way towards Crawford, who had climbed down from the pulpit.
"I was reared as a foundling. Why was that, when Alison and Kirsty were placed in good homes?"
Crawford gripped the girl's shoulders.
"Things went wrong in your case. You were given to a good couple, believe me, but they were both stricken with disease days after they took you. They lay dead for days and you were only saved by a concerned neighbour who broke in and found you near death through starvation. It was she who left you on a doorstep."
"I see." The girl looked thoughtful. "Then all this changes nothing for me. I never had a family to believe in, so I suppose I'm the only one who can accept this without mixed emotions."