The Mystery Of Anna Grace – Episode 05
---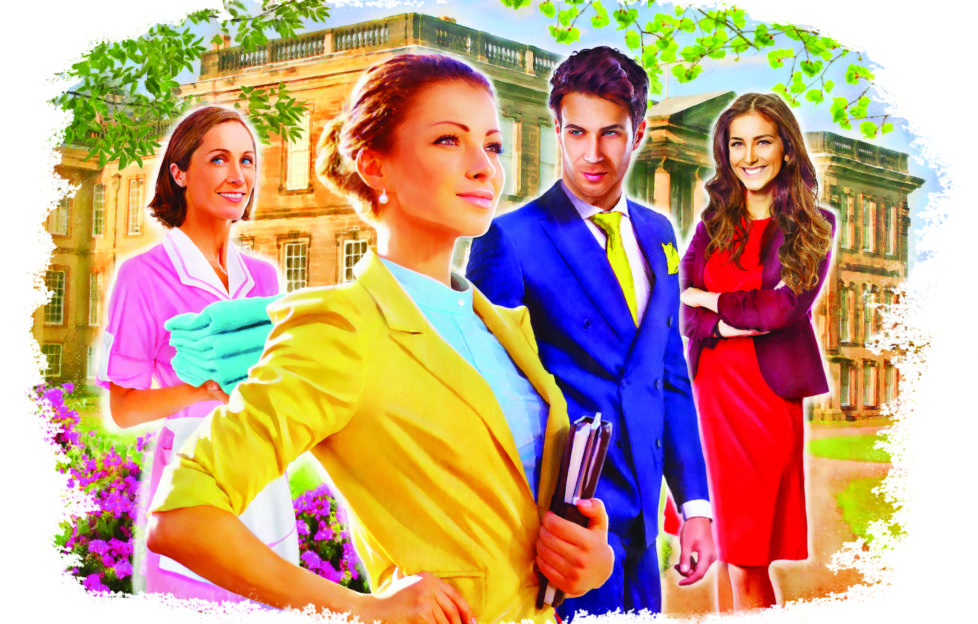 Illustration by Kirk Houston.
Charlie learned a lot in those first few hectic weeks.
Anna Grace only had a small staff, and Katarina, the energetic housekeeper, insisted on showing her everything, from servicing the rooms to emptying the dishwasher.
"When I was a girl, my parents ran a B&B," she said as she and Charlie changed pillowcases in the ground floor bedroom.
"So I learn from when I was little that guests who are walking all day in the mountains want two things: a good bed and a good breakfast."
"Did you get many guests?" Charlie said.
"Oh, yes, we had folk who came back year after year. Then my father passed away suddenly with his heart."
"I'm sorry," Charlie said.
"It was a long time ago. My brother married an awful woman and before you could say Jack Robinson, they had taken over the B&B and I had nowhere to live and no job.
"So one of the guests, he say, you could get a job in any hotel. I take my savings and my father's recipes – he was the cook – and I come over on the train and boat."
Katarina continued her story while she showed Charlie how to change sheets and put on a duvet cover in the blink of an eye.
She had met her husband and they had worked in London, but when Katarina's husband had died young, she was left with a young son and couldn't afford the rent.
"So I come with my two-year-old to Anna Grace to work for the summer, thinking I could find a place in town.
"Mrs Cecilia take one look at me and say: 'You will stay in a cottage on the estate'. I have been there ever since. I show you the linen cupboard now."
Charlie was pleased to learn all this, as she felt that knowing a business from the ground up was the best way to learn her own job.
"The cleaning is done by a company run by Polly and Polly. They come once a week and give a good clean. But I clean any rooms in between," Katarina said, showing Charlie the linen cupboard.
So Charlie learned how to get a room ready for guests, change beds and clean a room, checking everything off on the clipboard.
Katarina would make a note when towels were plucked and too hard, or when towel rails were loose.
Charlie started to come up with suggestions of her own, ready to put into her marketing plan.
She thought of bottles of handwash, rather than cakes of soap, which had to be thrown away after each guest.
She also thought they could get rid of the shower caps and instead leave a basket of such supplies at reception, so if people had forgotten their toothpaste, or indeed did want a shower cap, they could just take what they needed.
Instead of having kettles in each room, with tea and coffee that needed replaced, and the UHT cartons of milk, Charlie wondered about an area in the lounge where guests could help themselves to tea and coffee.
Charlie decided to put her suggestions to Harriet, with whom she shared the back office.
"Tea and coffee facilities in each room encourage spills on carpets and floors," Charlie said. "This way, the guests still aren't paying for the tea and coffee, but you are keeping the drinks in one area.
"And we could have a few magazines and newspapers there."
"They'll never go for it," Harriet snapped. "Guests expect to be able to make tea or coffee when they get up. It's one of the pleasures of staying in a hotel."
"But this way, you're still offering that service, but you're not risking spills on the antique rugs or the parquet floor," Charlie said, determined to press home her point, even if she lost.
"I think it would be a better idea if we concentrated our efforts on the wedding ideas," Harriet said.
"Wedding season isn't far off. As for the bottles of handwash, we'll wait and see what Robin thinks."
Privately, Charlie thought that Harriet's idea to make Anna Grace a wedding venue would cost too much.
However, if she won about the tea and the coffee, she could have a think about the weddings another day.
When Harriet's back was turned, Charlie put the ideas for tea and coffee in the lounge area into her marketing report.