The Mystery Of Anna Grace – Episode 42
---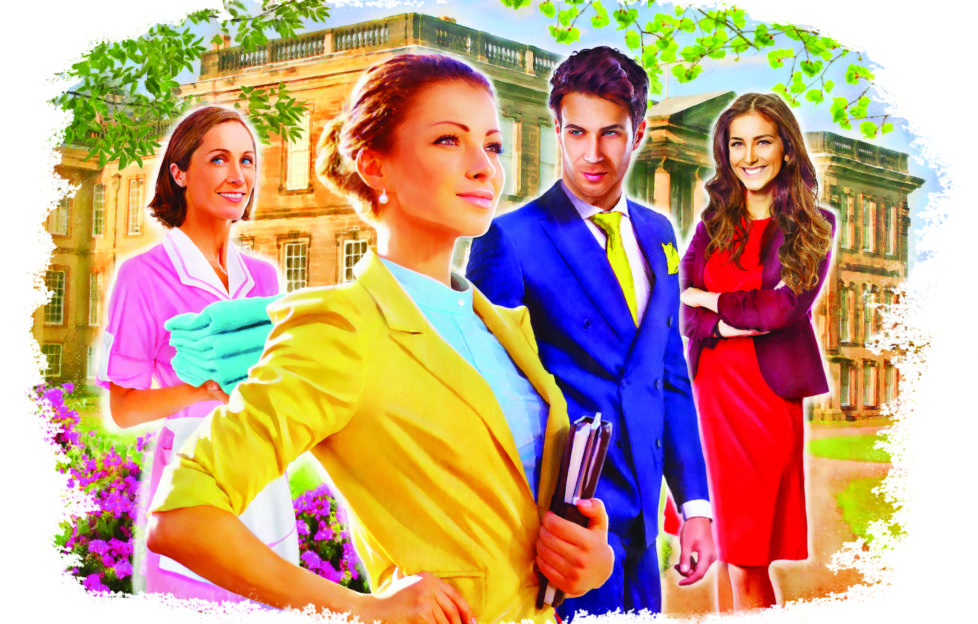 Illustration by Kirk Houston.
"Why's it called Anna Grace?" Mr McNee asked. "It's a bit of a flowery name for such an unfrivolous house. I mean, houses during that period were famous for Grecian urns in the garden and follies, artificial lakes and all sorts of things."
Charlie was dying to reply but didn't. After all, this was Robin's family tale to tell.
"Charlie has been doing research into Anna Grace," Robin explained. "The woman as well as the house. Why don't you tell us what you've found out, Charlie?"
"Well, Anna Graystone was the wife of Jacob Graystone, who moved into this house when his uncle died, leaving him the family fortune, such as it was.
"There had been a house on the land since Norman times, but the original house wasn't fit for purpose.
"Anna was the daughter of a silk-weaver who had fled France due to religious persecution," Charlie continued. "Anna had inherited her father's business sense but quickly realised that her husband, as the first-born son, had to manage the estate, and hadn't a practical bone in his body.
"So with very little money and three children under the age of ten, Anna moved into the house. The repairs nearly bankrupted them, but they added some well-proportioned rooms in the attics for the servants.
"Anna also knew that silk-weavers' houses were often built with large windows in the attics, so that the silk-weavers could see to work. She adapted this idea and made sure that the servants had enough light so that if times were hard she could turn to the family trade. That's why there are so many windows in the roof space."
Charlie paused and looked around her. Everyone seemed eager for her to continue.
"Robin's uncle started to transcribe Anna's journals, but then World War Two intervened and the project got shelved," she went on.
Charlie began to read some excerpts from the diary, which she'd scanned on to her mobile phone, detailing how the young family struggled to pay the various workmen involved in the remodelling – the stonemasons and labourers, the glaziers and decorators.
"Anna writes about an angry exchange with a local haberdasher, demanding payment for curtain fabric, and for years the sash windows didn't have shutters, as they couldn't afford to pay the carpenter," Charlie finished.
"Being broke features a lot in the Graystone family fortunes." Robin laughed.
"I always thought Anna Graystone died in childbirth," Wynford said.
"That is what everyone assumed," Charlie explained. "That's the problem with women's histories in family stories. They often get eclipsed by what was happening to the men, and when the daughters got married, unless their maiden name was recorded on official records along with their married names, they disappeared altogether.
"Anna realised that she would have to make the estate pay for itself. In one of the diary entries, she wonders how she can dissuade her husband from building an expensive folly.
"She had the dairy room built, and they were eventually able to sell some cheese and butter.
"It's when she's expecting her fourth child that the entries suddenly stop," Charlie went on, all nerves forgotten as she found herself captivated again by Anna's story. "I thought poor Anna must have died in childbirth."
"It was so common, then," Wynford put in. "Being wealthy was no guarantee that you'd escape, either."
"Exactly," Charlie said. "But then I was walking back from the church in the village a few months back. I decided to look in the graveyard to see where Anna was buried."
"Would they not have had their own crypt?" Mr McNee asked.
"My family weren't landed gentry," Robin clarified. "The old family plot was in the churchyard, like everyone else's."
"I couldn't find Anna's grave or that of her fourth child's," Charlie went on.
"If Anna had died in childbirth, she'd have been buried with the family," Mr McNee declared.
"You would think that, wouldn't you?" Charlie replied. "I also checked the newspaper archives in the library. There was no report of Anna dying around the date the entries stopped.
"I checked the local history books, and apart from a passing reference to Jacob's first wife, Anna Graystone, I drew a blank."
"This old house must keep lots of secrets," another guest commented.