The Primrose Line – Episode 09
---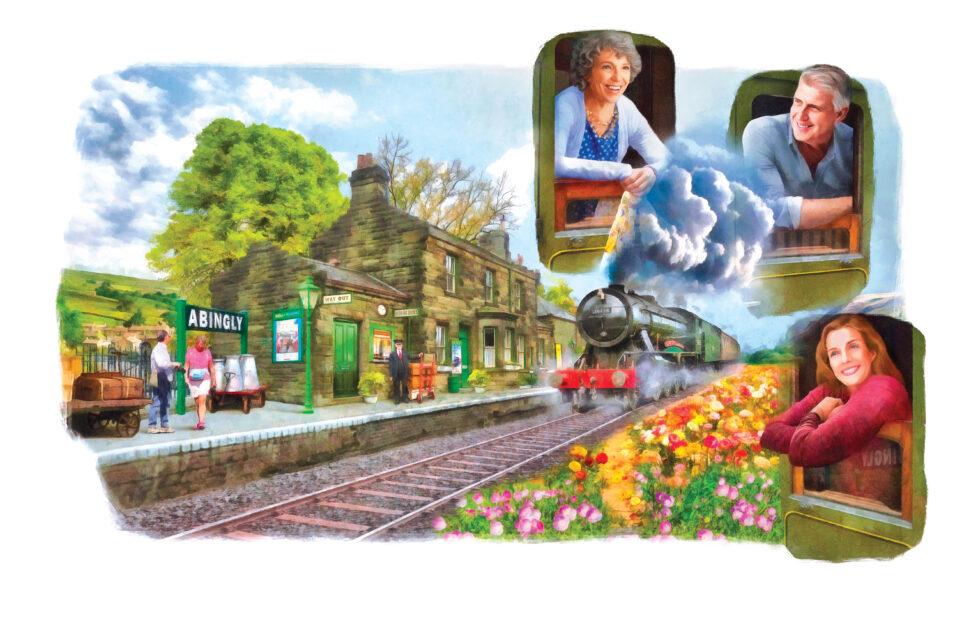 Illustration by Ged Fay
Alone in his room, Jim Connaught pondered his future.
Laura and Martin were offering him paradise.
With the sale of his house, his modest savings and his pension he would be more than financially secure. So many possibilities and new vistas would be opened to him.
The travel bug which had been on hold for so long would be easier served from the centrality of Switzerland than England.
What would happen when Laura and Martin decided to give up the hotel trade had been thought of – Laura had made it clear that the grandpa annexe would be legally his, his independence assured.
Why, then, was he hesitating?
Was it just his natural caution warning him not to jump into anything without fully thinking it through?
Or something more unpredictable: the thought of leaving behind for ever the memories he and Helen had built through the years?
Many people emigrated for good reasons, only to find that the pull of home ties was too strong. But what ties did he have? Helen and Laura had been his life; now it was Laura and her family.
And they were here. But the spectre of Sean Barry was making him think harder.
He looked out over the lake again as memories drifted past like the lazy boats on the blue water.
His mind went back to the small town of Abingly, locked away in the lush Hampshire countryside; to Corton and the village school. The first love of his life, Nicola Renson. Where was she now?
He decided to keep busy and went to the bundle of letters he'd brought with him. He made two piles, one requiring a response and one that did not.
Then he came to a very official-looking letter bearing a solicitor's crest on the envelope.
He opened it with trepidation.
What he read stunned him. It was a request to contact the firm as soon as possible, as he was the sole beneficiary of the estate of the late Miss Edwina Gurdon, latterly of Bluebell Cottage, Corton!
The grandpa annexe would have to be put on hold. It looked very much as though he would have to return to England straightaway!