The Primrose Line – Episode 10
---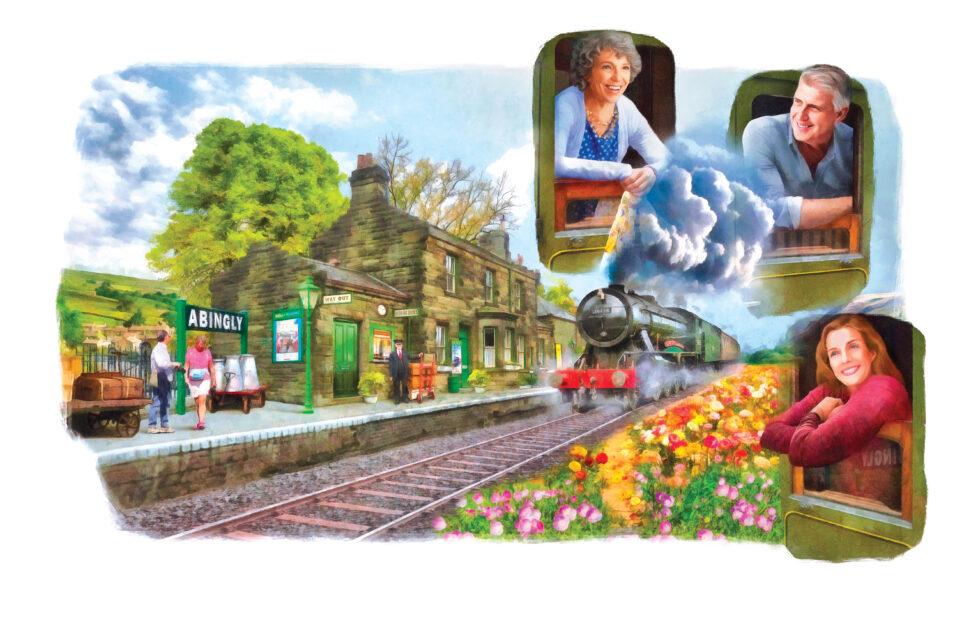 Illustration by Ged Fay
Martin and Laura took La Route Suisse to drive back from Geneva to Nyon after delivering Jim to the airport. The sky was blue, the lake bluer as they sped along the road, where elegant harbours and discreet restaurants beckoned them to linger.
"Fancy a stop to eat?" Martin was driving.
"No, thanks, I just want to get home."
"Not exactly the start we were anticipating. It's not often I've seen your father so confused."
"No. The timing could have been better. It's hard on Emile and Adrienne."
"I think we need to be a bit more honest."
"Sorry?"
"This isn't just about the kids' disappointment, or your father's retirement. We need to look at ourselves. Perhaps we should take a break, too."
Laura shivered at Martin's words. She knew what he meant. The closeness had gone. It was as if their relationship was on automatic pilot.
"The fact that you're not saying anything says a lot."
She stared straight ahead, tears not far away.
"I can't explain. Perhaps it's the kids growing up and Dad retiring. It brings it home that life just slips away and you ask, have I done enough with it?"
"Put simply, it would be mid-life crisis, I suppose.Would a change of scenery help, time on our own?"
She shrugged.
"It might, but I don't want to leave the kids. This has nothing to do with them."
"Why don't we take up your old friend's offer and visit him?"
Laura shifted uneasily. Martin was a perceptive man. He knew that, whatever was troubling her, Sean Barry had been some kind of trigger.
"I'm not sure that's a good idea, walking back into the past." Her father's advice was still ringing in her ears. And yet . . .
"You would be in a position to compare your present achievements with what might have been, had you stayed in England."
Laura was shocked.
"Martin, I've no regrets! I love you and my life here."
"So there won't be a problem."
"Are you setting me some kind of test?"
"You know I would never do that. I want you to be happy, and perhaps that can only come if you close the door on a part of your life you told me was once quite challenging."
"Martin, you're a very special man."
"It's you who makes me that man."
They drove on.
*  *  *  *
Jim Connaught took a deep breath as he drove into the small town of Abingly. It was strange to be back in England so soon after leaving, and even stranger to drive through streets he hadn't seen since childhood.
The modern street lighting, glimmering in the fading light of the murky February day, was new, but little else had altered from the way he remembered it.
He parked outside the firm of Michael Reed and Partners, Solicitors, determined to get this over with as soon as possible.
Flying home had cemented his decision to sort out all the legal implications of his unexpected legacy, look at the cottage to see what he had to deal with and return to the family in Switzerland as soon as possible.
He still saw his tearful grandchildren, Emile and Adrienne, saying goodbye at the airport so soon after welcoming him for what they thought was for ever.
The gloomy weather was making his decision even easier.
He went in, having to bend his head at the low-beamed entrance.