The Primrose Line – Episode 13
---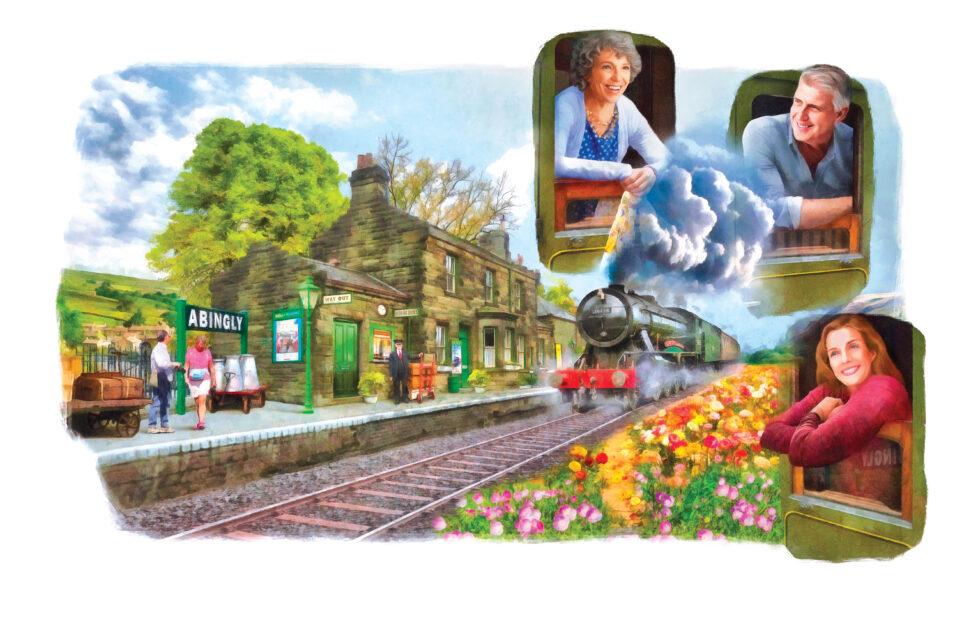 Illustration by Ged Fay
"You'll love Toronto, Mum. It's cosmopolitan and the people are friendly. No-one is a stranger for long. You'll be out to dinner every night."
"That sounds tiring!" She smiled. "I do have friends here, good ones. It'll be hard to leave them."
David shook his head.
"How you've passed another winter in that ridiculous railway carriage is beyond me."
"It's cosy, and very cheap to keep warm."
"Well, you'll be warm in the bungalow next to our house. One thing the Canadians don't mess with is heating. Not surprising when you see some of the temperatures we get!"
It was already "we".
"David, I haven't said yes yet. You need to give me time to get my head around emigrating. It's usually a young person's move."
"Age has nothing to do with it. You can still out-think people twenty years younger!"
Nicola laughed.
"I'll take that as a compliment. But there would be so much to organise, so many . . ."
"You don't have to do anything – I'll see to it. All you have to do is come, and be part of the new family you'll have around you. Jackie and I plan to give you grandkids as soon as possible!"
"Wow! It's all so fast."
David became serious.
"I'm not selling this right. You probably think it's just another project of mine."
She smiled.
"In a way, it is."
She held up her hands as he began to protest.
"That's not a criticism, David. All your projects, as you call them, have been well thought out and have made you a rich man."
"This one will make me richer than ever. And I'm not talking about money."
He spoke quietly, looking her straight in the eye, and Nicola knew she was dealing with a man in love.
In a way, she should feel honoured that he saw her as so important to his dream.
"Jackie warned me about my over-enthusiasm. Looks like she was right."
"I haven't said no. Just give me a bit of time to think things through. Perhaps a holiday to meet your future wife might be a good start. Who knows, we may not get on at all!"
"It's weird, that's exactly what Jackie suggested. A holiday, I mean."
Again it occurred to her that this woman sounded just what her son needed as a wife. Someone who could climb quite easily to cloud nine with him, but not before she'd checked the weather!
"It looks like we might have quite a lot in common. Let's not spoil it by rushing things, or do you plan to get married next week?"
"We've not fixed a date."
"Then let's enjoy this evening. The last time I was in here I was a young woman and it was nowhere near as posh. I'm going to have the most expensive thing on the menu!"
They had a Chateaubriand for two and a bottle of Fleurie whose price made Nicola's eyes water. The fact that both were excellent made up for the lack of economy from her viewpoint.
This was a special evening, after all. Her son was home, his life was changing and hers could be, too.
The incident of the afternoon became surreal, part of a long-ago past that had been triggered by a dream and a casual conversation.
They were having coffee when David yelped.
"Darn! I said I'd phone someone to confirm my appointment in London with him tomorrow. Forgot all about it."
He was definitely different. David never forgot business appointments.
"Bit late now," she murmured, sipping her delicious coffee reverently. Could she ever drink instant again?
David laughed.
"He's an investment banker. He's never not working. Will you excuse me for a minute or two?"
Nicola nodded. She hadn't felt so relaxed for a long time and wanted to savour every second.