The Primrose Line – Episode 23
---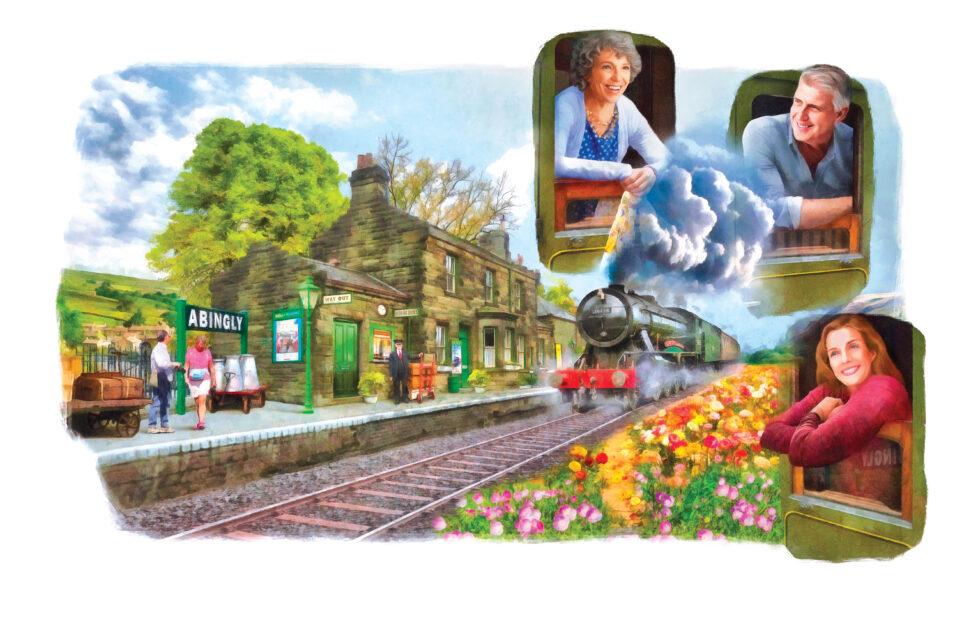 Illustration by Ged Fay
Laura watched Martin go back into the chalet, as strong, solid and dependable as the building itself. She wondered what he might say if she showed him the e-mails that Sean Barry had bombarded her with since they'd accepted his offer to stay with him.
The last one was particularly disturbing and she took her phone out of her pocket to read it again, her hand trembling slightly as though she were reading a forbidden book.
Hi, Laura,
I'm really starting to get excited about your forthcoming visit. I've never looked forward to Easter so much. These kind of holidays are always so family orientated and it makes me realise how much I've been missing since the wife left and took the kids with her.
Big houses and gardens are fine but they need occupying, and Emile and Adrienne, although I only met them briefly when Fate guided me into your hotel bar a few months ago, look like my kind of guys, full of life and fun.
I can't wait to talk over old times and go down familiar tracks together. Just thinking of some of those things we did together (and some of the things we didn't!) makes me regret letting it all slip through my fingers.
I know your dad didn't like me at the time and that made things difficult for us but, if he's still alive, I'm sure he'd have a different outlook now when he sees what I've achieved in life.
Looking forward to being able to let you share that life for a while. We'll make the most of our time together – that's a promise!
Love, Sean.
Laura put the phone away, her cheeks hot, and not just from the sun. It didn't read any better the second time around.
Each e-mail had got bolder. She'd thought about showing them to Martin but the idea seemed preposterous. He was reasonable and level-headed, but he was still a man.
There could be no doubt that Sean was flirting with her. Gone was the "well-I-never-what-a-coincidence-seeing-you-again" hotel meeting. This was a whole new scenario being constructed, one she knew came with warnings.
The sensible thing to do would be to cancel the visit, but a part of her said that would be weakness on her side.
It would be an admission that she still had feelings for this man, despite the years of marriage to someone she loved dearly.
She needed to show strength, not just to Martin, but to herself, too, and bury the ghost of the past for ever. Then she could continue to move forward with the life and family she loved with no regrets from the past.
The cunning and dismissive way Sean had dropped into the e-mail that his family was no longer living with him would help her resolve in handling him.
As for Dad changing his opinion about him due to an influx of wealth, well, that showed how off the mark he was.
But it could be her trump card in helping her strengthen her resolution; her father's stolid faithfulness to principle.
Look how he had nurtured his souvenirs of her mother, never looking at another woman since her death, and never contemplating another relationship, even after all these years.
No, Laura was under no illusions about the kind of man she was going up against. The stakes were high. They were her own family.
But she had a rock to lean on in the shape of her father. He'd always been there when she'd needed him, and she needed him now more than she'd ever done.