The Primrose Line – Episode 26
---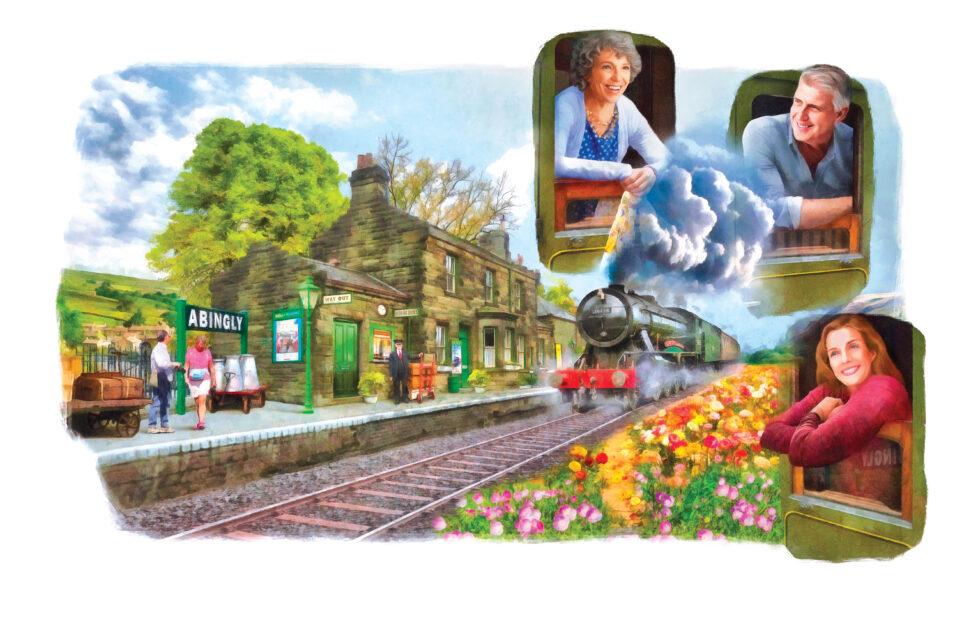 Illustration by Ged Fay
Easter was a time close to Laura's heart, but this year it just increased her apprehension of what the next few weeks might hold. Each day brought nearer the prospect of Sean Barry re-entering her life.
The solid fabric of the family, which had once seemed so impregnable, was threatened with an ease that was shocking.
Was she so fickle that she could be attracted to revisiting a chapter of her life that had been closed?
At least Martin and her father would be close by to help her deal with this dangerous time.
It was the day before they were leaving for England and they were celebrating a Swiss Easter tradition.
From Christmas onwards onion skins were saved from the kitchen ready for boiling in a big saucepan. Eggs, clothed in edible greenery from the garden and countryside, and bound with wool, would then be hard-boiled in the dark liquor, allowed to cool and unwrapped from their green cocoon to reveal delicate tracings.
Adrienne had used cow parsley and primroses to give her eggs a floral artistry, while Emile had placed leek leaves in the shape of a cross, a religious connotation which might have been accidental as he had been trying to recreate the Swiss flag!
The competition to find the strongest egg had reached the final stage, with Emile against his sister. It was a tense moment, although Laura couldn't concentrate. Her mind was far away.
"I go first," Adrienne said, a stickler for the rules.
"All right, I know," Emile said, aware his sister had won last year. He gripped his egg, glumly preparing for the strike that would end the contest.
Adrienne's arm came down like a hammer. Her egg broke. Emile shouted in triumph, making his mother jump and shattering her distraction.
"For goodness' sake, must you be so childish?"
The words came out in a way that was totally out of character for her. Everyone stared at her, Martin with surprise, the two children with confusion.
"I'm sorry, I think I must be nervous about the trip," she stammered. "I'm not used to packing for holidays. I keep thinking about what I've forgotten."
The lie satisfied Emile and Adrienne, but Martin said nothing. She tried to salve her conscience by listing her worries.
"I hoped Marc might have telephoned to confirm our arrangements."
Marc was Martin's brother who, with his wife Camille, ran a small ski school and souvenir shop in nearby La Givrine.
The two of them worked hard over the winter, making enough to tide them through the leaner summer months.
As it was virtually the end of the ski season, Marc had agreed to run the hotel for Martin in their absence.
The phone rang and Martin replied.
"Camille! Everything OK?"
"I'm afraid not. Marc's had an accident."
"An accident? Is he OK?"
"Yes, but he's in hospital. The X-rays don't show anything sinister, but he's in pain with his back. He's not to move for a day or two, and when he does it looks like I'll have to be his legs for a while. I'm so sorry."
"Don't be, we'll sort something out. Is there anything I can do?"
"There's nothing anyone can do. It will take time. That's what the doctors say."
"The main thing is that he gets better."
"You were so looking forward to your holiday. You haven't been anywhere for years!"
"Then a while longer won't hurt. Besides, we don't all have to cancel. I'll stay and Laura and the kids can continue with their plans."
"Again, I'm so sorry."
"Don't be. No-one ever said skiing was safe!"
Camille snorted.
"That's what's ironic; he hasn't been out on the slopes for days. We were arranging things in the barn and he missed his footing on the loft ladder!"
Martin put the phone down. Laura stared at him, feeling panic rising.
"Martin, Louis can take charge. He's been with us for years; he knows the business inside out."
"He does, and I trust him, but he's not getting any younger and he's no good with the internet stuff, which is how most of the reservations and ordering is done these days. I couldn't push that responsibility on to him at such short notice. No, I'll have to stay."
Laura's throat felt dry. Half of her defence against Sean Barry had just been wiped away!