The Secret of Trefusis Cove – Episode 25
---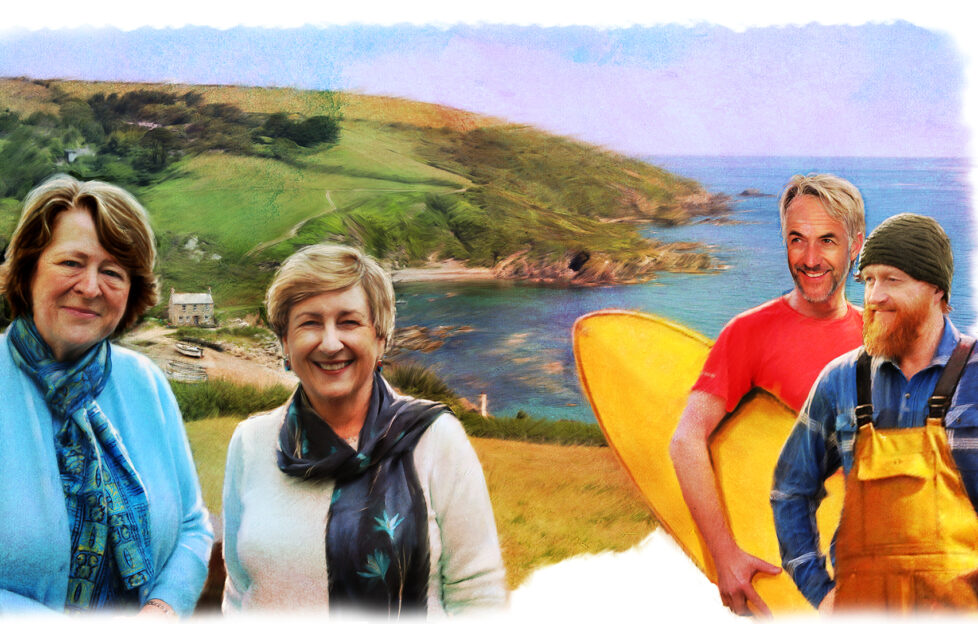 Illustration by David Young.
Val settled herself into the passenger seat of the sleek black car and put on the seatbelt. Alexander closed the door.
"Have you been to Land's End yet?" he asked.
"No, we haven't been far at all since we've been house-sitting." Val smiled.
Alexander fastened his seat belt, started the engine and the car purred away from Tangara and up the incline to the roadway.
"You've a treat in store. It's spectacular – and the last stop before America."
Val laughed.
As they turned on to the main road they chatted about this and that: the Shantymen, the sea songs and the pasties. Not once did he mention Trefusis Cove and his plans.
"Does Mr Freeman mind you spending so much time away from home?"
"I'm – I'm a widow," Val explained, feeling the familiar ache in her heart as she said it.
There was a pause.
"Sorry, I've put my big Aussie foot in it again."
"It's OK, really it is. There's no way you could have known that." She paused. "Betty, too."
"We've one thing in common. I lost my wife eight years ago. It takes some getting used to."
"It certainly does – whether you're brave or not things just have to carry on," Val replied. "The children help. Do you have a family?"
"Yes, two. Boy and a girl, grown up now with their own families. They're holding the fort while I'm sorting things out here." He straightened in his seat and gazed ahead.
They travelled in silence for a while.
"There's the turning." He pointed to a sign. "Not long now and we can down a good meal. Hungry?"
"As a hunter!"
He had booked a table for three by a window overlooking the sea. The sun was almost down and bathed the water in a golden light. Soon the moon would rise.
"I booked for three in case Betty changed her mind. Not that I expected her to do so."
"Betty can be very firm, but I'd hoped she'd change her mind, too."
"She hasn't got a cold, has she?" he asked quietly.
"No."
"I sensed disapproval. It's about my plans for Trefusis Bay, isn't it?"
"Yes."
The waiter approached their table and Alexander scanned the menu.
"I recommend the seafood – it couldn't be fresher – and the pâté for a starter. I've ordered a special pudding that I think you'll like." He looked boyish.
"I'll go for that, thank you," Val replied. "You can't come to Cornwall and ignore the seafood."
The meal was superb and they chatted about this and that, without once mentioning the subject that was at the forefront of Val's mind.
At last she spoke.
"About your plans for the land and the cove . . ."