The Secret of Trefusis Cove – Episode 32
---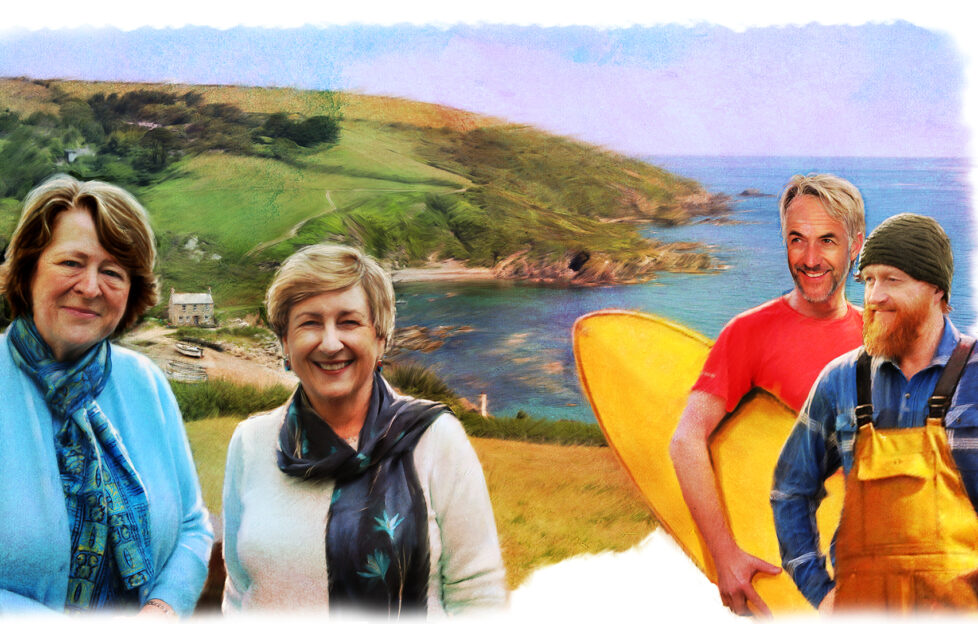 Illustration by David Young.
"You mustn't enter the building till the all-clear is given tomorrow," a fireman said.
"What are we going to do, Betty?" Val wailed. "Our clothes are there. And where do we sleep tonight?"
"The Crab and Mermaid do B and B," the fireman said. "Good breakfast, too."
"You'll not stay at the pub," Aircut said firmly. "There's room at mine. Sally's room has twin beds. You can bunk in there, Sally can have my room and I'll sleep on the sofa."
"I've night clothes you can borrow," Sally added.
"What if the cottage is badly damaged?" Val fretted. "We'll have to get a message to Peter soon."
"Don't worry about Tangara." Kit grinned. "That cottage was built by true Cornishmen. They'd have built it three times stronger than it needed to be. Everything will seem better in the daylight."
"Thank you, Aircut," Betty said. "It's very kind of you to shelter us for the night."
"I'll phone Peter later," Kit told them as they left.
At Aircut's cottage they made up the twin beds and Sally lent them nighties. Aircut made hot chocolate with, Betty suspected, a dash of the cordial.
She didn't mind. Sitting up in bed, she and Val sipped the hot drinks.
"I hope Aircut's right about Tangara." Betty put down her empty mug.
"I'm worried about Alex," Val said. "I hope he's OK."
"Of course he is," Betty replied, hoping that she was right. "He's a tough Aussie – a few bruises won't hurt."
"He's had a bad shock," Val replied. "I'm so glad we were all there to help him."
"The shock for him will be to discover how many people were willing to care."
Val settled down then opened her eyes sleepily.
"I didn't clean my teeth."
"Neither did I, but I don't suppose they'll drop out before morning."
Betty felt pleasantly relaxed despite the turmoil of the evening, and fell asleep wondering if it was due to the cocoa or the cordial.
*  *  *  *
The men from the fire station were there when Betty and Val, with Aircut and Sally, went back to Tangara. Kit, having a spare key to the cottage, was talking to the inspector.
He smiled at them.
"There's no great damage. Just a scar on the back wall where the pick-up landed. Inside is fine. This place was built of stone and meant to last more than a few generations.
"A bit of plaster has come off the wall in the kitchen above the worktop. That's the only damage we can detect. You'll be OK to go in whenever you like."