The Wedding Quilt – Episode 06
---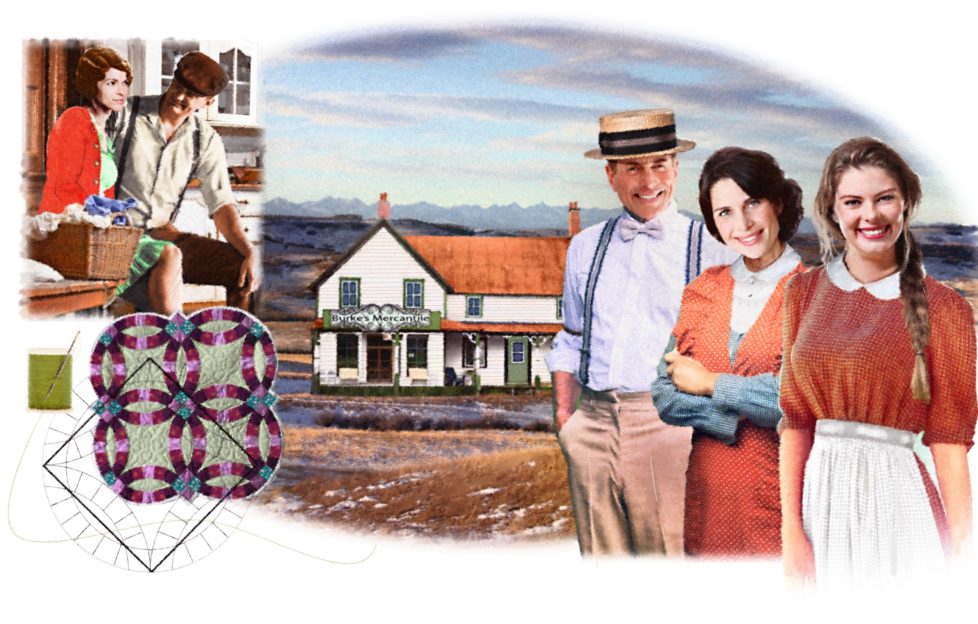 Illustration by Mandy Dixon.
At the age of fourteen Beasie had passed the Entrance, an exam qualifying her to enter high school. She'd relished the thought of taking the train to Ararat each weekday to the big school in the town.
However, when she mentioned this at home, Matt had put his foot down, saying that no daughter of his was going to walk to and from the station in the winter months.
In vain she protested that she'd spent years walking two miles to school at a much younger age, and nothing had gone wrong. He insisted that she had a good home and should stay until she left to get married.
"Your mother will teach you how to keep house and that will stand you in good stead when you have a home of your own. Be thankful and make the best of what is to come."
Mamie had added her two cents' worth, explaining that men didn't care for women who had more education than themselves.
Few of the local farmers attended high school, for what use was Latin and higher mathematics to a man who earned his living from the land?
"You didn't miss much," Drusilla remarked, when Beasie reminded her of this. "There was only one boy in our class at Ararat High, and he was going through for the priesthood."
"A high school diploma might have led to something interesting, that's all."
Drusilla looked sad for a moment.
"I have one; see where it got me! I think you'd better not make any decisions until you've thought it through carefully. I tell you what, Beasie. Next time Frank comes home I'll ask him to bring one or two chums with him. Who knows, one of them could be the love of your life!"
*  *  *  *
Beasie's father was pleased with life. God was in his heaven and all was right in Matt Burke's world. The rich aroma of venison stew drifted out through the open kitchen window and he had noticed earlier that apple dumplings were in the making.
He'd always loved Mamie's apple dumplings! She removed the apple cores, replacing them with raisins. His stomach rumbled at the thought.
Beasie was nowhere to be seen. The girl had been looking a bit peaky lately. He hoped she'd gone for a brisk walk somewhere to blow away the cobwebs.
The sound of a wagon came to his ears, and he craned his neck to see who was coming. The ice man.
Fred Billings earned his living by supplying people with the ice necessary to preserve perishable food in a climate where summer temperatures could rise into the nineties.
In winter, when the lakes froze to a depth of several feet, old Fred cut out great chunks of ice, which he sold to people round the district for use in their ice-boxes. These wooden cabinets had a tin-lined compartment in the top for the ice.
"Brought your ice," Fred called, climbing down from his perch. "Usual place?"
"That's right, Fred." Matt led the way to the small building half hidden in the shade of some cedar trees. "Fancy a ginger beer when you've unloaded this lot?"
"Don't mind if I do!"
When the two men were seated on the bench outside the store, Matt leaned back, eager to hear the latest gossip.
"You've heard about the excursion train, I s'pose?" Fred asked, slurping down his cold drink.
"What train's that, then? I thought they only had them later in the year."
"Not them trains taking fellas out west to help with the harvest. This is the late-night shopping train to Ararat."
"Never heard of it."
Fred explained that the town merchants had agreed to open until nine o'clock on Fridays, for the benefit of farmers who wanted to come to town to shop.
The railroad company was adding to their timetable so that country folk could spend their money in town, where there was a greater selection of merchandise.
"They're opening up what they call a rest room on the main street. Progress, they call it. They say it will bring custom to the town."
"A rest room?"
"Lavatories and a place with sofas where ladies can sit down. It'll never last, of course," he finished, seeing Matt's expression. "It'll be a nine days' wonder and then everything will go back to the way it was."