The Wedding Quilt – Episode 25
---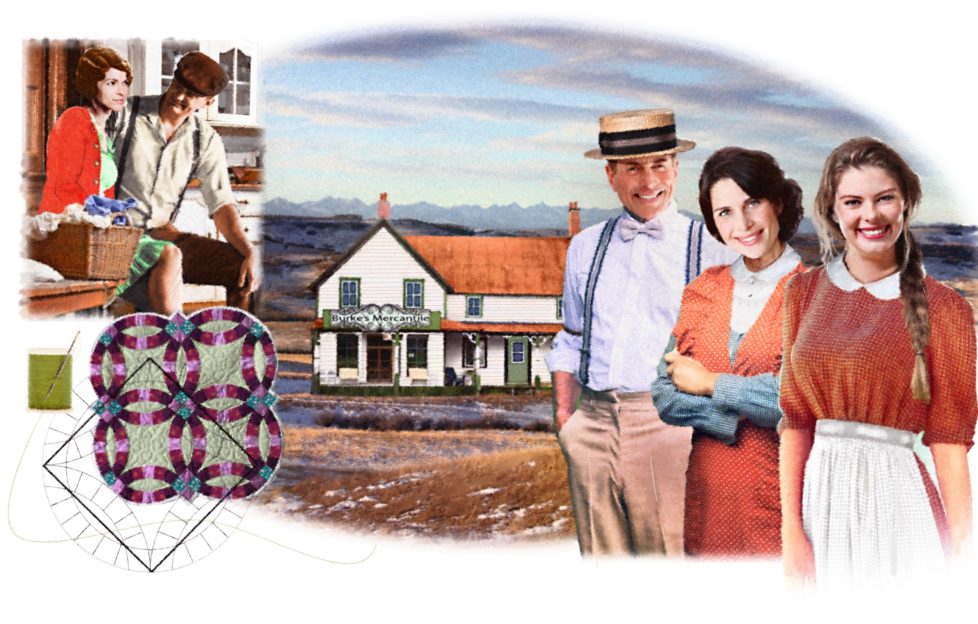 Illustration by Mandy Dixon.
The weather was glorious on that spring day when Paddy Ryan first took Beasie driving.
All along the lanes wild cherry and plum trees were in bloom, and the sugar maples, which had recently yielded their annual crop of sap for boiling into syrup, had now leafed out in lofty bright green fans.
Now and then Beasie glimpsed a meadowlark or a bobolink in flight, and wild geese flew overhead in large, honking skeins.
"Looks like they're going to the lake, too," Paddy observed.
"I guess so."
Beasie was embarrassed. Why did she feel so tongue-tied? What were you supposed to talk to a fellow about on a first date?
She'd better not mention the war; some men didn't care to talk about their experiences, while others had far too much to say on the subject.
"How is your mother?" she asked at last. "After all that's happened, I mean?"
"Well, I can tell you one thing for sure, she doesn't want me to go on the spring drive again!"
"I'm sure she doesn't. So will you go anyway?"
"I suppose it's near time I gave it up. I'll be thirty next birthday and I'm getting past it. Dad's going to buy me a team of horses and I'll go to the lumber camps as a teamster instead. They get paid twenty-five cents a day more then regular lumberjacks, so that's not bad."
"Your mother will be glad to hear that."
"I bet she knows already. Dad probably made me the offer because she put him up to it. That's how things work in our family." Paddy reined in the horse and the animal slowed to a walk.
"You're quiet, Beasie. Is there something wrong? Have I said something to offend you? It's not your folks, is it? They're not sick or something?"
"No, no, of course not. Nothing like that." But of course she was worried, dreadfully so, and it showed.
She might as well tell him, and if she bored him and he never asked her out again, so be it.
"Dad thinks we're going to lose the store, Paddy."
"What? But it's been there at the crossroads since your grandfather's time. How can you be losing it now? Where else would anyone shop?"
"They're all going into Ararat on the train. They've put up a ladies' rest room with couches and all so shoppers have the comforts of home while they're waiting for the train.
"The grocers have what they call loss leaders to bring the customers in. One week they'll have bacon, say, or butter, at a very low price.
"Customers flock in to get those items, the idea being that they'll stock up on other goods while they're in the shop. Naturally we can't compete, and our trade has dropped off to the lowest level it's been since the war."
"I guess I missed all that by going away up north."
"The worst of it was that Mum was planning to stock yard goods and start up a quilting group for local ladies. She's even started work on a quilt with the double wedding ring pattern that she hoped to inspire them all with.
"Mum's club would have meant so much to women stuck at home with young children. They could have brought the babies along to the meetings and taken it in turns to keep them entertained."
"I can't say I know much about quilting," Paddy said, "but you mustn't let Burke's go out of business. It's a local institution."
"If you can explain how to stop ourselves going under, I'd be glad to hear about it!" Beasie said, annoyed at his cavalier attitude.
"It's simple. If your customers won't come to you, you must go to them."