Together We Stand – Episode 10
---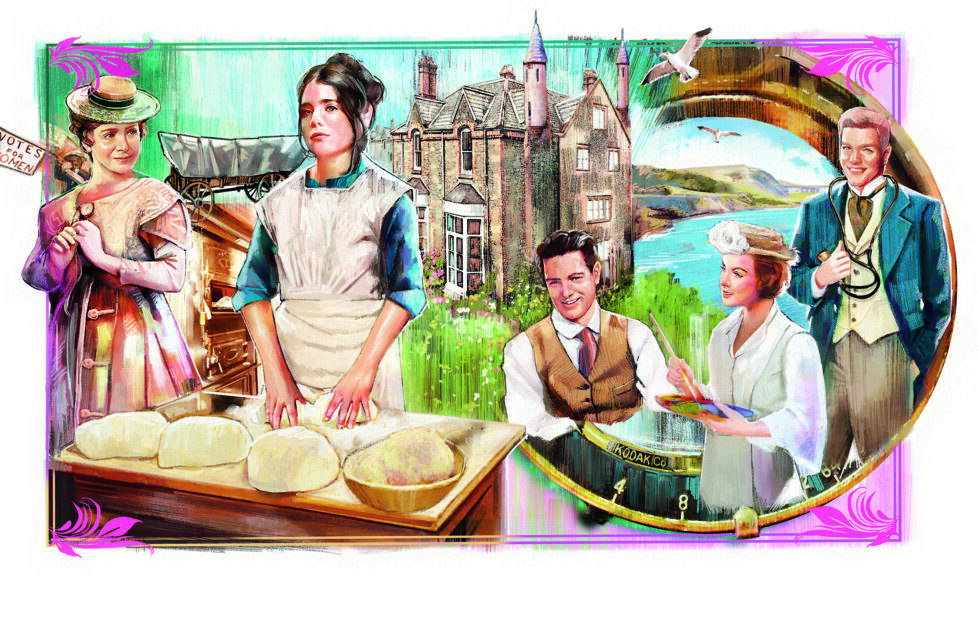 Illustration by Sailesh Thakrar.
"Annie Jenkins is looking for a portrait of her daughter." Mair Phillips looked from tending the range in the chill of the morning, as Tanni made her way down the stairs to join her. "I suggested she might consider being one of your first customers. She said she'd think about it."
"Thank you, Mam." Tanni kissed her mother's cheek. "And there are bound to be more. With Miss Gillingham's help, the studio will be the place everyone will want to come."
She lifted down the remains of yesterday's loaf from the shelf, as above them the rest of the family began to stir.
Mam clucked anxiously.
"I'm not sure what a fine woman like Miss Gillingham wants with a public photographic studio."
"She wants to support the suffrage ladies."
"He's a good-looking man, is Mr Gillingham."
Tanni began to saw at the loaf with the breadknife.
She smiled.
"Mam, whether he's handsome or not is nothing to do with me. I doubt he expects our paths to cross any more than I do." She was aware of her mother's scrutiny and did her best to keep any hint of regret from her voice.
"Once I've removed the picture wagon from his care, I doubt if I shall speak to Mr Gillingham again. There will be no need."
She finished dividing up the loaf as the first footsteps appeared on the stairs.
"Besides, it's going to take all my energy to build up a real business that will take care of us all."
Mam moved the kettle on to the range as warmth began to fill the kitchen.
"There's plenty don't approve of the suffrage movement. Councillor Banks calls them harridans too plain to find themselves a man, who can't bear for anyone else to be happy."
Tanni laughed.
"Mam, the only unmarried woman I've met from the movement is Miss Gillingham, and I don't think even Mr Banks could call her plain."
Mam's face was anxious.
"He calls them dangerous revolutionaries, threatening the fabric of society. You need to be careful. He'll be standing for the position of mayor come next elections. He's not a man to cross."
"He's only rude about the suffrage ladies because he knows not one of them will vote for him, and he's afraid they'll persuade their husbands and sons not to vote for him, should he ever stand for parliament."
"That's as maybe," Mair replied, frowning. "I'd be inclined to agree with you, but he's rich on the back of those factories of his and people listen to him.
"He may not be able to touch the suffrage ladies and their tearoom, but he might see the photographic studio as a weak point, especially with you with no man to look out for you."
Tanni left the loaf and put her arms round her mother.
"I can look after myself, Mam. You and Dad taught me that. I'm not afraid of Mr Banks. I'll make sure the studio will become so popular with everyone that he won't dare do anything to harm it. I am going to make this work."