Together We Stand – Episode 53
---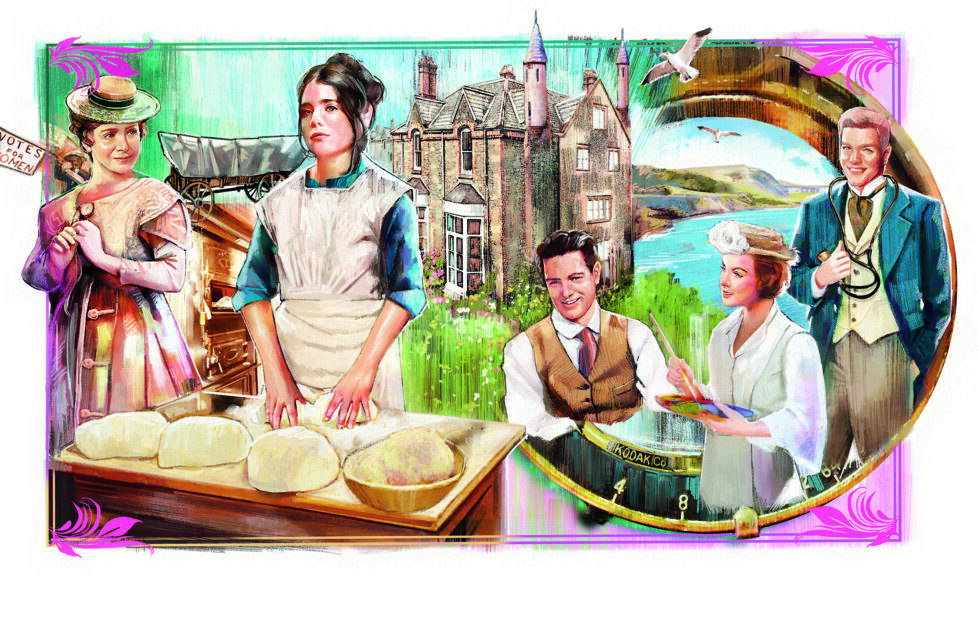 Illustration by Sailesh Thakrar.
"Tanni?"
Tanni said nothing, but careless of the astonished gazes of passers-by, she stepped into Henry's arms.
Henry held her tight.
"I'm all right," she said at last, freeing herself and taking his arm. "I've just had a shock, that is all."
"The inspector warned me you might."
Tanni smiled.
"He's a wise man." As they made their way to the pier, she tightened her arm in his. "I thought I would only bring you danger. I thought I had lost you."
"You could never lose me, Tanni. I want you to remain exactly as you are."
"I can't accept your camera."
"Camera?"
"The one you bought to replace Mr Samuel's."
"Oh." He coloured. "I might have known you would guess. But you'll accept the camera, Tanni. I insist." He grinned.
"You can't refuse me, because that's the last command I will ever give you. Although I will request that you marry me."
Tanni came to a halt. It was a moment she had dreamed of.
"Henry, have you thought this over? I'm not going to be a comfortable sort of a wife for anyone, however much I try. It's just not in my nature."
"I'm certain! What I've realised these past months is that what I need is a wife who will drag me into all kinds of scrapes, from photographing Mrs Humphries's campaign to rattling around the countryside in Mr Samuel's wagon, delighting all of Snowdonia with the miracle of photography."
Tanni laughed.
"I wouldn't expect you to accompany me."
"And I wouldn't dare insist," he replied. "Though I would like to share some of your adventures."
"I can't think of a better companion," she replied.
Henry pulled her into a secluded corner out of the wind and the prying eyes of passing visitors.
"Then marry me, Tanni. I love you. I can't imagine a day without your smile or the sound of your laugh.
"I can't think of any fate better than to share my life with you, whatever that might bring."
Tanni smiled, happiness flooding through her.
"The answer is yes," she replied, reaching up to meet his kiss.
The End.