To Craighall Den
---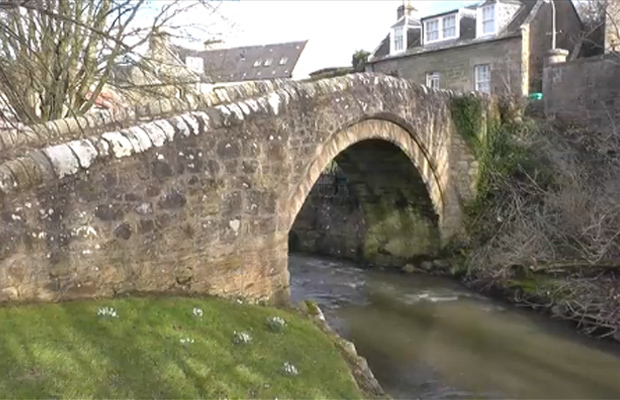 Willie Shand
The wee cobbled pack-horse bridge in Ceres must be one of the most easily recognised bridges in Fife. It's also one of the most famous, although that fame comes from its connection to a rather unsavoury incident that took place not far from here on May 3, 1679 the murder of Archbishop Sharp, Bishop of St Andrews. This was the last bridge he crossed before reaching Magus Muir and meeting his attackers.
From the car park beside the Ceres Burn, my walk to Craighall Den this afternoon began by crossing that very bridge. Behind glass, it was a lovely sunny day; outside though, there was still quite a frosty nip in the air. And, as I'd soon discover, last night's rain had left parts of the track in a right muddy mess. Even with boots it called for carefully picking a route.
It was worth it, though. Craighall Den is an ancient glen with trees that can probably trace their origins back to the last Ice Age. Nothing remains of Craighall Castle, which was, in its day, one of Fife's grandest mansions. However, by following a short detour from Craighall Farm, a track takes us to an old lime kiln, still amazingly intact, and which was largely built from stone salvaged from the castle ruins.
Tumbling through the Den is the Craighall Burn. Its waters will soon join the Ceres Burn then, a while later, the River Eden. Another short detour leads down to a fine set of falls and a deep pool below.
I dare say this walk will look more colourful once all the leaves return to the trees and the floor of the Den is covered in spring flowers, but for this quiet, chilly afternoon, it was just what the doctor ordered.