Scarborough Fair
---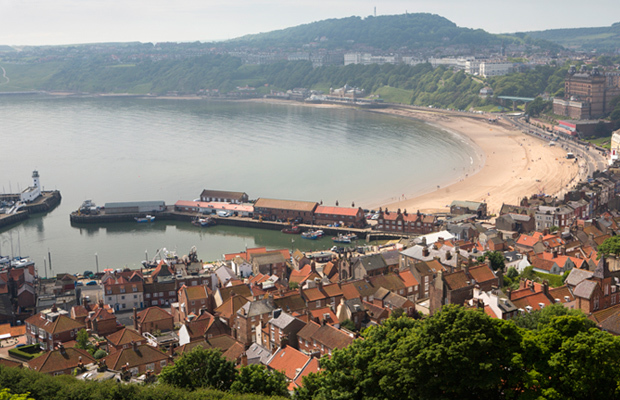 One of the great things about our travel writers is how they not only introduce us to new places, but also reacquaint us with old friends. Reading about places we've known in the past brings back happy memories – for those of us on the "Friend" team as well as for our readers! One of my tasks is to edit our letters page, "Between Friends". I regularly receive letters from readers about the travel pages that begin, "Your feature brought back so many lovely memories . . ."
Neil McAllister's article about Scarborough in the March 28 issue was no exception. I read the feature as we were preparing that issue of the magazine for the printers. As well as enjoying Neil's account of his travels there and his lovely pictures, like the one of the bay above, I was transported back to my sixth-form college days and the field trip my A level Geography group made to the area (and, no, I'm not going to admit how long ago that was!)
It was brilliant; 4 mini-busfuls of us descended, with our teachers, on Scarborough, which would be our base for a week as we put our classroom studies into practice. We made sketch maps of stacks, needles and spits along the East Yorkshire Coast, traversed river valleys in glorious sunshine learning about glaciers, flood plains and ox bow lakes, and we subjected the good people of Scarborough to endless surveys for our human geography studies. Needless to say, we had a lot of fun along the way.
After Neil's article was printed, I received a delightful letter from Mrs K.B. of Wallsend to say that Neil's feature had brought back memories for her and her husband of their honeymoon in the area more than 60 years ago. They'd liked the town so much they returned to celebrate their 60th anniversary, taking in a trip to a concert by the band Boyzone, as well! Mrs B accompanied her letter with a lovely picture of her husband and herself enjoying an anniversary cruise, and I was delighted to share her contribution with other readers in the star letter spot in our May 9 issue.
If our writers bring back special memories for you, do write and tell us your story and we'd love to see your pictures, too. You never know, you too, could see your memory in "Between Friends"!