Loch Arkaig
---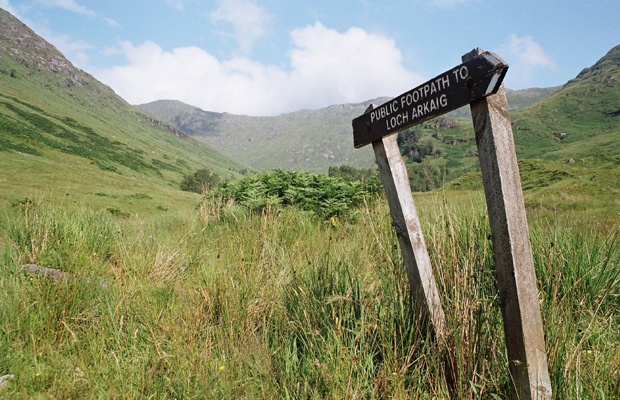 If you're prepared to rise early, what a lot you can pack into these long summer days. Forsome time I've been keeping an eye on the weather forecast for the north-west, anxious tokeep today's trip for as good a day as possible. I hit it just right, too.
A little less than two and a half hours took me to Spean Bridge where already the sun was hitting the Aonach Mor and high Ben Nevis. It would be a rare day on the tops today; a rareday, too, though, heading west to explore Loch Arkaig and Glen Dessary. Not so manyventure all the way to the end of the road.
For motorists, the road is a dead end but for walkers, it's only the beginning of severalexciting long distance walks to Morar, Glenfinnan, Kinlocheil and Knoydart. Remember topack your boots and midge cream. No need for a rain coat today, at least.
Loch Arkaig is almost 13 miles long but you might be surprised how long it'll take to drive it.The loch may be level but the road that closely hugs its northern shore is anything but. Inplaces it offers as many thrills and spills as a roller coaster. As you negotiate the ups downsand twists, watch out for the potholes!
Break down out here and there are two things tobear in mind. One, there is probably no one to help and two; you're unlikely to have anyreception on a mobile phone.
As you can see from the video clips though, I couldn't have picked a better day. Loch Arkaighas surely never looked bonnier and walking through Glen Dessary it was so tempting tokeep going for Knoydart. As it was, it was near midnight before I got home but flopping intobed, what a great satisfaction I had recalling all these places I'd been since I rose some 20hours ago!
Look out for the full story of Willie's visit to Loch Arkaig in this week's issue – August 15 – on shelves from Weds, August 12.