Tarland
---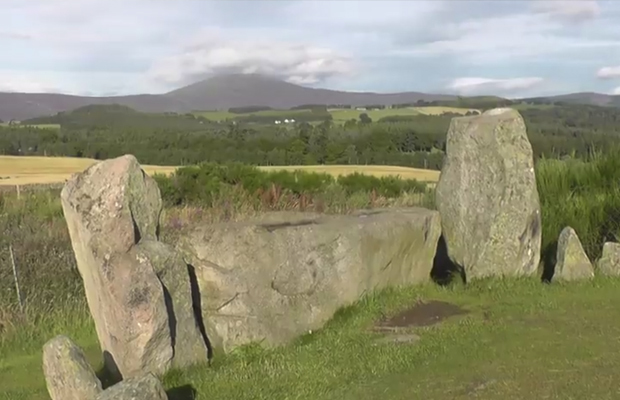 Willie Shand
It was still dark when I left home this morning at the back of 4.00 but, with a reasonable forecast, I decided to take a chance and make for Tarland in the Howe o' Cromar. I reckoned three hours should take me there and, right enough, I was pulling the boots on at the back of 7.00.
This is great walking country with a network of fine, easy routes to follow starting and finishing at the Village Square.
My first walk took me round by the recumbent stone circle of Tomnaverie and back by Drummy Wood. You really want a nice clear day to enjoy the far-reaching views from this one.
It's over 4,000 years since our distant ancestors erected these hilltop stones. Why? One theory is that it was a form of calendar used to track the changing seasons.
Before setting off, I'd looked in at the paper shop to see if they had a booklet on local walks for sale. They were sold out and waiting on a new batch arriving. Two or so hours later, when I returned to the Square, the lady from the shop ran out to catch me and let me know the new batch had just arrived. It was perfect timing. The four-mile circular round by Alastrean House and Oldtown of Kincraigie Farm would do just nicely to fill in the rest of the morning.
What a lot you can fit into a day with an early start.