Scotland's Gold Town
---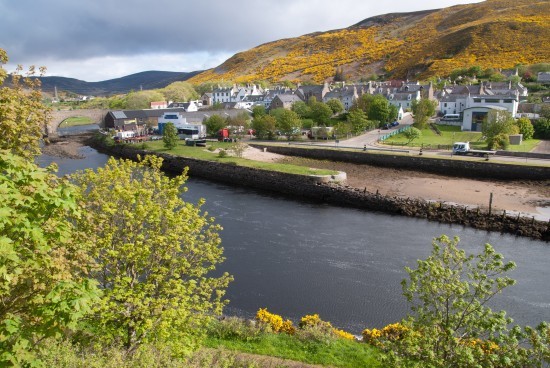 A lot of water has flowed down through Strath Kildonan since the Vikings first settled at the mouth of the River Helmsdale some 75 miles north of Inverness. Helmsdale's a right colourful wee town and on a sunny summer's day like today, who could argue that it wasn't one of the most attractive towns in the whole of the far north.
Beneath its colourful facade too, is an equally colourful past, full of interesting accounts about the Highland Clearances and the links to Red River Winnipeg; murder and treachery most foul; the part the town played in the herring boom and of gold. Yes, there's gold in them thar hills!
Less than ten miles along Strath Kildonan at Baile an Or (the town of gold) in 1869, more than 600 prospectors converged from the length and breadth of Britain to join what became known as the Great Kildonan Gold Rush.
After I've had a look round the town I'll be heading along the Strath to visit St Donan's Kirk and to take a walk up the side of the Kildonan and Suisgill Burns where the rush all began. I won't raise my hopes too high at finding any although I suppose the odds are probably better than winning the lottery!
Read Willie's feature on Helmsdale in our April 9 issue, in shops now!
Subscribe and never miss an issue again.