On The Way Home From Plockton…
---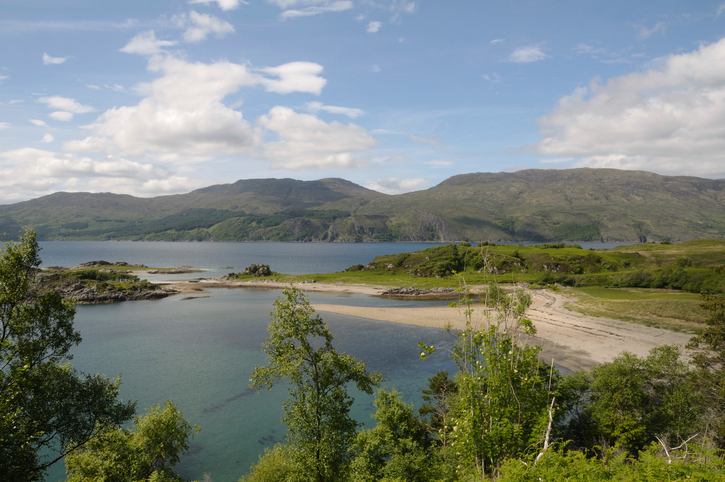 On my way home from Plockton I took a run over the Mam Ratagan Pass for another visit to Sandaig. Must be near enough 20 years since last there! Glad to see the forest had been felled and the views returned to the walk.
In a series of steep, twisting hairpins, the Mam Ratagan Pass climbs from Shiel Bridge to 1,116 feet above Loch Duich before dropping over the back to Glenelg and the old Kyle Rhea
ferry for Skye. What fantastic views there were today too, looking across the loch to Beinn Fhada and the Five Sisters of Kintail. I was on my way home following a few days at Plockton but was in no rush. I'd have plenty time for the two or three hour walk out to Sandaig.
The waters around Glenelg are well known for their otters but the area's most famous otters were undoubtedly those that lived at Sandaig with the author, Gavin Maxwell. It was at Sandaig – Camusfearna – that he wrote his novel "Ring of Bright Water".
It's a lovely, quiet walk to Sandaig. Although on forestry roads, as the trees have recently been felled there's now nothing to spoil the distant views. And, the closer we get, the better these views become. Scattered just off the shore are the tiny Sandaig Isles – one of which, depending on the tide, we can walk to.
Gavin Maxwell lived with his otters in this idyllic spot for some 17 years until tragedy struck in early 1968 when his cottage was destroyed by fire. In the fire his pet otter "Edal" perished. A wee memorial to Edal carries the words
"Whatever joy she gave to you, give back to nature".
Close by is a large boulder marking the place where Gavin himself rests. Even before beginning the final descent to the wide sandy and shell beaches, we can appreciate what made this for Gavin and his otters such a perfect haven.