Meet "My" Cats!
---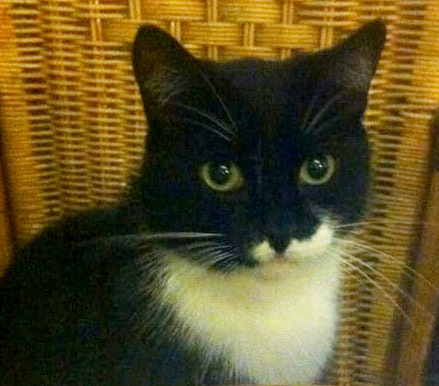 We know how much cats mean to our readers – and us! – so it's no surprise that they feature frequently in our fiction selection. Our Cat Café series by Suzanne Ross Jones is a prime example of this and Love Darg 2017, our annual charity appeal, is in aid of cats' protection.
Today I'd like to introduce you to "my" cats and I know that you'll love them, too. Now, why is that word in quotes, you may be asking yourself . . .
Well, I don't have a feline of my own, although I'm constantly coming across them in everyday life and they seem to enjoy my company as much as I enjoy theirs! So you might say that "my" cats are sort of adopted pet cats. I'd like to take the opportunity to introduce my Belgian moggy friends to you today, and I hope that you'll enjoy making their acquaintance as much as I have over the years.
Mokafé Moggies
First of all, I'd like you to meet my cat café companions in Mokafé, Galeries Royales St-Hubert, in Brussels – Moka, who has greeted customers like me for many years (see the photo above) and the establishment's newest addition called Cappu, the colour of a cappuccino, in case you hadn't already guessed the name's origins.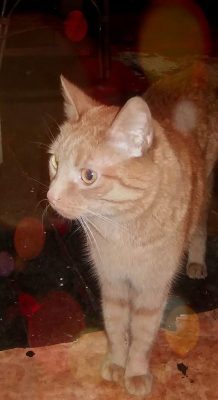 One customer has described enjoying coffee in Mokafé as being akin to sitting in the middle of a film set. Europe's oldest shopping arcade is certainly a stylish backdrop to take time out in, and with a feline companion or two, what more could you ask for as you relax and recharge in this delightful retro café?
Ann's Cats
I'd now like to introduce you to some of the ever-growing clowder of cats my friend Ann van Goidsenhoven has welcomed into her Anderlecht home.
"Throughout the years," she says. "I've had many cats and all of them have a special place in my heart. Every cat is welcome in my house. Some stay, some go back out wandering on the streets after a few days, some find through me a new forever home. Apart from the very first cat, I've never picked my cats – they pick me.
"At present I live with five cats. When I was young I wanted five kids. Did I know that this wish would come true, but instead of kids it became cats?
"Norri is one of my cats from the past. He could pose for photos like no other, as if he knew just what a camera was for. He was the only "man" in the house! Every time I left home, I told him to watch over the others. He'd immediately turn to one of the other cats and tap them on the face as if to say, 'I'm in charge now!'
"He died in my arms. I could swear that I saw little angels fly around his head when he passed away."
"Khali was a kitten I got when Norri was ill. She was found in a cardboard box and happily the refuse collector sensed that something was wrong.
"She's an alpha cat – the boss. Well she tries to be but the real boss is me, of course! Khali is a Bengal cat, a species renowned for their energy.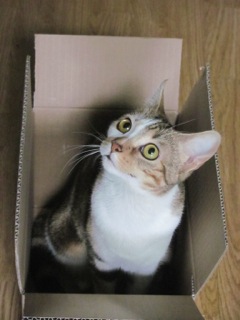 "Mercredi is my senior cat, mam's darling. She loves the heater and the hammock attached to it. She arrived, of course, on a Wednesday! She'd originally belonged to the restaurant on the ground floor of my building.
"Mercredi has already used one of her legendary cat lives. One evening she 'flew' out of the window trying to catch a bat. She fell down three storeys and yet didn't have a scratch!
"Her favourite place is on my lap. If she could glue herself to me, she'd do it!"
"Dabdab is as black as the night and I've noticed that black cats are usually more attached to humans. She gets her name because of the way she 'dabs' along when she walks and she takes care of me. If I have cramp in my leg, she rubs her head against the area as if she's trying to help me. For the rest of the day she follows me wherever I go, 'talking' to me. Of course I talk back. Wouldn't you?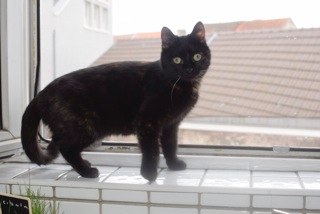 "Finally, in my cat family, Pistache and Cacaouette were kittens found last year near my work. Another hour in the blistering heat would have killed them. Pistache is a chimera cat with a short tail, indicating Manx genes. She is blind in one eye, yet always happy and playful. Cacaouette is shy and enjoys being on my lap as I work on my computer."
I'd like to leave the last word to Ann:
"I couldn't imagine my life without a cat – they are so much more than just a pet."
And I'm sure that most of us would agree with that sentiment!
Photographs by Nathalie Fritsch, Mokafé, Ann van Goidsenhoven.